Beijing meddling claims over Hong Kong University post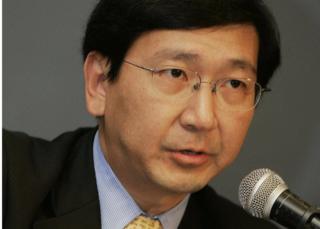 What was supposed to be a routine internal promotion at a top university has morphed into an unprecedented battle for academic freedom in Hong Kong.
Last night, the University of Hong Kong's governing council voted against giving the pro-vice chancellor position to Johannes Chan, a human rights lawyer.
Mr Chan has a close working relationship with one of the founders of last year's Occupy Central movement, Benny Tai. The movement led to tens of thousands of people paralysing key parts of the city a year ago, calling for greater democracy.
Billy Fung, head of the Hong Kong Students' Union and a member of the council, has broken with tradition and explained what was discussed at the closed-door meeting.
'Nice guy'
In a Facebook post, Mr Fung, who supported the appointment, singled out fellow member Arthur Li, a pro-establishment political appointee to the council, as saying Mr Chan lacked a doctoral degree, which he said was required for the position.
He quoted Mr Li as saying that Mr Chan was made dean of the law school, from 2002 until last year, only because he was a "nice guy".
Mr Fung said three other members also criticised the former dean.
One, he said, cited a result from Google Scholar, an online search engine for academic research, that apparently showed Mr Chan's writing had been looked up only four times in the past five years.
Closed-door discussion
"External personnel dominate the composition of the council, with only a few of them truly representing us," Mr Fung wrote. "History shall surely remember them."
Of the current 21-member council, more than half were appointed by the pro-China chief executive CY Leung, or chosen by the council itself.
Edward Leong Che-hung, chairman of the council and an external appointee, has blasted Mr Fung, calling the leak "deplorable".
"His action shows his complete disregard and disrespect of the council's requirement and council member's pledge of confidentiality," he said, adding the council would consider possible punishment.
He also described the decision to reject Prof Chan as being in the "long-term interests" of the university, according to a report in Hong Kong's South China Morning Post.
'Self-censorship' claims
The controversial meeting came almost a year after a selection committee, itself appointed by the council, had recommended Mr Chan for the powerful administrative job.
Sing Ming, an associate professor at the Hong Kong University of Science and Technology, believes the reasons given for Mr Chan's rejection were untenable.
He noted that it was not unusual for the heads of international law schools to be without doctoral degrees.
"The decision has cast the biggest threat to Hong Kong's academic freedom since 1997," Mr Sing said referring to the handover of the territory by the British to China.
"Academics will take it as a signal from Beijing that it won't shy away from getting blunt in targeting liberal-minded and pro-democracy scholars in a blatant manner. The nightmarish outcome would be heightened self-censorship in criticising Beijing."
The Chinese government has not officially commented on the case. But in recent months, pro-Beijing newspapers have lambasted Mr Chan's record and his character.
Hong Kong was granted a high degree of autonomy, including academic freedom and judicial independence, by the Beijing government when it returned to Chinese rule in 1997.