Showing another side of China - via Instagram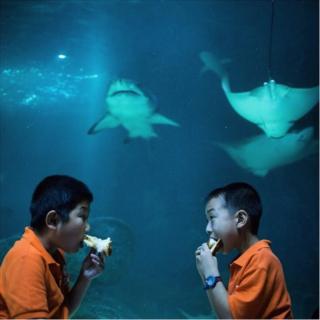 One night last spring, two veteran photojournalists working in Beijing came up with an interesting idea. Kevin Frayer and Fred Dufour wanted to see more work from other professional photographers inside China, but there was no forum where pros could share - and show off - their work with one another. Kevin and Fred decided to change that.
Quietly, they created the @EyesonChinaProject feed on Instagram, the only collaborative feed featuring Chinese and foreign photographers, inviting some of the best in China to contribute their work. Then they sat back to watch what would happen.
The result has been spectacular: a startlingly diverse display of life in China - from the arrestingly beautiful to the horrifically sad. And it's all shown on Instagram - a social media outlet that's blocked inside mainland China. Without any promotion from Instagram, the feed now has more than 17,000 followers.
We emailed Instagram to ask about the @EyesonChinaProject account. What did they think about the attention it was getting, using photos from a country where Instagram is blocked?
"We don't comment on specific accounts," an Instagram spokesperson told the BBC in an emailed statement. "People come to Instagram to celebrate what's unique about each culture - whether it's local artists, sports or the beauty in everyday moments."
Instagram is in a delicate position when it comes to mainland China. The service was blocked last autumn, and can now only be accessed using VPNs, or virtual private networks. Instagram is owned by Facebook, another social network that continues to be blocked on the mainland, despite friendly overtures from Mark Zuckerberg towards the Chinese government.
There are little signs those overtures will work. China has one-fifth of the world's population, but its presence barely registers on the world's social media networks, from Twitter to Instagram.
But that seems to matter little to the photographers. They're more focused on their work, and the creative momentum created by their project.
"It's a positive competition," explains Fred. "In the group, there is total respect. Sometimes, being a photographer is all about ego. Maybe one photographer might want to push a lot of photos onto the feed, but no, that hasn't happened."
When looking at the feed, it's impossible at first to tell which photos are taken by foreigners, and which ones were taken by local photojournalists. Here, raw talent is on display.
Showing another side of China - via Instagram
"As a freelance photographer, I don't have the same information and sources as journalists; I have to find things on my own," says Bowen, a freelance Chinese photographer participating in the project. "But now, I have a platform to help me to show my pictures to the world. I found it so inspiring."
No one curates the feed. Instead, all the contributors take turns to post their work.
Many of the contributing photographers have already exhibited their work overseas, but this collaboration brings their work to a new audience far beyond China. The group is working toward an exhibition in Beijing next spring, and then to enter the work into festivals.
"This little feed on Instagram has just show us a window into a place that hasn't been seen before by anyone else," says Kevin Frayer. "And, if we're going to see more of this, this is going to get really exciting."