China's Alibaba insures against 'Good Samaritan scams'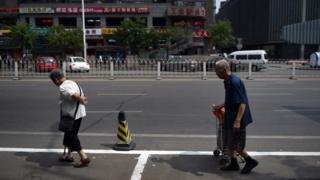 A string of incidents in China where people have been caught out while trying to do a good deed has fostered a fear of helping those in need.
In some cases, those trying to help others have then been blamed for causing the injuries - and been sued.
Now Chinese e-commerce giant Alibaba thinks it can help.
It has introduced a "Good Samaritan" insurance plan so that one can help without the fear of being scammed.
The three yuan ($0.50; £0.3) policy covers up to 20,000 yuan in litigation fees for a year, should someone get into trouble. Within five days of being available, more than 60,000 policies were sold.
In November 2006 in the eastern city of Nanjing, Mr Peng Yu took 66-year-old Xu Shoulan to hospital after she fell at a bus stop. Mrs Xu was diagnosed as needing a hip replacement.
Mrs Xu argued she was knocked down by Mr Peng, and wanted him to pay her medical bill. He refused, saying he had only approached her to help her.
Unable to resolve the dispute, she filed a lawsuit.
The case stirred nationwide debate. With no solid evidence, the court ruled Mr Peng should pay 40% of the medical cost. Many thought he was harshly punished, posing a dilemma of whether to help someone to their feet next time.
'Touch porcelain'
China's social welfare system is patchy, and medical costs are exorbitant to many Chinese, especially the elderly.
But many people have also become sceptical about those filing lawsuits.
The term peng ci - literally "touch porcelain" - was coined to describe a situation where someone is ready to fall with the slightest touch so that he or she can rip off whoever comes close or helps.
A string of peng ci allegations followed, with evidence often hard to verify.
In February, a 57-year-old-man in Yuhuan County in east China's Zhejiang Province, staggered and collapsed at the corner of a lane. In eight minutes, four cars and 23 people passed by - but none came to the man's rescue. Worse still, a car made a turn at the corner and ran over him.
The man died after he was sent to hospital.
In September, a student from Huainan Normal University put a post on microblogging site Weibo asking for witnesses to prove her innocence. The student said she helped an old woman who then accused her of causing the accident. Police said the student should shoulder the main responsibility.
And in August 2014, a foreigner set off panic in a Shanghai subway car. CCTV footage showed passengers rushing away from him when he appeared to faint, leaving a near empty carriage.
Luckily, the man regained consciousness and got off, possibly baffled by what had happened.
But a website's online poll later showed many understood the passengers' actions and would have done the same. A main factor cited was the fear of being held legally responsible or being blackmailed for compensation.
Last year, southern city Shenzhen adopted China's first Good Samaritan law, aiming to protect people from incurring liability while trying to help those in need in good faith.
The law didn't seem to quell the concern. After all, getting into legal disputes is costly. So, could the Good Samaritan insurance plan help?
Probably not, according to Beijing lawyer Han Xiao. Speaking to Beijing Youth Daily, Mr Han said the plan only covers the litigation process, but what discourages people from helping is the potential medical cost or compensation demanded, which could be much higher.
Novelty as it is, the Samaritan insurance plan also drew fire from the public.
Commenting on China's social media platform Weibo, one user says: "Just bought the insurance so that I can help the elderly care-free. But, why should I have to purchase a policy to help others?"