IS killing of Chinese hostage: A game changer?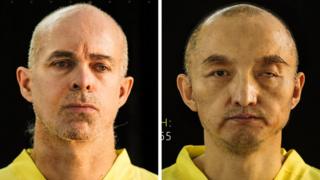 The killing of a Chinese national by the Islamic State (IS) militant group has sent shockwaves across China.
Official reaction was swift. The Ministry of Foreign Affairs condemned IS for the kidnapping and killing of Fan Jinghui, and vowed to "bring the culprits to justice".
Fan Jinghui was killed alongside a Norwegian, Ole Johan Grimsgaard-Ofstad.
President Xi Jinping, while attending an Apec summit in Manila, reiterated that terrorism was the "common enemy of humanity", and added: "The Chinese government is opposed to all forms of terrorism, and will firmly crack down on any violent and terrorist activities."
It's not clear what actions China might take at this stage.
On social media, the first Chinese citizen's death at the hands of IS is one of the top trending topics.
Netizens express their shock and horror, calling IS "sickening". But opinion is divided as to how China should react to the latest IS atrocity. Some call for a Russia-style intervention to attack IS, saying "condemnation is empty, you need action".
Others urge caution.
One post says: "China doesn't want anything from the chaos in Syria, and if China takes revenge, the tragedy that happened in France will be repeated in China."
Another message said: "Europe can't wait for China to join in the tangled warfare, but we didn't create IS, and if we get into the fight, that would be big trouble for us."
A signed article circulating on the Wechat messenger service touches on the reaction to the Paris attacks and to the Chinese hostage killing.
"Some [netizens] say that terrorists are the product of inequality in Europe; it's resistance to the oppression of Western ideology in the third world," Hu Han writes.
"Now that the fire is burning close to home, do you still think it's other people's business?
"Terrorists are not fighting against Western civilisation; they are not fighting for social justice; they are killing civilians, and this is totally against humanity," he concludes.
Xinjiang violence
The latest development poses a new problem to China, which has been waging its own "war on terror" since 11 September 2001, mostly in the form of a crackdown on the separatist movement in its restive western region, Xinjiang.
The campaign intensified in recent years after a series of violent incidents across the country blamed on the Uighur separatists, including the suicide attack in Tiananmen Square in 2013 and the killing of 29 people in Kunming train station in 2014.
As recently as this week, Chinese military police killed 17 people in Xinjiang allegedly connected with a deadly attack on a mine in September.
Chinese authorities also claim that some ethnic Uighurs who have fought with IS in Syria and Iraq have returned to China with plots to launch attacks in the country.
China hopes to win international support for the crackdown in Xinjiang, but human rights groups claim the government has been using any excuse to crush dissent. Uighurs inside and outside Xinjiang point out that many are driven to despair by the repressive policies of the Chinese government.
Perhaps an editorial published in the nationalist tabloid Global Times sums up the sentiments of many in China.
Under the title "the blood in Paris is hardly dry when Western media start defending violence and terror in Xinjiang," the article attacks "double standards" in the West, which it says only considers attacks suffered by Western countries as terrorism.
Given the complex nature of the perceived terror threat in China, it remains to be seen how China will respond to the latest IS atrocity, and if China will support the international coalition against IS.