Questions over Alibaba's Hong Kong newspaper purchase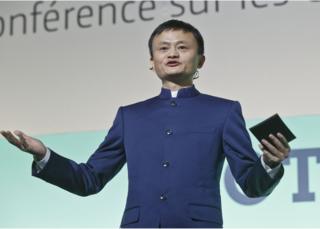 The employees of Hong Kong's South China Morning Post newspaper have been waiting with bated breath for weeks for news on whether they might have a new owner.
The confirmation of its purchase by the Alibaba Group finally came on Friday.
Despite the internet giant's promise of editorial independence, many current and former staff members are worried about the the future of the English-language newspaper.
The two sides had repeatedly clashed in the period leading up to the company's listing in New York.
"There are indeed legitimate concerns, mainly because there is a perception that the company does not have a good track record of inspiring trust," says one employee, who has declined to be named as he is not authorised to speak to the media.
He says memories are still fresh of a bruising encounter in July 2013, when the newspaper published a Chinese-language interview with Alibaba chairman Jack Ma.
Mr Ma was quoted as calling the 1989 crackdown on peaceful protesters in Tiananmen Square as 'the most correct decision' at the time.
The comment led to a barrage of criticism on Chinese social media.
Mr Ma maintained he was misquoted, saying several words were deleted from the newspaper's transcript of his remarks. He said "the most correct decision" referred to one of his tough business decisions, not to the violent Tiananmen eviction.
Alibaba asked for a correction.
The newspaper, under editor-in-chief Wang Xiangwei, refused. The journalist responsible for the story resigned in response, after reportedly apologising to Mr Ma.
But, according to a source close to Alibaba, the enmity continued, as the company pursued, and was eventually denied, a listing in Hong Kong, where Mr Ma and many senior Alibaba executives own property and live part time.
Suspicions remain
Willy Lam, a former China editor at the newspaper, says his former colleagues are suspicious of Mr Ma's intentions.
"Jack Ma is so close to the party leadership in Beijing. He is a product of the Chinese system. He is 100% home-grown. His company enjoys a near monopolistic position in China, so he has many reasons to toe the line," he says.
Mr Lam admits that the newspaper has become noticeably more pro-China in its coverage since its purchase by Malaysian Chinese billionaire Robert Kuok in 1993.
But, he says the daily broadsheet would be much more conservative under Mr Ma than under Mr Kuok, who has business interests in mainland China and South East Asia.
"No question about it," says Mr Lam, who believes he was sidelined as China editor in 2000 due to his aggressive reporting. "One is a completely Chinese company. The other isn't entirely."
Another source close to Alibaba says the company is aware of the concerns over media freedom, but disagrees with Mr Lam's assessment.
He says the newspaper, founded in 1903 and still one of Asia's top English-language publications, would be of little use to the group if it lacked credibility.
He characterises the deal as a purely business decision, part of a strategy that has seen the purchase of multiple media assets over the past year and not a political move to please the Chinese government.
Falling readership
During its glory days in the 1980s, the South China Morning Post was one of the world's most profitable newspapers and was hugely respected for its coverage of mainland China.
But the internet media revolution and changes in rules on how Hong Kong-listed firms announce company news have caused a drop in readership and profitability.
The SCMP Group, which gets 68% of revenues from newspaper publishing, made a net profit of HK$136.8m ($17.65m) in 2014, less than the HK$223.7m it made in 2013.
The newspaper has a readership of 349,000 people.
Its website has about four million unique visitors a month, of which two-thirds come from outside Hong Kong and China.
Those are reasonable figures for a regional Asian newspaper, says Shaun Rein, managing director of the Shanghai-based China Market Research Group, but he does not believe the deal make sense for Alibaba.
"It looks like they're a little lost," he says. "What's their strategy? Is it to integrate the newspaper into the rest of its business? If so, I don't see how they would do that given you can't even read the SCMP in mainland China right now."
He adds the deal would make sense only from a strategic, relationship-building point of view.
"It might be a way of currying favour [with] the Chinese government, for the most important English-language newspaper in Hong Kong to be owned by a pro-Beijing, pro-business company," he says.
Over the past year, Alibaba has purchased shares in several media companies, including the China Business Network and Youku Tudou. But its purchase of the SCMP Group is the most controversial yet.
Alibaba will be scrutinised, both internally and externally, over how the paper is managed.