The 'unprecedented' case of the missing Hong Kong bookseller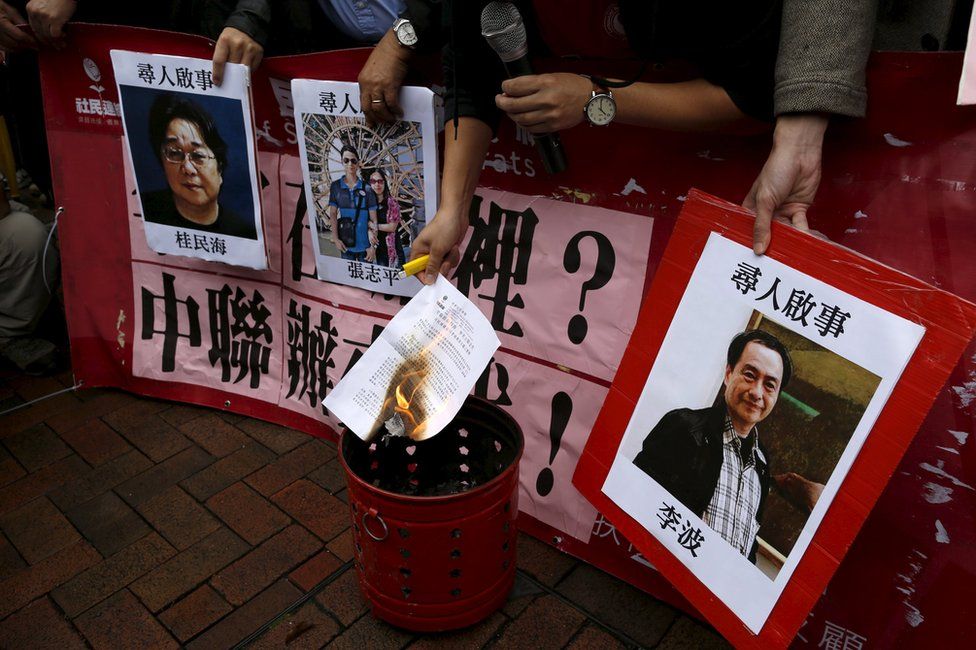 When four associates of the Causeway Bay Bookstore went missing last October, it was their colleague, Paul Lee who raised the alarm.
Mr Lee, who along with his wife, is a shareholder in the bookstore and the publishing house that owns it, took charge of briefing journalists, dealing with advocacy groups and speaking with law enforcement officials.
At the time, he told me he felt safe in Hong Kong. Besides avoiding travel to the mainland, he made few changes to his routine.
And tucked away on the first floor of a dingy building, the tiny bookstore was operating as usual, selling paperbacks that purported to tell all about the salacious private lives of top Chinese leaders.
But last week, Mr Lee - also known as Lee Bo - appeared to have suffered the same fate as the other four missing men.
His disappearance last Wednesday has sparked an outcry in Hong Kong, where some suspect he may have been kidnapped and illegally transported across the border to mainland China - in a process akin to extraordinary rendition - because of a possible book about the private life of President Xi Jinping.
When contacted by phone last Thursday, his wife, herself a writer, told me she had been unable to reach him on his mobile phone.
"I can tell you I am really afraid," she said. "I can't get through to him. But he has called me. He asked me not to make a fuss. That he would get himself out of the situation somehow. He was not able to say more about his circumstances."
Besides worrying about her husband, who was usually home by 7:15pm every evening for dinner, Mrs Lee was deeply concerned about how his absence would affect their autistic son, who is in his 20s and living at home.
She also said she had disagreed with the high-profile way in which Mr Lee had spoken to the media after their colleagues had first disappeared.
One of them, publishing house owner Gui Minhai, was last seen in Thailand, and the other three were last seen in China.
Although she spoke to me, Mrs Lee made it clear that she did not wish to overly publicise their story with international media, in case the attention harmed her husband's chances of returning home.
But because of the unusual, even extraordinary details of this case, one family's plight has made headlines around the world.
Mrs Lee later reportedly told Hong Kong media that her husband appeared to have called her from Shenzhen, a mainland Chinese city across the border from Hong Kong.
And that his home return permit, which he is required to show to enter China, was still at home.
Those details, plus an unconfirmed police report showing no record of Mr Lee ever having left Hong Kong, were enough to convince veteran lawmaker and human rights activist Albert Ho that the bookseller had been kidnapped.
"He must have been forced to go under duress or intimidation," Mr Ho told the BBC.
"And then very probably he left through some channel without going through the immigration counter. So that's what has led to our observation that he was kidnapped and smuggled to China."
Mr Ho said he believed the five associates had been detained because of a purported book, commissioned and possibly written by publisher Gui Minhai, about a former mistress of President Xi, when he was already married to folk singer Peng Liyuan.
Before his disappearance, Mr Lee told me his last contact with Mr Gui was via email on 15 October, when the publisher had instructed printers to get ready for a new book.
He said he would send the material shortly. He was not seen again.
Mr Lee believed that book, the subject of which he was not privy to, had caused the detentions.
The reaction in Hong Kong to news of the first batch of disappearances was mild. Thailand was perceived as being vulnerable to Chinese interference. And in China, extrajudicial detention is not unknown.
But Mr Lee's case is unprecedented, according to Mr Ho, because it involves a permanent resident of Hong Kong being possibly taken outside legal channels by Chinese agents with no jurisdiction in this city.
For some people in Hong Kong, it is their worst nightmare: the spectre of Chinese officials reaching beyond the mainland to detain those who are accused transgressing against them.
"The enforcement of law in Hong Kong is a domestic affair. It should be left to the local enforcement agency. This is, in fact, a very important line drawn between Hong Kong and the mainland. That is what has made Hong Kong feel safe. That we are under the protection of a completely different system," said Mr Ho.
There has been no official comment form the Chinese authorities. But in a recent opinion piece (in Chinese), the Global Times, a mouthpiece of the government, has criticised accusations that the "one country, two systems" model was in jeopardy.
The high-profile nature of the case has drawn comment from Hong Kong Chief Executive CY Leung who said his government is attaching great importance to the case. He reiterated that only Hong Kong officials can enforce the law in the city and that mainland officials have no jurisdiction.
The city's acting security chief has also appealed for information in the case.
However, human rights activists who staged a protest over Mr Lee's disappearance over the weekend are not optimistic officials will get to the bottom of the disappearance.
As for the bookshop, it closed a day after Mr Lee's disappearance.
"Something terrible has happened. We are all afraid. We are leaving now," an employee told me a few hours before locking the doors for the foreseeable future.