China's stock market and the rise of the 'pyjama traders'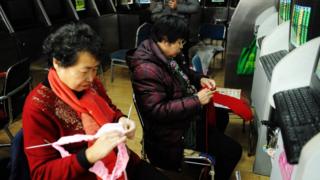 China's volatile shares have affected millions of individuals - the shop owners, pensioners and other small traders, who make up 80% of China's investors. How have China's stock exchanges come to be dominated by "traders in pyjamas"?
When my Aunt Jin retired from her sedentary office job at the age of 55 several years ago, she spent some time wondering what to do with her golden years. She started by going dancing with her old friends from work but then she moved away from her old apartment and gradually that hobby fizzled out.
Thankfully my outgoing aunt never keeps still for very long - she's always got a new interest bubbling away.
Shortly after hanging up her dancing shoes she found a new pastime. She started watching various TV talk shows that teach old-timers how to become rich.
'Self-made billionaires'
You can see the attraction. These shows are usually fronted by pundits dressed as sophisticated self-made billionaires - a bit like a TV version of the book Rich Dad, Poor Dad.
It all started in 2009 when China was seeing a massive stock market boom. Every time I visited my aunt, as I chatted away I'd see her move closer and closer to her TV screen - sometimes she would just interrupt me so she could examine every single word emerging from the lips of the latest screen icon purporting to be the Chinese Warren Buffett.
Watching this on TV was not enough though. Soon after my aunt upgraded her desktop computer and bought new software, and I was called in to help with the installation.
The software looked a bit like a Bloomberg investors' terminal with charts and quotes and numbers - all looking very smart. Oh, and it also has a smart name: Big Wisdom.
Bedroom or stock exchange?
There are lots of products claiming to be the most influential equity investment product. Most can be used on different platforms and - as a result - Auntie Jin also has an app installed on her mobile phone.
So now, with TV pundits and a Big Wisdom stock tracker as well as a mobile phone app, she can track stocks and make financial decisions with a tap of her fingertips.
When my uncle comes back home every evening, their bedroom looks more like a stock exchange than a place of rest.
Suddenly I felt Auntie Jin had found a brand new post-retirement career: as a professional trader in pyjamas.
She's not alone. In fact, there are millions of Auntie Jins. According to some statistics, there are about 90 million individual brokerage accounts in China, greater than the entire population of the UK.
Making friends and money
Last year I went to a brokerage house in Shanghai, the sort of stock exchange shop floor. All around me were people of a certain age, all busily trying to fill the family coffers.
They arrive in the mornings with their flasks of green tea and spend the entire day watching the red and green flashing lights and making bold decisions about their future. It's also a venue for socialising: people are making friends and, of course, passing on tips of the trade.
This isn't just an interesting phenomenon - it does have implications on the market.
Large numbers of small traders can move in unpredictable ways, which can add to the swings we've seen in the last week. Experts call it "herd behaviour".
I spoke to my aunt the other day and as you might imagine the ups and downs of the stock market have been mirrored in her mood as well.
She does sometimes talk to me about her investments - she thinks as a journalist I have a wider view about what really is going on with China's economy and the global market.
The truth is I don't think anyone can predict where the market will go next. The government argues the recent rally in prices was due to the success of their reforms.
But there's no saying that the markets won't keep fluctuating. In fact, it seems even the regulators were caught off guard by the recent roller-coaster ride.
So I told Auntie Jin on the phone the other day to be cautious.
But to be honest I think she was only half listening - I think the other ear was turned towards the TV and I suspect her fingers were busy flicking through her apps, looking for the next pot of gold.
You can also hear Vincent Ni's report on The Fifth Floor programme on the BBC World Service.