A misty-eyed ode to China's leader from a deputy editor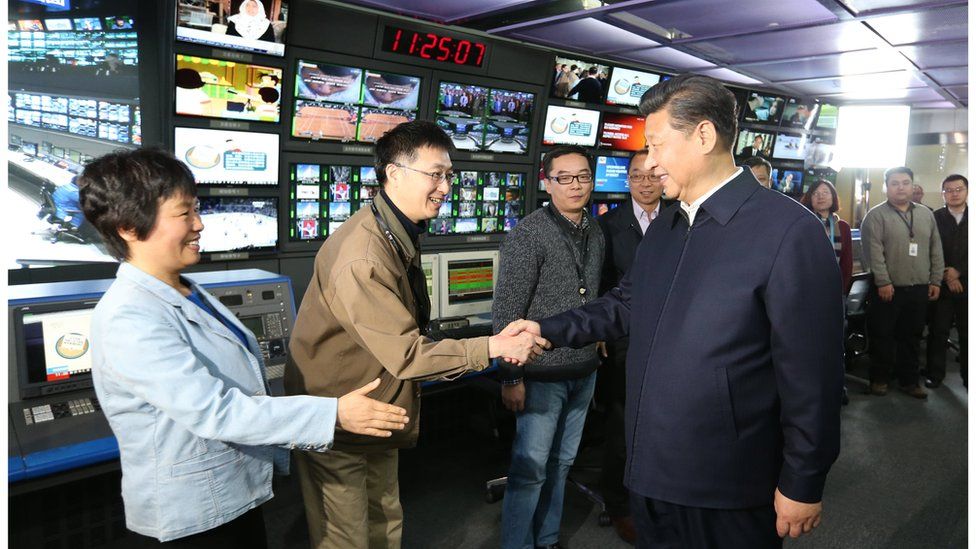 If you're one of those who think not enough news stories are written in rhyming couplets nowadays, you'll be cheered by recent developments in China.
As President Xi Jinping went on his recent, well-publicised tour of the Communist Party-run newsrooms and studios, busily handing out helpful advice (basically, always obey the Communist Party) one editor came over more misty-eyed than most.
The poem Pu Liye, deputy editor of state news agency Xinhua's news department, wrote in tribute to President Xi's visit to his office has gone viral, although that should not, perhaps, be taken as a sign of its literary merits.
Rather, Mr Pu's rhetorical efforts are being viewed by many as a sublime master-class in the genre of the obsequious ode and a troubling symbol of the tightening grip on thought and expression under the president he idolises.
Entitled "General Secretary, the sight of your back and the look in my eyes" the verses are pledges of loyalty to a great leader.
The reference to Mr Xi's back, although slightly obscure in translation, will to readers of the original Chinese, conjure up an image of the broad shoulders of their forefathers and the burdens they've borne for their descendants.
And as you'd expect for an author seated at the heart of one of the most wealthy, powerful and technologically advanced media empires of our time, this is not a poem written in ink with a calligrapher's paint brush.
"The look in my eyes is giving birth to this poem," Mr Pu writes. "My fingers are heating up my cell phone."
The reviews, circulating on the popular Chinese social media app, WeChat, are not good.
"I vomited so much my phone turned itself off," writes someone going by the name of 'Just a Good Impression'.
"This is a serious setback," adds 'Autumn Wind from Beyond the Border', "anyone who once had hope will be disappointed now".
Chinese citizens hoping for a more open and free media environment would have had enough reason to feel discouraged without the poem.
After-all President Xi appeared at China's State TV HQ behind a banner bearing the slogans: "Our family name is 'the Party'." "Absolute Loyalty." And the somewhat imploring, "Please inspect us."
But the prose demonstrates that, for at least some of the managers and editors, those slogans have been swallowed whole.
Xi Jinping's media tour itself is being widely seen as confirmation of his desire to bring journalists to heel and to stamp out what his government derides as dangerous "Western values" such as freedom of expression.
In 2015 China was, once again, the world's most prolific jailer of journalists, with 49 behind bars.
A few of them have, in no small irony, been paraded on state TV to "confess" their crimes.
And all the while China is investing huge amounts of money in building its media presence overseas in an attempt to correct what it sees at the wrongful thinking and anti-China sentiment of the foreign press.
Of course, Western media coverage does have its faults and biases in no small measure.
But, as we know, there is at least, amongst the partisan operators, commercial interests and political agendas, a certain amount of choice.
And a good deal of genuinely independent journalism is alive and well.
In China there is very, very little of that, and over the past few years, even less so.
All of this reminds me of an article I read last year in the English language China Daily which now sponsors a supplement in Britain's Daily Telegraph called "China Watch" - another sign of the Communist Party's thirst for global influence.
Trumpeting the arrival of this bold new collaboration on its website, the newspaper proudly boasted a 'vox pop' with a London teacher going by the name of Adam Cops.
Mr Cops, it seemed, was like most Britons, grateful for the opening of this new, informative window on the wonders of China, the virtues of the Party and the strength of its economy, free from those tiresome questions his own, home grown media organisations insist on asking.
He was, he told the China Daily, particularly impressed with one of its travel features, and I quote him in full: "Besides the beautiful views and lovely pandas, Chengdu's rapid economic development and business links with the world are very impressive."
"And Chengdu's food, like hot pot, is attractive. I remembered that British Prime Minister David Cameron also tried the hot pot when he visited Chengdu in 2013. I would love to try."
I was so intrigued that any journalist could find a man, at random, walking around London, who remembered in such detail what David Cameron had eaten while on a trip to central China two years previously that I had to ask.
"Could I also be allowed to interview the impressive Mr Cops?" I enquired.
After much to-ing and fro-ing I was told that he was a "friend" of the reporter and not available for comment.
Xi Jinping's state media visit is a reminder, as if any were needed, of the only real purpose of China's state media.
Facts, quotes, observations, they're all there for one reason only, to strengthen Party rule.
Mr Cops, if he were to be asked again would, I think we can be sure, heartily approve of Mr Pu's poem.
But thankfully, the howls of derision back home in China clearly show that, even as the control tightens, not everyone is quite so on message.
General Secretary, the sight of your back and the look of my eyes
Pu Liye, Deputy Editor of Xinhua's news department
At this moment, thundering applauses
Are swallowing the traffic of Xuanwumen (where Xinhua Agency is located)
Today, we finally heard your thoughtful words
Closely like listening to a brother
You cupped your hands with respect and smiled
"Wish everyone happy Chinese new year and an auspicious year of monkey."
General Secretary, the sight of your back and the look of my eyes
The look of my eyes is generating this poem
My fingers are heating up my phones
This poem I've thought of for long
It came from my bosom and the deepest of my heart
It's filling up my veins and nerves
It goes up and down in the yellow river and the Yangtze river
It runs on the great wall
To the tunes of the camel bells on the one belt and one road
And the warm winds of the giant ships and high speed trains
Haha, right now there's no starry night
That I'm used to writing to
But looking out of the building, my eyes are full of light
The words of the poem are dancing on my pulse
General Secretary, the sight of your back and the look of my eyes
You stride forward with your head held up high
We will keep our voices high
And dash forward on the road of a fairly well-off economy
And more closely to the goal than ever
Even with shadows and trouble on the road
We stay calm like this afternoon
The smog will not hide a clear sky
General secretary , the sight of your back and the look of my eyes
A look of respect from me and my many Xinhua colleagues