Rio 2016: A personal journey through China's Olympic history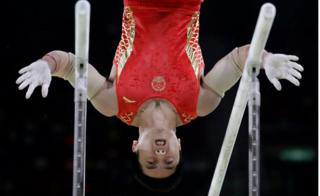 As another Olympic Games draws to a close, BBC Chinese's Yuwen Wu makes a personal journey through China's Olympics of the last few decades.
There is no doubt that one of the talking points of the Rio Games has been China's performance. The country lies third in the medal table, behind the USA and Great Britain, making it China's worst games since 2004.
In events in which it is traditionally strong - such as gymnastics - China performed miserably, and fell short in swimming and badminton too.
So what has gone wrong? I look at it another way: the very fact we are asking this question shows just how far China has come.
Los Angeles 1984: Fighting for one's country
After decades of political wrangling, China finally participated fully in the world's greatest sporting spectacle.
At home in Beijing, we had got our first colour TV, which became a focal point for the whole family as we watched the Chinese sporting heroes competing with some of the best in the world.
When Xu Haifeng won China's first ever Olympic gold medal, in pistol shooting, it was hailed as a "great breakthrough" and the whole nation celebrated.
China went on to win 15 gold, eight silver and nine bronze medals at those Games, finishing fourth in the medal table. Gymnast Li Ning, with three gold, two silver and one bronze medal, became an instant celebrity.
Medal table of the 1984 Los Angeles Games
Gold
Silver
Bronze
Total
1
USA
83
61
30
174
2
Romania
20
16
17
53
3
West Germany
17
19
23
59
4
China
15
8
9
32
I still remember the women's volleyball final with the USA. China were already world champions and the players were household names.
They had lost to the USA in the preliminary round, but beat the USA 3-0 in the final. The match was tense, made worse by my over-enthusiastic neighbour, who constantly shouted out latest scores through his window for all to hear.
It was a time of great optimism, not only for sport, but for China's development too, as the country finally shook off the shadow of the Cultural Revolution and embarked on reform.
What's more, China's presence at the 1984 Games made the world sit up and notice.
Seoul 1988: War on doping
China was not able to replicate the feat four years later in Seoul, managing only 11th place in the medal table, with five gold, 11 silver and 12 bronze medals.
This was partly blamed on the strong performance of the Soviet bloc countries, back from their Olympic boycott.
Medal table of 1988 Seoul Games
Gold
Silver
Bronze
Total
1
USSR
55
31
46
132
2
East Germany
37
35
30
102
3
USA
36
31
27
94
11
China
5
11
12
28
But for a lot of people, the Seoul Games were remembered for one person: Ben Johnson, the Canadian sprinter who tested positive for a banned substance after he came first in the 100m final.
I was studying at the University of Toronto and witnessed first-hand the shock of the nation as euphoria turned to nightmare. I became aware of the issue of doping in sport for the first time, not anticipating that China was soon to have its own doping scandals.
At the 1994 Asian Games in Hiroshima, Japan, 11 Chinese athletes tested positive for steroids - seven of them swimmers, including world champions. They were stripped of their medals and banned for two years.
About the same time, a group of female long-distance runners caught the world's attention. Coached by Ma Junren, these athletes consistently broke Chinese, Asian and world records, accumulating three gold medals in the 1993 World Athletic Championships and one gold in the Atlanta Olympic Games in 1996.
In 2000, most of Ma's runners failed blood tests and were banned from the Sydney Games that year.
Early in 2016, a letter reportedly written by leading runner Wang Junxia and nine others, came to light, with detailed revelations about how Ma had forced them to take drugs to boost their performance. The International Association of Athletics Federations (IAAF), which governs athletics, has indicated it will investigate the matter.
These episodes and others seriously tarnished China's image. Despite a crackdown and an improved testing regime, the battle is far from won - as shown by swimmer Chen Xinyi, who was forced to leave Rio after testing positive for performance-enhancing drugs.
Beijing 2008: Politics and sport
In 2008, Beijing hosted the Olympic Games, a matter of tremendous national pride. Politics and sport had never been so closely linked.
China wanted to showcase not only its sporting ability, but also how the country had been transformed by three decades of opening up and reform.
The Beijing Games divided opinion perhaps more than any other in post-war history, and as a journalist working in London, I have to admit I breathed a sigh of relief when they were finally over.
In sporting terms, China scored a great victory by coming top of the medal table, taking home advantage to the full.
Medal table of the 2008 Beijing Games
Gold
Silver
Bronze
Total
1
China
51
21
28
100
2
USA
36
38
36
110
3
Russia
23
21
29
73
4
UK
19
13
15
47
By now, China was a recognised global sporting power. But things were not perfect. China's only medal hope in athletics, hurdler Liu Xiang, pulled out of the race due to injury, and the lack of transparency surrounding his injuries angered his fans and raised questions about commercial pressures put on elite athletes.
London 2012: Questions continue
Liu Xiang almost repeated the fiasco during the London Games four years later, this time crashing out at the first hurdle. His agonising pain was for all to see, but he managed to hop with one foot to the finishing line, to huge applause by a very appreciative crowd.
Other competitors showed class, too, by praising his spirit, one of the most heart-warming moments of the London Games.
Now, back to Rio. What has gone wrong with China's sportsmen and women?
Rio 2016: Winning is no longer everything
One explanation offered is the lack of new, world-class talent. I watched some gymnastic competitions on TV and I have to admit that, compared with others, Chinese gymnasts lacked power and artistry. But there might be other reasons.
Compared with 1984, when winning a gold medal was a political task and a patriotic duty, or with 2008, when more medals meant more national pride, we are seeing a more relaxed attitude.
While people still like to see China doing well, it perhaps no longer carries the importance it once did - although we have seen our share of soul-searching.
"As long as you gave your all, you're already a winner", Chinese netizens told bronze medallist Fu Yuanhui, who won hearts around the world with her expressive joy and honesty about competing during her period.
Could it also be that China, the world's second largest economy and more confident on the international stage, no longer needs to take winning in a sport event, however noble and inspiring, so seriously?
Who knows? Perhaps a more relaxed approach will help China produce more medals in the future. So UK and USA, watch out!