Chinese people optimistic about the future, says Pew survey
By Stephen McDonell
BBC News, Beijing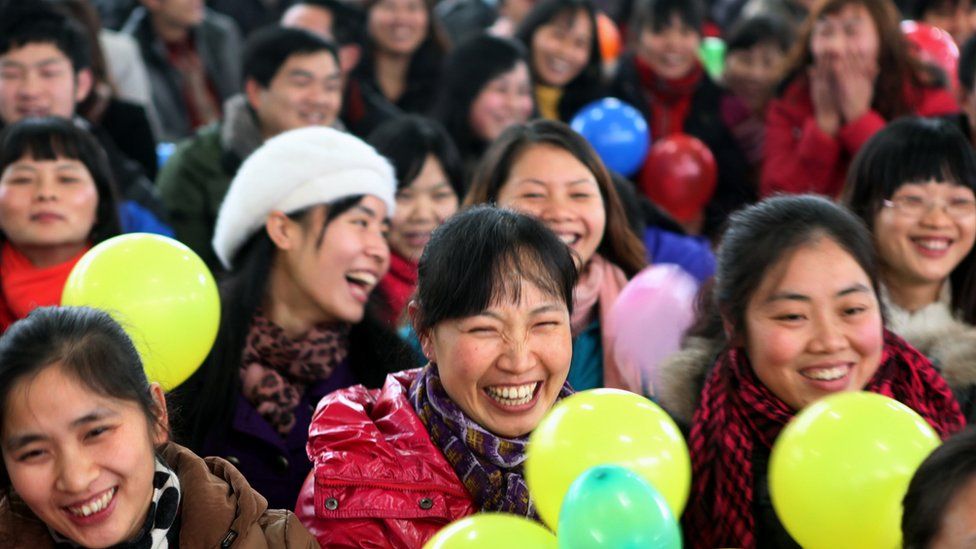 At a time of Brexit and talk of a wall between the United States and Mexico, it seems the Chinese are embracing international engagement.
They think their country's power is rising, that their living standards will keep improving, that corruption is being cleaned up and that air pollution should be fixed even if it means slowing down economic growth.
Elsewhere there is fear and uncertainty. Here optimism trumps all.
When asked about economic globalisation, 60% of people said it is a good thing and only 23% think it is bad for China.
While some China watchers are warning that this country's mounting local government debt could mean that a hard landing is on the way, Chinese people don't appear to share this pessimism.
Nearly 90% of respondents amongst this group of 3,154, interviewed face-to-face in China earlier this year, think that the state of their country's economy is either "very good" or "somewhat good".
Looking into the future things will apparently get even better: 76% of people think the economy will improve over the next 12 months, 70% said their personal financial situation will improve and eight out of 10 people believe that their children will have a better standard of living than they do.
It's not that people are without concerns.
"Corrupt officials" is at the top of the table when it comes to people's worries (83% said this was a "very big" or "moderately big" problem) and yet here too we see optimism.
Some 64% of them said that President Xi Jinping's massive anti-corruption drive would improve the situation over the next five years.
Running down the concern list, an alarmingly high number of people see income inequality and the safety of food and medicine as "very big" problems.
This should give the Chinese Communist Party pause for concern.
If you enjoy monopoly power on the basis that you are delivering "socialism with Chinese characteristics" then a small group of ultra-rich driving around in their sports cars and showing off their wealth while most struggle to pay the rent is surely at odds with your central message.
Then, if ordinary Chinese people can't even trust the food and medicine they are giving their children, the possibility for social unrest over bread and butter issues is looming large.
The environment also emerges as a massive challenge with water and air pollution at the front of people's minds.
Air pollution is so bad in China that half of those polled said their country should fight air pollution harder even if it means sacrificing economic growth.
Only 24% saw air deterioration as a necessary price to pay.
When it comes to the war of ideas in the top echelons of power here, those ministers in favour of tougher environmental protection measures could do worse than table this research.
A "major threat" to China?
The South China Sea and other geo-strategic tensions offer some of the most bleak opinions.
Nearly six out of 10 people think that territorial pressures with neighbours could lead to military conflict; 77% say their way of life needs to be protected from "foreign influence" (up by 13 percentage points since 2002) and only 22% say China should help other nations.
Regarding relations with rival superpower the United States people views are complex and, at times, seemingly contradictory.
Around half of Chinese respondents rated the US favourably but more than half think that Washington is trying to prevent China from becoming an equal power.
About 45% said that US power and influence poses a "major threat" to China. In fact the US came in at number one as the top international threat to the country.
It's interesting that some would see the Obama administration's so-called "pivot to Asia" as a greater threat than say jihadist extremist groups just across the western border promoting bloody conflict in China's vast Muslim region of Xinjiang.
Either way, whatever the perceived threat, China is seen as becoming ever more important and with ever more power at its disposal.
Information is being controlled here ever more tightly - whether it is coming from the traditional media or sources online - so some analysts will see these views as the inevitable result of messages being delivered to the Chinese people by their government.
This may the be case but, in a world where politicians in various countries are accused of exploiting people's fear and insecurity, could it be that a quarter of the globe's population are going around with a smile on their dial because every day they look out the window and to them it just gets better and better?