The artist protesters in a polluted city on edge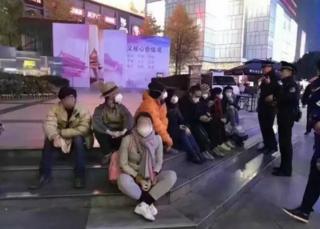 The curious case of a group of masked Chinese artists detained by police for a brief, spontaneous protest over pollution serves as a reminder of just how sensitive the issue remains for the authorities. The BBC spoke to one of the artists involved.
China has just seen an unusual cluster of environmental protests as dense smog shrouded a large swathe of the country.
The latest protest was on Sunday, in the south-western city of Chengdu, by all accounts a city on the edge coping with heavy pollution but also with authorities scrambling to put a lid on simmering discontent.
That night police detained a number of artists who managed to stage a silent demonstration, while wearing face masks.
The BBC spoke to one of the artists, who said the protest was planned with very little notice over the messaging app WeChat.
'We didn't break any rules'
"Chengdu's air pollution is really severe, I've been feeling unwell. I cough all the time. [I thought] we want to take some action, we should stand up," he said.
The artists decided they wanted to express their feelings about the pollution and agreed to walk around the city centre while wearing face masks as "there is no regulation that bans citizens from walking while wearing masks".
When they stopped to take a break at a small plaza, they were questioned by nearby policemen.
"Policemen asked us to leave. But we said it's not illegal to sit here. We didn't break any regulations," he said.
According to the artist, the situation escalated quickly as the protesters and police began arguing, attracting the attention of passers-by. The artists estimated at least another 20 police officers showed up.
The stand-off ended 10 minutes later when eight of the artists were arrested along with at least one passer-by.
The artist who spoke to the BBC said he was not detained, but his friends who were taken by police were questioned for five hours before being released early on Monday morning.
"Currently we will keep a low profile. It's hard to say if we will hold events or not in the future. But I'm sure that we will continue to keep an eye on Chengdu's air pollution and environment," he said.
Accounts of the protest quickly spread online in China, attracting widespread sympathy for the artists.
City on edge
Chengdu and other cities in Sichuan province see heavy pollution. The air quality has prompted particular concern over a petrochemical plant in nearby Pengzhou, even though the area is not known for its heavy industry. And the anger is not just confined to niche groups.
On Saturday authorities had shut down Tianfu Square, the main hub of Chengdu, after posts on social media called for people to gather to protest.
Eventually, on Tuesday morning the state-run People's Daily ran a commentary acknowledging that air quality in Chengdu was "the public's most talked about topic", but defended the local government.
Chengdu authorities have said they would take serious steps to combat the pollution in the area.
But every winter air pollution becomes a major issue in China, due to the country's continued reliance on coal for heating and heavy industry.
On Monday, in the north-western city of Xi'an a group of students staged an "art protest" by putting face masks on 800 stone lion statues within their college.
The Xi'an Art College told local newspaper Huashang that the school would not stop students as long as they did not cause damage to the statues.
This is an unusual coincidence of small-scale protests - indeed ones involving artists - but it is just a flavour of how deeply many citizens feel about China's pollution problems.