The mystery of a Chinese tycoon's disappearance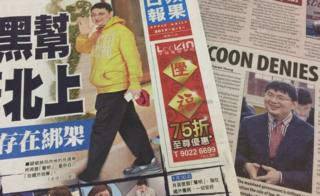 In 2015 five Hong Kong booksellers disappeared and later resurfaced in mainland China in the hands of Chinese authorities. Now, there are concerns that Chinese tycoon Xiao Jianhua, who has not been seen since last week, has met a similar fate.
The first murmur came from overseas.
Mingjing News, a New York-based site that specialises in Chinese politics, reported that an unnamed Chinese billionaire had been arrested in Hong Kong and taken to mainland China last Friday evening by Chinese police and state security officials.
The next day, Hong Kong police received a request to investigate the whereabouts of the missing businessman.
Local police began their investigation and found that the subject of their enquiry had indeed re-entered mainland China on Friday, the same day he was detained.
A day later, on 29 January, however, a family member asked the police to close the case, saying the missing person had been in touch and was "safe".
By Monday, all of Hong Kong was wondering, who was the billionaire? What was his crime? Where was he? And had Chinese agents been operating on Hong Kong soil with impunity?
US-based news site Bowen Press soon named the tycoon as Xiao Jianhua, one of China's richest people, with a $6bn (£4.8bn) fortune, according to Hurun Report, a ranking of wealthy Chinese people.
Mr Xiao, who is in his mid-40s, was known to have been a student leader at the prestigious Peking University. His business ventures were mainly in the financial services sector.
---
The Hong Kong booksellers case
Between October and December 2015 five men linked to the Hong Kong publisher Mighty House, known for selling books critical of China's leaders, went missing.
It later emerged that they were being held in mainland China by authorities.
Lui Bo, Cheung Jiping, Gui Minhai and Lam Wing Kee later appeared on television confessing to selling "unauthorised books". Gui also confessed to an old drink driving conviction.
Lee Bo appeared in a separate interview denying he was abducted and saying he had been helping investigations.
All, except for Gui, have since returned to Hong Kong.
Most have kept a low profile except Lam Wing Kee, who said last year that he had been kidnapped and forced to make the confession.
---
In 2014, the China-born tycoon denied that he moved to Hong Kong to avoid a Chinese government corruption investigation.
He was said to have been last seen on Friday at the Four Seasons Hotel in Hong Kong, where he was understood to be living.
The mystery deepened when Mr Xiao's company, the Beijing-based Tomorrow Holdings, apparently issued a statement on its official account on messaging app Wechat.
"I, Xiao Jianhua, am overseas receiving medical treatment," said the announcement, according to Hong Kong media.
"Everything is fine. It's business as usual at Tomorrow," said the statement.
The message seems to contradict the Hong Kong police report that Mr Xiao had returned to China.
On Tuesday, the company issued yet another statement, reportedly saying Mr Xiao was a patriot and a Communist Party stalwart.
It claimed he had not been kidnapped.
In fact, the statement said Mr Xiao, who was born in China, was also a Canadian citizen and a permanent Hong Kong resident, and that he enjoyed the legal protection of both.
It promised Mr Xiao would finish his treatment and meet the media soon.
Strangely though, both statements soon vanished. The company's account on WeChat seemed to be removed. And the company website is currently inaccessible.
The Canadian government has told BBC News that it was aware of the case, and that consular officials were gathering more information.
With so many questions and so few answers, rumours are swirling that Mr Xiao's disappearance had something to do with China's continuing anti-corruption campaign.
Or was he possibly involved with a faction in the Chinese government that opposed President Xi Jinping?
There have been reports that he acted as a sort of banker to China's elite. But it should be noted that in one of the now-deleted statements, he felt he had to say that he had "never supported any opposition forces and organisations".
If he was indeed abducted from Hong Kong, was it a violation of the '"one country, two systems" policy that was meant to keep the territory legally separate from China until 2047?
So far, there are no answers.
Hong Kong police have said that, despite the request from family members, they are continuing to investigate the case.