Is philanthropy catching on among China's super rich?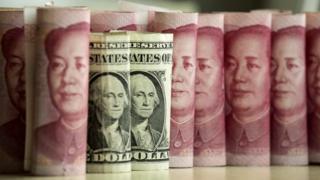 When US billionaires Bill Gates and Warren Buffett held a banquet in China a few years ago to urge fellow tycoons to donate their fortunes to charity, some of their intended targets didn't bother to turn up.
The no-shows sparked a fierce debate on social media: are China's super rich really so stingy?
By some measures, they are. Total charitable giving in China stands at just 4% of levels in the US or Europe, according to the United Nations Development Programme.
Chinese charities have been hit by scandal, and there is widespread mistrust of the private wealth on which much of the giving depends.
But according to a new report from Harvard University and the Swiss bank UBS, the picture is far more complex.
"Philanthropy in China today is in a state of expansion, experimentation and evolution," it said.
'Just cautious'
Donations from the top 100 philanthropists in mainland China have more than tripled between 2010 and 2016 to $4.6bn (£3.6bn), according to the study.
Of the 200 wealthiest people in China, 46 have foundations.
And two-thirds of the people surveyed by the study's authors had established or were planning to establish foundations.
Wang Bing, who has been called China's "most influential" philanthropist, says Chinese tycoons aren't stingy, they're just cautious.
"Everybody in my circle wants to give," he tells BBC News. "There is a lot of money available that hasn't been donated."
"These people are smart. That's why they're rich. So, they're not going to give their money to just anyone. They want to donate to charities that are effective at what they do."
Asked how many such organisations exist in China, he says "very few".
Mr Wang, 47, made his fortune on the stock market in the 1990s.
After disappointing experiences donating to government-affiliated agencies, he decided to start his own charity.
In 2004, Mr Wang founded the Ai You Foundation, China's first registered private foundation, which started out helping sick and orphaned children.
The country's top billionaires, including Jack Ma of Alibaba and Robin Li of Baidu, sit on the board of directors at Ai You.
---
China's top 3 philanthropists (according to the 2016 Hurun Report):
Pony Ma, founder of Tencent, gave $2.15bn to the Tencent Charity Foundation
Chen Yidan, co-founder Tencent, gave $615m to Wuhan College
He Qiaonu of Beijing Orient Landscape, gave $450m to various charities
---
Scandal and recovery
Experts say the challenges to philanthropic giving are numerous, including public scepticism, a lack of transparency and shortage of experienced talent.
But Rupert Hoogewerf, who closely tracks the behaviour of China's super rich, agrees that charitable giving is changing quickly.
"It is evolving away from just giving to government institutions," he says, especially in the wake of a major scandal in 2011.
That year, a young woman called Guo Meimei made headlines for her lavish lifestyle and claims of working for a company associated with the Chinese Red Cross.
Even though the charity denied any connection to her, donations dried up.
Mao Jihong, a fashion designer who last year set up his own foundation, says he believes donors have largely moved on from the scandal.
"That was a great setback for philanthropy," says the designer, who is considered to be one of the favourites of the Chinese first lady Peng Liyuan.
He believes last year's introduction of a new charity law helped to develop greater confidence among potential donors.
Tech innovation
What is clear, according to the Harvard report, is that there is genuine innovation happening in China's vibrant tech world.
Technology giants Tencent, Alibaba and Sina all have desktop and mobile platforms designed to encourage mass giving by the general public, as well as larger-scale donations by the wealthy.
"What they are doing there is really cutting edge," says Mr Hoogewerf of the Hurun Report.
According to one estimate, more than 23 million people in China gave charitable gifts online in 2015.
And since that year, Tencent has been hosting annual giving days on its platforms.
Last September, a total of 300m Chinese yuan ($44m; £34m) in online donations were raised within three days.
Tencent and its partners matched that amount, giving more than $77m to thousands of charities.
Mr Wang of the Ai You Foundation says his goal is to make his foundation the "Facebook of philanthropy" - to create a platform to make it simple and straightforward for donors to give.
China's growing group of philanthropists says they are aware of the immense challenges ahead but are determined to continue their work.