Hong Kong: Plans to demolish WW2-era buildings withdrawn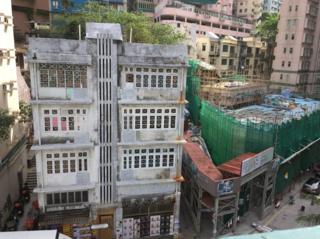 Conservation groups in Hong Kong are celebrating the withdrawal of a controversial plan to demolish a cluster of low-rise tenement buildings in the heart of the city to make room for high-rise towers.
Town planners had been due to meet on Friday to consider the proposal, which was made by the Urban Renewal Authority (URA), a statutory body funded by the Hong Kong government.
The authority had wanted to pull down about a dozen World War Two-era buildings, each about three-to-five stories high, to make way for two high-rise residential towers, but it decided on Thursday to withdraw the application.
"The URA has heard various opinions from members of the community, and has decided to withdraw the planning application filed earlier," it said in a statement to the BBC.
The authority added that it had not yet decided whether to file a new proposal.
Conservation activist Katty Law, convener of the Central and Western Concern Group, said she was celebrating, even if it was only a temporary victory.
"This time, community opposition as well as District Council opposition was enough to stop a really bad scheme," she said in response to the withdrawal.
"But this is still a redevelopment area. We really want this whole area to be conserved as a historic neighbourhood, rather than treating it as a dilapidated area."
The buildings are known in Cantonese as "tong lau", low-rise shophouses built from the late 19th Century to the 1960s in southern China.
They share many similarities with shophouses in South East Asia, although they have their own unique features, such as curving balconies and ventilated stairways.
These buildings are located in the super-trendy Soho district.
The area is as popular with locals flocking to its dining and nightlife as it is with the busloads of tourists drawn to nearby attractions such as the Man Mo Temple.
In fact, since May, the neighbourhood has been heavily promoted internationally by the Hong Kong Tourism Board as part of its "Old Town Central" walking tours.
Just across the street is Hong Kong's PMQ district, where preserved historic buildings have been turned into a bustling hub for artists and eateries popular with locals and tourists alike.
Preserving the character
"You won't see tourists taking selfies in front of high rises," says Dare Koslow, who owns many tenement properties in Hong Kong, including a spacious, airy flat in one of the buildings being slated for possible demolition.
"Our old city is being exploited to such an extent that soon it won't be there anymore.
"This is a very historic neighbourhood," he adds.
"It was rebuilt after the Second World War. It deserves better than to be knocked down to make way for high rises.
"The apartment blocks would be totally out of character and would diminish what we have here."
Mr Koslow purchased his 1,400sq ft (130sq m) flat in 2005. He believes it is worth about $3m (£2.3m) today.
He strongly opposes the demolition proposal.
"It's not about the money. In fact, in 2007, the URA offered me what I had paid for it. I'm passionate about this place," he says.
Still not safe?
The Urban Renewal Authority has been trying to buy up properties within its project site for years.
In general, it must obtain the agreement of 80% of affected owners in order to proceed with a given project.
The authority admits in this case that the rate of acquisition has been "not satisfactory" and had therefore applied directly to the Town Planning Board for approval.
Despite the withdrawal, conservationists said the neighbourhood was not entirely safe from gentrification.
That is because the authority still had approval, granted in 2013, to tear down the "tong lau" in order to build medium-rise buildings.
Local residents and their supporters hope the Hong Kong government will eventually decide to preserve the entire area, instead of demolishing the historic buildings.