Wolf Warrior 2: The nationalist action film storming China
By Beijing bureau
BBC News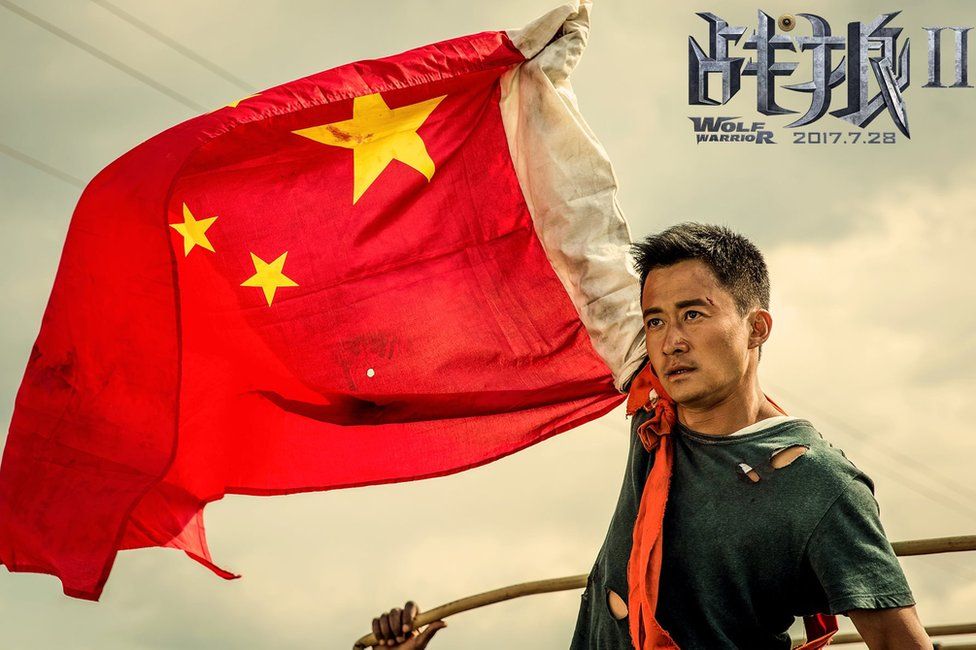 "Anyone who offends China will be killed no matter how far the target is."
That is the tagline for Wolf Warriors 2, the Chinese box office hit that is equal parts testosterone-fuelled machismo - think blazing guns, explosions, and tanks - and chest-thumping Chinese patriotism.
It sees a soldier venturing into an African warzone and saving hundreds of lives from Western baddies. It's basically the plot of your typical Hollywood action movie, but this time it's a Chinese man upholding justice and keeping the world safe.
Following in the footsteps of Jackie Chan and Jet Li, martial arts expert Wu Jing is among a new generation of Chinese action stars turned directors.
His first Wolf Warrior film came out in 2014, but it didn't make much of an impact. Mainstream movies, especially those promoting patriotism, usually don't do very well in China.
Wolf Warrior 2, however, has become a phenomenon.
The film revolves around a covert rescue mission when rebels overrun a town in an unnamed African country.
Leng Feng, a Chinese special forces soldier played by Wu Jing, is sent in to save Chinese businessmen and locals held by Western mercenaries.
Many moviegoers said online that they were touched by the patriotic plot.
"This movie is the best Chinese action movie," one social media user wrote. "Shockingly good - hot blood and tough guys. I shed tears after watching it," said another.
More on entertainment in China:
One reason for the enthusiastic response compared to the first Wolf Warrior film is its improved action scenes.
Many in China have praised the film for its combat scenes and stunts - such as tanks skidding around like the cars in the Fast and Furious franchise - saying they are of "Hollywood quality".
The movie, which is entirely privately funded, has also been lauded for its attention to detail and reportedly features close replicas of many of the latest weapons and artillery used by the Chinese army.
But timing has also contributed to its success, with the Chinese nation in the throes of a new wave of patriotism.
The film premiered just ahead of the 90th anniversary of the founding of the Chinese army, a hugely symbolic event for the country.
Over the weekend, the People's Liberation Army (PLA) held a grand military parade which presented the latest in China's arsenal of weapons.
In a stern speech, which in parts was not dissimilar to lines from the film, President Xi Jinping vowed to fight anyone who tried to split China.
The Chinese government's mouthpiece People's Daily hailed Wolf Warrior 2 as a "superhero movie of Chinese style" that showed "fearless heroism and responsibility" and evoked passion for patriotism.
But not all in China are convinced by the message.
"Wu Jing took advantage of mainstream politics," one commenter wrote on Douban, a popular Chinese website where people can rate and comment on movies. "It's such a publicity stunt."
Another Douban user wrote: "We used to laugh at personal heroism, but binding all-powerful superheroes with patriotism is even worse."
It was not the only patriotic movie that came out recently.
Released on the same day as Wolf Warrior 2, The Founding of an Army chronicles the events which led to the set-up of the PLA.
It's being called a "salute to the 90th anniversary" of its founding, and is far more reminiscent of traditional propaganda films.
In an attempt to draw a younger audience, it features pop stars better known for their singing or acting in romance dramas to play historical revolutionary figures.
The public response, however, has been muted. It got only a fifth of Wolf Warrior 2's box office takings in the first four days of its release.
Many have complained about its focus on attracting young fans rather than quality.
Such criticism appears to have been hushed up - the comment and rating sections for this movie on Douban are now closed.