China's 'Super Vulgar Butcher' Wu Gan goes on trial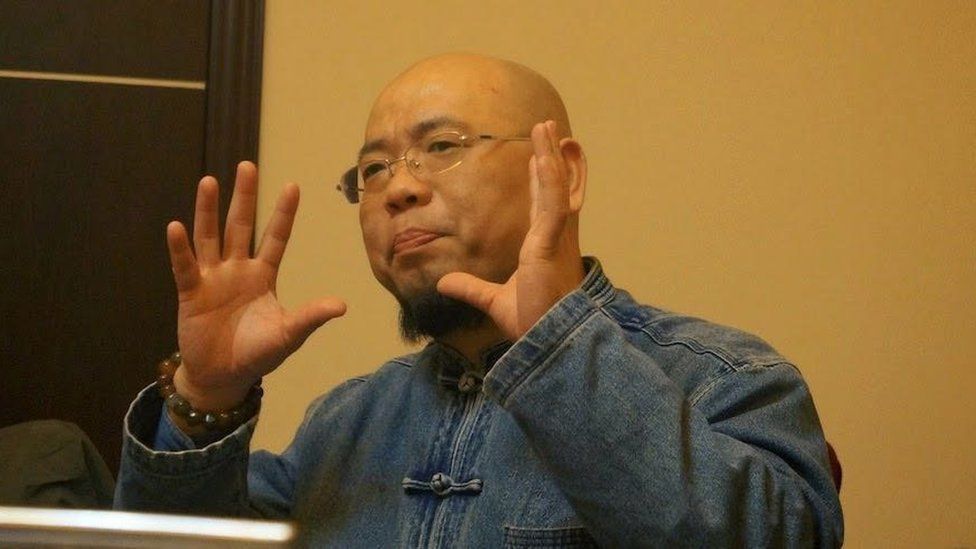 The "Super Vulgar Butcher" might seem an unlikely name for a man who has spent his time fighting for human rights.
The self-styled "butcher" took his cleaver to injustice and corruption in an uncompromising, sometimes uncouth campaign that made him one of China's best-known dissidents and an enemy of the state.
But this week his colourful, unconventional approach to advocacy and protest came to a formal end.
After more than two years in detention, Wu Gan (his real name) has been put on trial at the Tianjin City Number Two Intermediate People's Court charged with the subversion of state power.
The 44-year-old had anticipated this fate, recording a video in which he gives instructions about who should represent him and explains that he has been motivated by only one aim: "To make China a happier place."
The Super Vulgar Butcher certainly seemed to relish the challenge of championing what were often the saddest and seemingly the most hopeless of causes.
He took up the case of a rape victim who had killed her assailant, a Communist Party official, by stabbing him with a fruit knife.
He fought for justice on behalf of four men who claimed that they had been wrongfully jailed for murder.
Of course, taking on the system is never likely to make you popular with the authorities in China.
But what really earned the Butcher their ire were his unconventional methods.
He rallied public opinion through online campaigns and brought pressure to bear on local officials by staging protests or even performance art, often bawdy acts of mockery designed to shame and humiliate.
He once photo-shopped the faces of three Henan province officials onto pigs, and posted the pictures on social media with the caption: "World's Most Wanted; three fat pigs."
He stuck the image of a female official's face onto a naked mannequin and announced that he intended to live-stream video footage of himself sleeping with her every day.
Today, all of this seems extraordinary given the tightening restrictions on freedom of expression that the Chinese government has imposed in recent years.
But Wu Gan began his activism a decade or so ago, in an era when the still yet untamed internet offered activists at least a limited chance to organise and campaign.
And although his methods may seem extreme, in a system in which 99.9% of criminal trials result in a conviction, direct action is often the last, desperate resort.
In the miscarriage of justice case mentioned above, the four men's lawyers had already staged a sit-in at the court for over two weeks in a bid to get the court in the province of Jiangxi to review the case files.
In trademark style, Wu Gan took a different approach, setting up two large banners outside the court.
One showed a photo of the chief judge, on which he had drawn a Hitler-style moustache, above a written demand for the judge to name how much he wished to be bribed.
On the other, the same photo had been superimposed upon a tombstone.
The Butcher stood between the two banners with his middle fingers raised in defiance.
However vulgar, the point was - as always - to harness public attention to a cause.
And to that end he can claim to have had a hand in some rare and notable successes.
The rape victim, a young woman named Deng Yujiao, was eventually spared criminal punishment.
And the four wrongfully convicted men had their convictions overturned - an extremely unlikely event in China - although Wu Gan had already found himself in jail by the time of their release.
In fact, the sweeping crackdown on lawyers and activists launched in 2015 was aimed, in large part, at bringing an end to the use of protest and pressure to influence court decisions.
And the Butcher, the pre-eminent practitioner of such tactics, was one of the first to be detained.
His court case this week makes him one of the last to be tried.
Friends believe the delay is almost certainly due to his refusal to acquiesce and make, as others have been forced to, a broadcast confession on state-run TV.
The brief statement from the court said that he "recognised that his behaviour violated criminal law", although there is no way to verify the claim as the trial was held in secret.
The verdict and sentencing will be announced at a later date.
But we do know something of Wu Gan's own feelings about his trial, recorded in a pre-trial statement smuggled out by one of his lawyers.
It is, true to form, a gutsy and defiant proclamation from the Super Vulgar Butcher, almost certainly now facing a long time behind bars.
"Under the brutal rule of the 'Great, Glorious, and Correct' Communist Party of China, it would be embarrassing if I wasn't framed as a 'criminal'," he writes.
He calls his trial a "farce", alleges that he has been tortured while in custody - an all too familiar complaint -and makes it clear that he has absolutely no regrets.
"Life is short, so we'd better 'commit our crimes' while we've still got the chance. My crime of subverting the Communist regime is a great honour for me."