Hip-hop takes centre stage in China for the first time
By Beijing bureau
BBC News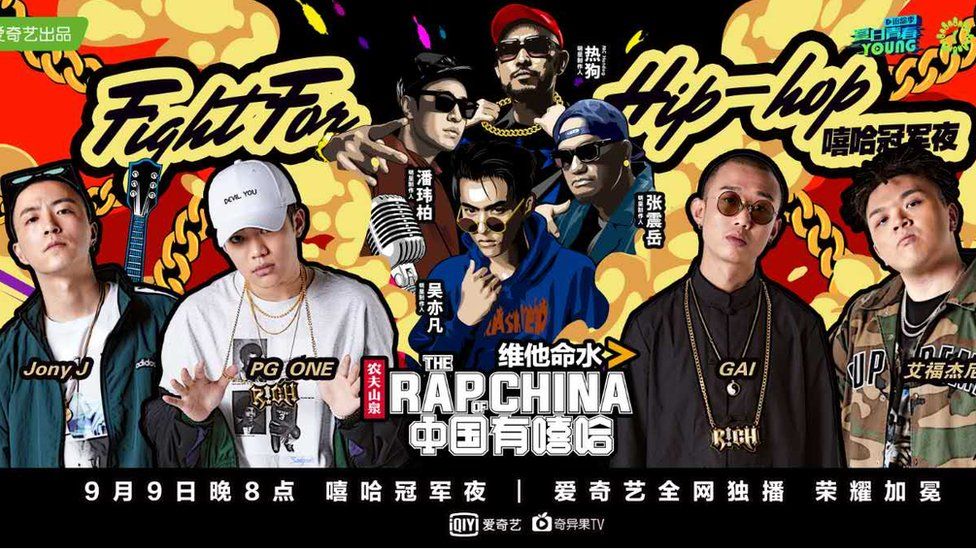 A hugely successful internet reality show has put hip-hop music into the national spotlight for the first time in China.
With more than 2.5 billion views on China's largest online video hosting website, iQiyi, the Rap of China has seen dozens of Chinese rappers shoot to stardom.
Showcasing young and feisty contestants locked in rap battle in front of a panel of celebrity judges, the show sparked debate, memes and catchphrases across the Chinese-speaking web.
"Can you freestyle?" became a buzzword, after one of the celebrity judges, Kris Wu, used it to repeatedly grill contestants as he was questioned over his own hip hop legitimacy. Hip hop terms like "diss" - to put someone down - have crept into everyday conversation.
The 12-episode show, which wrapped up last weekend, was hugely successful in bringing underground rappers such as HipHopMan, Tizzy T, PG One, Jony J, or VAVA to public attention.
"It's like they ripped open a gap and found it full of gold," Wang Ke, or MC Bigdog, one of the contestants featured in the show, told the BBC.
"Chinese rappers have been underestimated and neglected," Wang said. "Our net worth has grown exponentially after the show, but it should have done so a long time ago."
Rappers like MC Bigdog were around long before Rap of China.
The genre started gaining momentum in the early 2000s, influenced by American rappers like Eminem and Jay-Z.
Rappers who did well might be signed to labels, music festivals and fashion brands. Some got to perform in clubs.
The number of hip hop music venues and clubs has grown over the years, and national competitions like the China Iron Mic helped to spur on the scene in many cities.
Yet in a society that doesn't encourage self expression, the rebel spirit of hip hop never really managed to take centre stage but stayed in its own ecosystem.
For most rappers it has remained a hobby - some would even pay out of their own pockets to record albums.
Rap of China, therefore, was a game changer. It was said to be the most expensive reality show in history with an investment of 200 million yuan ($30m; £23.7m). Some 700 aspiring rappers auditioned.
Al Rocco mainly raps in English. He was eliminated in Rap of China in the first round because he didn't rap in Chinese. He then wrote an expletive-laden song, The Rap of China DISS, to show his contempt for the format.
Although the show provided money for hip hop music to grow, "it's not real hip hop that is in the show," Al Rocco complains. He thinks the programme focuses on drama rather than the music itself so people who didn't know about hip hop would tune in to see it.
"China is a hard market," says Al Rocco, a Hong Kong-born rapper who lives in Shanghai. "Hip hop is so small in China even though we've been doing it for so many years. You need money to bring that to the world," he says.
Adding drama was not the only criticism Rap of China faces. Many have accused it of having an unfair selection process that favoured some contestants, and others pointed out that the set-up and theme were strikingly similar to South Korean hip hop reality TV show Show Me the Money.
But the criticism that matters most to rappers and diehard underground hip hop fans in China is whether going mainstream would mean the end of what they see as "real hip hop".
Wang Bo, or MC Webber, who many consider to be China's hip hop authority, was one of the many underground rappers who tried to steer clear of the show.
Wang thinks even Xi Ha, the Chinese translation of "hip hop", was created to help make a quick profit. Over-commercialising hip hop will drain the creativity of young people and reduce the songs to "fast food music", he wrote on his microblog.
However, MC Hotdog, who now has his own hip hop business managing rappers and performances, says he's hopeful about the new changes.
"It was hard to keep hip hop real before in China because of all the politics in China," MC Hotdog said.
"Now that the money problem is solved, hip hop artists don't have to worry about their livelihood. They will have more room to keep it real."
"Real hip hop", MC Hotdog says, is for those underdogs in society to have a voice of peace, love, independence and unity.
"We are not highly commercialised like in the US where hip hop is just about money and sex," MC Hotdog says. "What China offers is our long history and deeply cultured literature."
'We will make it Chinese'
This is not the only thing that China will offer though. Rap of China also had to face China's increasingly stringent internet censorship.
The latest restriction is for online multimedia content like mini movies, reality shows and commentary programmes to avoid producing content that is vulgar, sensational or political.
The "healthy and positive" environment the authorities require is not entirely in line with what's considered "real hip hop", but what we already see is hip hop living in harmony with Chinese characteristics.
"Like Chairman Mao said, borrow what's good from the West and use it in China," says one of the contestants MC Sun Bayi, who is known for performing in formal business attire.
"The Chinese invented gunpowder and the Westerners made firearms with it. Now they have hip hop, and we will make it Chinese."
"I don't like rapping about what I shouldn't rap about anyway, especially things not in line with Socialist values," MC Sun Bayi says, shrugging off concerns that hip hop is losing its edge.
"This is the Chinese version of hip hop," he concludes.