What in the world: Singh's legacy and South Africa condom remedies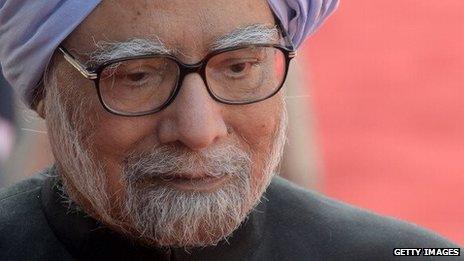 A review of the best commentary on and around the world...
Last Friday, Indian Prime Minister Manmohan Singh announced he was stepping down after this year's elections, so it's time for a round of reviews of his 10-year rule and what legacy he may leave.
"Media write history for Manmohan because he seems absent-minded about it in public," writes Shiv Visvanatah in India's Economic Times. "Any senior clerk on retirement would have turned in a more sentimental performance than Manmohan did in stating he would not pursue a third term. The body language was interesting. He appeared like a sad, tired squirrel pointing out nuggets of his performance."
Slate's Joshua Keating writes that despite Mr Singh's record of lifting more than 137 million people out of poverty, "prospects look grim for his place in history".
The Daily Beast's Kapil Komireddi calls him "India's puppet prime minister". He achieved his position thanks to Sonia Gandhi, he writes, who saw him as "a placeholder for her son, Rahul".
Speaking of Rahul Gandhi, the Wall Street Journal opines that it is now time for the heir to the Gandhi legacy to come up with some "serious ideas" and "decide whether he'll offer voters a real reform choice, or whether he'll fall back on promises of handouts and appeals to nostalgia for his forebears".
The online rumour mill - It's no coincidence that the stories about North Korea's Kim Jong Un and his 120 canine executioners originated in China. According to Chinese author Yu Hua, the lack of honesty from Chinese officials and a media that is unable to hold them accountable allows unfounded Internet rumours and gossip to spread like wildfire.
Goodwill must prevail in US-India diplomat row - Former Indian Consul General in New York Prabhu Dayal writes that the two nations should discuss how to classify Indian domestic assistants, who are more than just ordinary domestic workers.
Zapatista Indian rebels: Isolated and poorer - Twenty years after a ferocious uprising in southern Mexico, writes the Miami Herald's Andres Oppenheimer, the "obscene poverty" of Chiapas Indians proves the rebels were more interested in power than helping their people.
EU ban on seafood imports is hypocritical - David Pred in the Cambodia Daily is outraged that the EU bans importation of Cambodian seafood to prevent illegal fishing but does nothing to prevent "the forced displacement and impoverishment of hundreds of thousands of rural Cambodians to clear the way for large-scale agribusiness operations".
Cutting the legs off the oil industry - Yvonne Chen writes in the Jakarta Post that attempts to limit the number of foreigners working in the Indonesian oil and gas industry will leave companies short-handed and resources untapped.
Using free condoms to relieve knee pain - Apparently, condoms aren't just for recreational use, as the elderly residents of the eastern South African province of Mpumalanga have taken to rubbing the contraceptive gel contained in the packaging on their knees to relieve arthritic pain.
"Old knees are being cured at such a rate that their owners may well resume sexual activity themselves," writes the Independent's John Scott. He wonders what other off-label uses creative South Africans can find for their condoms.
Have you found an interesting opinion piece about global issues that we missed? Share it with us via email at echochambers (at) bbc.co.uk.