Is a Barbie doll swimsuit spread in Sports Illustrated too sexy for a toy?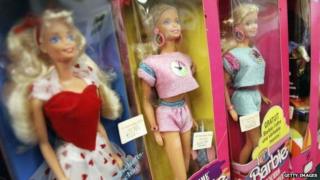 This year's edition of Sports Illustrated's swimsuit issue will feature a four-page pictorial of a Barbie doll when it hits newsstands next week.
Besides prompting a spate of jokes about the magazine known for young, scantily clad women using a 55-year-old model, it's also set off a round of now-familiar criticism about the unrealistic physical example the pencil-thin doll creates for girls.
"Our girls are only so young for such a very short time, and taking one of her toys and putting it alongside sexualized and dehumanized images of women to fall under the male gaze is wrong on so many levels," writes Eve Vawter in the blog Mommyish. "It's bad enough this toy is sexualized as much as it is, and by sticking her in with other women in a sexy photo spread we are making no doubt about it. Barbie is no longer just a doll. She is a sex doll."
Technically, the four-page spread in SI is sponsored content, as the toy company Mattel is paying the magazine for the privilege of being included in its pages. It's all part of a co-ordinated marketing campaign that features a limited-doll and a confrontational one-word tagline: "unapologetic".
The New York Times quotes a statement from Mattel:
"As a legend herself, and under constant criticism about her body and how she looks, posing in" the issue "gives Barbie and her fellow legends an opportunity to own who they are, celebrate what they have done and be #unapologetic.
Elizabeth S Mitchell in Mediabistro takes issue with the confrontational tone:
Trying to stick it to the critics by saying, basically, "yeah, our product has been promoting unrealistic standards of beauty for decades, we've made billions doing it, and we aren't going to apologize," is abrasive, and in our humble opinion, quite tone-deaf.
Slate's Amanda Marcotte agrees. "It's a bold move on Mattel's part to co-opt the debate that always rears up when the latest swimsuit issue comes out by vilifying the people who make the criticism before they even do," she writes.
She says that the Barbie controversy is really just "distracting from the bigger issue, which is the troubling question of why there is still a swimsuit issue, a relic of a time when women's sports were treated as a novelty, in the first place".
Others think Barbie is getting a bad rap.
"Barbie is the doll that shaped the childhood of millions, including mine," writes 16-year-old fashion blogger Justina Sharp for the New York Times. "She shows little girls that they can do it all, even become an astronaut if they please, and do it all in sparkles. She calmly accepted the criticism thrown her way, and continued to be herself, a lesson in and of itself."
Time magazine's Charlotte Alter writes that "it's hard not to feel sorry for Barbie", who has been "ruthlessly attacked, snatched out of the hands of doting six-year-olds by politically correct parents and usurped by fishnet-clad hussies with none of her dignity and professionalism".
She thinks the emphasis should not be on the doll's unrealistic looks (a girl's self-esteem is much more dependent on her mother's attitudes, she says), but on her career accomplishments, such as a doctor, an astronaut and an Olympian.
"She represents beauty and materialism, sure, but she also represents mutability, imagination and professional possibilities," she writes. "If we took her work life half as seriously as we took her waist measurement, we could use Barbie as a way to talk to girls about the jobs they want, not the bodies they want. Barbie knows how to ask for a promotion, you can give her that."
In the end, as it often does, it probably all comes down to money. Barbie dolls aren't selling like they used to, with sales slumping 13% in the fourth quarter of 2013.
"The results will further fan fears that the company's iconic Barbie brand is fading," writes the Wall Street Journal's John Kell.
A new marketing campaign with an in-your-face-attitude may backfire, or all the free publicity could be just what the I Can Be Doctor Barbie ordered. Given the financial realities, it seems a risk Mattel was willing to take.