Gay rights: Republicans' last hot-button issue?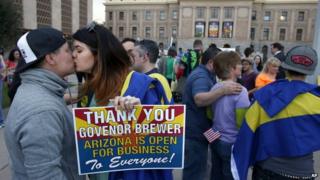 Arizona Republicans drew their state into a national gay rights debate after proposing to allow business owners to refuse service to gay people on religious grounds.
Blame immigration, a prominent Republican strategist tells the BBC.
Changing US demographics - particularly a growing Hispanic voting bloc that traditionally trended Democrat - have forced the conservative party to step back from immigration and what was once an easy political target.
Party leaders have recently put on hold talks of immigration reform until after November's mid-term elections, citing distrust of US President Barack Obama.
But many have called it a manoeuvre to, if not appeal to Hispanic voters, not ostracise them as Republicans eye the 2016 presidential election.
Becoming the minority
In Arizona, Republican lawmakers are facing a population that is currently 30% Hispanic, well above the 16.9% US average.
In 2012, the party lost ground in both chambers, shedding seats in the Senate and the House of Representatives.
Given the growing Hispanic birth rate, Republicans are seen as in real danger of losing control in the state.
"If they don't find a way over the next several years to bring the Hispanics into the fold, the Republicans are going to become the minority party," Republican strategist Ford O'Connell says.
Losing a majority at the state level may not seem like the worst thing in the world.
But only the political party in control of the state legislature decennially, next in 2020, gets the ultimate prize: redistricting rights.
Redistricting can reshape the state and national landscape for a political party - and perhaps more importantly, the opposing party - for years to follow.
And right now, Republicans are losing ground, forcing them to throw political "red meat" to invigorate their conservative base, O'Connell says.
Alienating younger voters
With immigration reform on hold, only one other issue holds the same kind of media sway: gay rights.
Republicans in the Arizona state legislature put forth the anti-gay bill because "it was something that for them looked good on paper", O'Connell says.
The approach was likely to appeal to older conservative voters, of which Arizona, as a prime US retirement spot, has many.
But, O'Connell adds, "I don't think they recognised exactly where it would lead them with voters under 40", as anti-gay rhetoric and legislation has tended to put off younger voters.
The bill drew a firestorm of negative attention after its passage last week, leading large corporations like Marriott and Intel to call on Governor Jan Brewer to veto it.
Even Arizona Republicans later decried the very legislation they themselves initially voted for.
"They're turning to it and realising it's not a good idea," O'Connell says. "Obviously this wasn't a good move."
A live grenade
Governor Brewer confirmed those sentiments on Wednesday evening when she vetoed the measure, saying "it could divide Arizona in ways we cannot even imagine and nobody could ever want".
So, if immigration is shelved and anti-gay legislation is proving to be a live grenade, what issues are left for the conservative party to campaign on?
"Jobs, college affordability, tax reform, energy and transportation," O'Connell says.
The drawback: None of those are considered "sexy" hot-button topics that will energise supporters and bring new members into the fold.
"What it means at the end of the day is Republicans are going to have to reassess over time exactly how they expand the tent and what are the best policies overall to make sure they win [key] states" like Arizona, O'Connell says.
But, they must also be mindful that in the 24/7 news cycle, actions at the local level become fodder for Democrats in every state in the union.