What in the world: Republican tax plan praised - by liberals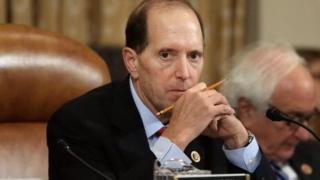 A review of the best commentary on and around the world...
Today's must-read
The tax reform plan advanced by Republican Representative Dave Camp isn't your standard right-wing sop to the rich, writes a surprised Jonathan Chait in New York magazine.
"It may be the most impressive and ambitious domestic policy proposal crafted by a major Republican in a generation," he writes. "Granted, this is a low bar for a fanatical and brain-dead party, but it's notable all the same."
He writes that the plan "reduces tax rates by eliminating preferences in the tax code. Subsidies for home mortgage debt and employer-sponsored insurance, among others, would be radically scaled back. And eliminating these kinds of favouritism encourages workers and businesses to instead follow market signals, and likely to make more market-friendly decisions."
Slate's Matthew Yglesias agrees. "From the standpoint of actual legislating, this is actually the good option," he writes. Although tax reform is "especially hard", he says, were it to happen "it would happen precisely because of collaboration across the aisle between some entrepreneurial legislators".
Republican strategist Ed Rogers writes that the plan gives Republicans a positive message to run on in this year's midterm elections.
"Saying that we need a fairer, flatter, simpler tax code is just an empty cliche if we don't have a plan to make that idea a reality," he writes. "Well, now we have a serious tax reform proposal."
Although New York Times editors dismiss the plan as "a mere conversation starter", the editors of the Washington Post call the Republican plan a "serious approach", but consider it "dead on arrival".
"Much of the blame for that belongs with the leaders of his party, who smell victory in the November elections and don't want to do anything controversial - such as committing themselves to an actual positive agenda - that might put that prospect at risk," they write.
Uganda
The West needs to mind its business - Beti Olive Kamya of the Daily Monitor writes that legalisation of homosexuality will only follow its social legitimisation in Uganda. Questioning what she sees as the unconvincing reasons behind the US acceptance of homosexuality, she says that the West shouldn't impose a belief that took a hundred years to legitimise. "Africa is right to define her contemporary values and stand by them," she writes. "Future generations are free to change them when they have metamorphed."
China
The "bully" of Southeast Asia - Due to internal political struggles, China has shifted its diplomacy style from the "soft-power" on which it used to rely, to aggressively promoting its self-interest, writes Christopher R Hill for Lebanon's the Daily Star. "Indeed, despite appearances, President Xi Jinping's reform agenda involves not so much a grand vision of the future - what Xi calls the 'Chinese Dream' - as a capacity to navigate the complex political calculations that need to be made to ensure that everyone will be satisfied enough not to rebel," he writes.
Russia
Ukrainian uprising weakens Russia in Arab world - Syria and Iran should be worried that the revolt in Ukraine will cause Russian support for their regimes to flag, writes Al-Arabiya's Abdulrahman al-Rashed. "The events may encourage a rebellion in the Russian capital as those who oppose Vladimir Putin accuse him of corruption," he writes. "What concerns us is not throwing stones on the Kremlin but that the Russians refrain from drowning the region and the rest of the world in its struggles, which could bring it back to the Cold War era."
Argentina
Hope is disappearing - Argentina is still suffering from the legacy of Juan Peron's "singular delusional power", writes the New York Times's Roger Cohen. "Economic whiplash is alive and well," he says. "So are reckless spending in good times and lawless measures in bad."
Australia
Empathy for immigrants - Australians who oppose immigration do so because they don't understand the turmoil that is forcing immigrants to leave their home countries, writes the Sydney Morning Herald's Elizabeth Farrelly. "Refugee rage has fortressed our continent behind barbed and tangly emotion," she says. "Its main strand is fear." The US benefits from immigration, illegal and otherwise, and so would Australia.
Ukraine
Russian and Ukrainian media worried about Crimean unrest - According to reports in the Ukrainian and Russian press, tensions are running high in Crimea, where demonstrators are pushing for unification with Russia. "What we see in Simferopol today is a big geopolitical game," write the editors of Krymskoye Ekho, a pro-Russian newspaper in Crimea, as translated by BBC Monitoring. "If you do not have fast legs and strong arms, or if you do not have hidden weapons or have been unable to get a baseball bat for yourself, then you had better stay at home."
United Kingdom
Why are Americans so deferential? - While much is made of British respect for authority, writes the Telegraph's Peter Foster, in reality it's Americans who are obsequious to power and are swayed by political dynasties like the Clintons and Bushes. "Perhaps the people are cowed by the knowledge that any insolence is liable to be met with a drawn firearm or Taser-zap from which there will almost certainly be no legal recourse, but the sheer compliableness of the US public surprises many of us foreigners," he writes.
BBC Monitoring's quote of the day
Allegations of Turkish corruption: "It is terrible that our country has turned into a quagmire of bribery, robbery and corruption. If this was happening elsewhere, there would be a great furore: the corruption and robberies would have an impact bigger than a storm and facing this, no government could stay in power and those responsible would find themselves in court immediately" - Rahmi Turan in Turkish tabloid Sozcu
One more thing…
Jerry Springer denies exploiting poor people - Daytime talk show host Jerry Springer, the founding father of the confrontation-style sensational television programme, admits to the BBC's Jeremy Paxman that his shows are "stupid" but he's not ashamed of them.
When asked whether he exploits the poor and uneducated, who are frequent guests, he says no. "For one time in their lives people are listening to them," he says. His programme "reflects society".
Have you found an interesting opinion piece about global issues that we missed? Share it with us via email at echochambers (at) bbc.co.uk.