Hillary Clinton's Putin-Hitler analogy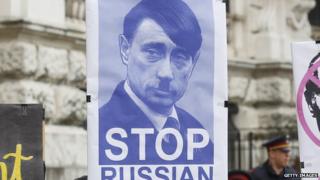 A review of the best commentary on and around the world...
Today's must-read
When Russia began issuing passports to Ukrainian citizens, it reportedly prompted former Secretary of State Hillary Clinton to compare the policy to Nazi resettlement of ethnic Germans prior to World War Two.
"Now if this sounds familiar, it's what Hitler did back in the '30s," she told an audience at a private fund-raiser, according to the Long Beach Press Telegram. "All the Germans that were... the ethnic Germans, the Germans by ancestry who were in places like Czechoslovakia and Romania and other places, Hitler kept saying they're not being treated right. I must go and protect my people, and that's what's gotten everybody so nervous."
Her words, the first time comments about the Ukraine crisis have been attributed to her, have given columnists license to play the "Is Russian President Vladimir Putin the next Adolf Hitler?" game.
Former Secretary of State Madeleine Albright told BBC News Pentagon correspondent Joan Soley that she understands the reasoning behind Ms. Clinton's reference.
"Munich," she said, has long been something people point to when they want to make the case that "terrible things happen" if a nation's behaviour is unchecked by other countries.
She added she has been pondering with similar sentiment about Syria: "When do you say, enough? There is this whole concept about responsibility to protect - and so there are always echoes of, when do you do something if you see terrible things going on?"
"I think we have to put our foot down," she concluded. "This is not the way to move forward, and we need the international community to stand with us."
The Washington Post's Charles Lane calls comparisons to Hitler "the mother of all analogies" and such speculation as "a growth industry". He then dives right into the fray.
Hitler fought in World War One; Mr Putin "fought" in the Cold War.
Both Hitler and Mr Putin were "cast adrift when the empire upon which he had staked his future collapsed".
"Each considered his nation no more culpable than any other for the global conflict that precipitated its downfall." And both "set their sights on economic and military renewal and on reversing their respective nations' unjust humiliation, by force if necessary".
After that, he writes, the comparisons break down a bit. Hitler was "driven by all-encompassing racism" and a "sweeping ideological concept". Mr Putin is a "political Mafioso" and an "opportunist".
"In short, Putin's capabilities and intentions, in the context of the power arrayed against him, make him more capable of rational calculation and more containable than Hitler - but still plenty dangerous."
Well, that's a relief.
Ukraine
At gunpoint in Crimea - A BBC Russian Service reporter offers a dramatic account of a tense standoff she and her camera team had with Russian troops near Sevastopol. She was accused of being a British spy and nearly forced to strip for her captors.
Sweden
The therapeutic possibilities of progressive drug policies - PolicyMic's Victoria Kim argues that while Sweden is studying of LSD's effects on relieving end-of-life anxiety in terminally ill patients, the US is held back by restrictions that make it difficult even to include LSD in scientific studies.
"These experiences offered long-lasting psychological growth and helped people find peace in their lives without negative side effects," she writes.
South Korea
The forgotten holocaust - South Korean Foreign Minister Yun Byung-se brought Japan's use of Koreans as sex slaves in World War Two during a recent UN Human Rights Council meeting. This "testifies to the urgency of settling the protracted problem," write the editors of the Korea Times.
Writing that Korean relations with Japan "have hit their lowest point", they argue that "unless the neighboring country boldly escapes from its mistaken path, it's obvious that Japan's international isolation will deepen further".
Venezuela
Breaking the protest cycle - Jennifer McCoy and Michael McCarthy of The National Interest push back against attempts to conflate the uprisings in Ukraine, the Middle East and Venezuela. They argue that Venezuela is free from foreign pressures like those on Ukraine and is not part of a larger influence transition like the one in the Middle East. Venezuela is only fighting to break a cycle of street protests and repressive government response.
"Public support for electoral solutions, notwithstanding strong criticisms of electoral fairness, provides alternatives to street pressure to bring about change," they write.
India
The story of my banned book - Author Wendy Doniger writes about the Indian lawsuit that has resulted in her book, The Hindus: An Alternative History, being labelled a "violation of India's blasphemy law". "My case has helped highlight the extent to which Hindu fundamentalists (Hindutva-vadis, those who champion "Hindutva," or "Hindu-ness") now dominate the political discourse in India," she writes.
Colombia
A guerrilla war on oil - The Colombian Marxist rebel group Farc is now targeting the nation's oil infrastructure in order to hurt the government's bottom line, writes Bloomberg View's Raul Gallegos. Since extreme leftists in Venezuela and Cuba seem to have no problem with oil revenue, he says, Farc's condemnation of "exploiters of natural resources" rings hollow.
Canada
Don't let the rosy economic numbers fool you - While Canada seems to be momentarily outpacing the US in economic growth, the Globe and Mail's Glen Hodgson says that it won't last. He attempts to unpack the puzzle of why Canada will see sluggish economic gains compared its southern neighbour. "Doing the same old things and expecting better results is not realistic," he writes.
BBC Monitoring's quote of the day
Persian Gulf nations pull ambassadors from Qatar: "Saudi Arabia, the UAE and Bahrain's decision to recall their ambassadors from Qatar has not come as a surprise because it was preceded by storms whose winds hit the entire region before the current Qatari emir came to power... Thus, we hope that the young Qatari emir succeeds in correcting the course of his country's policy towards its Arab neighbours and brethren, and we hope that he does not become a tool in the hands of an external power trying to destroy and partition Arab countries." - Ali al-Amudi in Egypt's al-Ahram
One more thing…
The Irish pub index - OK, economists, time to look up from the numbers and put down the spreadsheets. If you really want to gauge a country's economic vibrancy, you should try to find somewhere to get a pint.
At least, that's what the Irish Independent's David McWilliams argues. He writes that tracking the opening of Irish pubs is a good way to find out who is spending money, where and on what.
"Ultimately, the more Irish bars a place has, the richer it should be and the smaller the risk of a financial or political crisis," he writes.
Have you found an interesting opinion piece about global issues that we missed? Share it with us via email at echochambers (at) bbc.co.uk.