Selling Snowden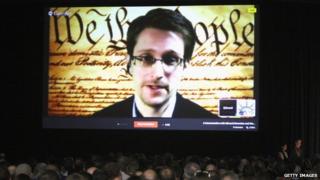 Since the time that the NSA surveillance story broke last June, opinions about Edward Snowden have been split. Was he a hero or a traitor?
Mr Snowden is "a grandiose narcissist who deserves to be in prison," wrote the New Yorker's Jeffrey Toobin.
The Washington Post's Ruth Marcus called him "insufferable" with a "messianic sense of self-importance".
No, wrote CNN's Douglas Rushkoff, Mr Snowden is a hero. Rushkoff compared him to Daniel Ellsburg of Vietnam War-era "Pentagon papers" fame.
A 4 January Quinnipiac poll found 57% of the US public considered Mr Snowden a "whistleblower". Meanwhile 34% described him as a "traitor".
According to a 21 November 2013 Washington Post/ABC poll, however, 52% of respondents said Mr Snowden should be charged with a crime.
Mr Snowden's video appearance before 5,000 convention-goers at the South by Southwest Interactive (SXSW) convention in Texas on Monday was his latest effort to shape his public image.
It's a strategy that has included interviews with the New York Times and the Washington Post, press statements and recorded videos.
"Snowden was painstaking in how he assembled a huge trove of top-secret documents while working as a tech contractor at an NSA facility in Hawaii," writes Josh Gerstein in Politico.
"And he's been equally deliberate in the way he and the team around him have crafted and cultivated his public image - controlling and carefully managing how he's been perceived by the public in the months since he burst into the spotlight."
Gerstein says that Mr Snowden efforts are angering some:
"His relative public support is clearly galling to many veteran national security and law enforcement officials, who view his behaviour as reckless and insist he's done profound damage to U.S. interests. They also sense and resent a kind of cult of personality developing around the internationally celebrated tech geek."
Media commentators are also divided over Mr Snowden. The Dallas Morning News's Tod Robberson decried the "rock-star hero" welcome that awaited Mr Snowden at SXSW.
"Snowden did some things that he needs to answer for, and hiding away in Russia, taking advantage of asylum offered by a megalomaniac serial human rights abuser, is not the way to advance the Snowden cause," he writes.
A few hours after Mr Snowden's appearance, Glenn Greenwald - one of the first journalists Mr Snowden turned to with his secret NSA documents - spoke to a conference audience via video from his current home in Brazil.
He pushed back against the criticism of Mr Snowden, particularly the accusation that he is a hypocrite for speaking out in support of free speech while living in a country with a spotty track record on the subject.
"I wish that the US government hadn't bullied the countries that he had secured safe transit to go to where he wanted to seek asylum," he said. "Trapping him in Russia has been an effective way to demonise him."
Earlier that morning, the Washington Post's Barton Gellman, another reporter who had early access to leaked NSA documents and travelled to Moscow to interview Mr Snowden, also defended the former NSA analyst and his legacy.
"One of the great gifts of Edward Snowden is the bringing of transparency to what surveillance can do," he said. "The more transparent you make it, and the more concrete and granular you make it, the more people who don't think they care about surveillance start to care."
As USA Today's David Callaway writes, Mr Snowden is revealing more of himself over time.
"He also revealed the tech geek behind the hero, patriot, or traitor," he writes. "A complex young man caught in the swirl of history, but one this crowd could now better understand as one of their own."
Mr Snowden popped up again on Tuesday, sending a statement to NBC News following allegations by Senator Dianne Feinstein that the CIA may have conducted an unauthorised search of a congressional computer network.
"An elected official does not care at all that the rights of millions of ordinary citizens are violated by our spies, but suddenly it's a scandal when a politician finds out the same thing happens to them," he writes.
It's becoming increasingly clear that Mr Snowden is determined to be an active participant in the global conversation over government surveillance and internet security. No doubt the debate over him will continue.