Turchynov: Soviet 'resurrection' has failed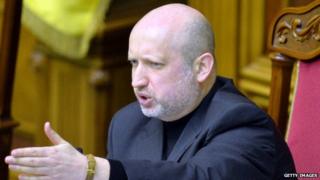 The plan for the "resurrection" of the Soviet empire has failed, writes acting Ukrainian President Oleksandr V Turchynov in a New York Times opinion piece on Thursday.
Ukrainian interim Prime Minister Arseniy Yatsenyuk was in Washington to visit with US President Barack Obama on Wednesday. Mr Tuchynov's New York Times piece is part of an effort to keep the Ukrainian situation at the forefront for the US public.
"The Kremlin had a strategy designed to weaken Ukraine and its government by prying some regions away from Kiev's control and establishing enclaves in the south and east similar to Transnistria in Moldova and Abkhazia and South Ossetia in Georgia," he writes.
According to the Week magazine, the G7 group of nations has called on Russia to halt all attempts to annex the Ukrainian Crimea, saying the region's referendum plans were a "deeply flawed process which would have no moral force".
Mr Turchynov writes that Russia is trying to provoke Ukraine into a "trap" - a military confrontation that could be a pretext for full invasion.
"No one should doubt that Ukrainians are prepared to defend their country," he says. "But the memory of our people's terrible losses during the protests in Kiev is still fresh; we cannot permit more bloodshed."
He notes that Ukraine gave up its Soviet-era nuclear weapons in a 1993 agreement that assured its territorial integrity.
He writes: "If this agreement is violated, it may lead to nuclear proliferation around the world.
The rule of law and the credibility of international institutions would also be severely undermined as deterrents to military aggression."
He concludes: "Ukraine is open to any constructive dialogue with the Russian Federation that is rooted in partnership. We wish to develop fair and mutually beneficial relations. Russia must choose how it will respond."
The US has continued to pursue diplomatic efforts with Russia, and US Secretary of State John Kerry plans to travel to London for talks with Russian Foreign Minister Sergei Lavrov on Friday.
Mr Kerry says he will present his Russian counterpart with "a series of options" for resolving the crisis.