L'Wren Scott: More than a 'girlfriend'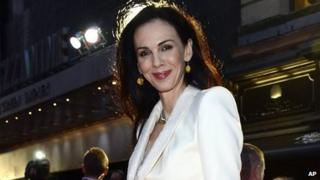 Who was L'Wren Scott? A model, a fashion designer and, yes, the girlfriend of Rolling Stones frontman Mick Jagger.
When Ms Scott was found dead in an apparent suicide on Monday, it was breaking news across the US and UK. How that news was announced, however, sparked a controversy that spread quickly across social media.
"Mick Jagger's Girlfriend Found Dead, Official Says," was the initial headline on the New York Times website.
The Associated Press story ran with: "Jagger's Girlfriend Found Dead in NYC."
And the BBC headlined its story: "Mick Jagger's girlfriend L'Wren Scott found dead."
The Washington Post's Soraya Nadia McDonald asks:
When news outlets identified designer L'Wren Scott as "Mick Jagger's girlfriend," were they being sexist? Lazy? Or were they simply identifying her for the benefit of those unversed in high fashion?
It's sexism, writes Dame magazine's Margaret Wappler:
L'Wren Scott was a self-made fashion designer and stylist who dressed Michelle Obama, Angelina Jolie and Sarah Jessica Parker, who broke out of her Mormon enclave at age 18 after a chance meeting with the fashion photographer Bruce Weber to become a big-time runway model for Karl Lagerfeld and Thierry Mugler, but on the day of her death from apparent suicide at age 49, Scott's most notable accomplishment, according to the media, was being Mick Jagger's girlfriend.
She adds: "Just what every successful woman wants chiselled on her gravestone: 'Herein lies the girlfriend of a man more famous than her.'"
The New York Times in particular, bore the brunt of readers' ire, criticised on social media with hashtags like #everydaysexism and #disrespect.
Fashion writer Laurie Brookins tweeted: "You set feminism back 100 years, @NYTStyles, when you can't manage to put L'Wren Scott's name first in favor of who she dated #Disrespect."
The media "failed" Ms Scott, according to Allison P Davis in New York magazine.
"In one sense, to those who follow celebrity and music as opposed to fashion, yes, Scott was the longtime partner of Jagger," she writes. "But in life, she defined herself as not a hanger-on, not as a fame-whore, not just as one half of a relationship, but as L'Wren Scott, a woman who pulled herself up by her incredibly chic bootstraps and became an entrepreneur."
Laurie Brookins of the Fashion Spot agrees.
"The idea that in 2014 the knee-jerk reaction is not to position a woman in her obituary with the title of designer standing alone in her own right, but to prominently and consistently place her in the reader's mind solely as the girlfriend of a rock star?" she writes. "Honestly, it's just shameful."
Several writers noted that the New York Times came under fire last year, when it ran this first line in its obituary for rocket scientist Yvonne Brill: "She made a mean beef stroganoff, followed her husband from job to job, and took eight years off from work to raise three children."
They also noted that Ms Scott herself had worried about how she would be perceived.
"I'm a fashion designer," she told the Times of London in 2013. "I don't want to be defined as someone's girlfriend."
Headline writing can often be a thankless job - particularly these days, when search engine optimisation is rewarded over creativity and Twitter imposes unforgiving limits on character count.
Dame magazine's Margaret Wappler suggests a simple test for obituary writers to keep in mind when doing their work:
If you wouldn't write the headline the other way around ("L'Wren Scott's boyfriend Mick Jagger found dead," which is preposterous just to type), don't think you're justified in writing it that way for the female half.
This particular instances demonstrates just how far women still have to go before reaching equality, concludes Christine Buzan on her blog Madame Ostrich:
Our treatment of L'Wren Scott's death reveals not only an isolated failure, but a disease endemic to our society - the belief that a woman cannot be beautiful and successful without a male's support. We still treat women's success as an anomaly that needs to framed by the question "Who supported her?" and validated by a supportive male presence.
Even in death, sexism lives on.