Crimea enters 'twilight zone of international sovereignty'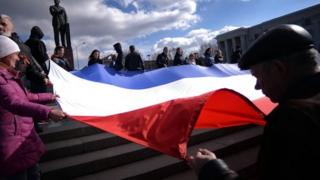 A review of the best commentary on and around the world...
Today's must-read
Crimea is in a "twilight zone of international sovereignty", writes Thomas de Waal of the Carnegie Endowment.
It's not alone, however. Several other European territories have ambiguous sovereignty that causes great confusion and resentment, and "it is not a happy list":
It begins with Northern Cyprus and in the former Soviet space extends to Nagorny Karabakh, Abkhazia, South Ossetia and Transnistria. In the Balkans, Kosovo has mostly come out of the shadows, being recognized by 107 states, but has still not taken up a seat at the United Nations. Republika Srpska and Chechnya have renounced their shadow status - for the time being at least.
As residents of these regions know, living in the shadows isn't easy. International travel presents a challenge, as does determining what currency to use and how to open bank accounts.
Crimea is a little different, he says:
The strangest aspect of the Crimean case is that this is not a situation born out of conflict. The other territories reached their sad, isolated status in large part because they had no other option in a time of bloodshed.
What's worse, he concludes, is it's all so senseless:
Crimea had plenty of autonomy already and most people did not seek an either-or of Russia or Ukraine. They were quite contentedly living with both, until the Kremlin's Sword of Damocles descended this week.
Australia
Tempers flare over immigration policy - When 34 illegal immigrants sailed over to Australia in hopes of entering the country, the Navy sent them back in an unsinkable lifeboat. The "boat people" were not enthused by the quick rejection and showed it by filming themselves screaming obscenities toward Australia and warning of a 9/11-type attack. Andrew Bolt writes for the Australian Herald Sun that the Navy did the right thing, as Australians should "choose for ourselves the immigrants we want and judge will fit in".
China
Diplomacy at sea - The Chinese government is unlikely to concede to a code of conduct in the South China Sea dispute, writes Prashanth Parameswaran for the National Interest. The Association of Southeast Asian Nations must be assertive with Chinese leaders in order to make any progress, but the issue should also be a "shared global interest" seeing as "hope is not a strategy".
Peru
Modern-day Lady Macbeth? - Peruvian first lady Nadine Heredia has been accused of having too much influence upon her husband's politics, with 62% of Peruvians believing she runs the nation. Some have criticized her of "being bossy and dangerous or a power-hungry Lady Macbeth". Raul Gallegos for Bloomberg View writes that Ms Heredia should instead be applauded for her involvement, as first ladies should "do more than sit next to their president-husbands for the photo op".
Germany
EU-bashing by a political court - The Federal Constitutional Court has been berated for overstepping its legislative limits and becoming increasingly political, particularly regarding decisions on European integration, writes Der Spiegel. Even the European Parliament claims the court misunderstands democracy in Europe. "The court is looking a lot like a sorcerer's apprentice - one that is unable to get the genie it has unleashed back into the bottle."
BBC Monitoring's quotes of the day
On Tuesday, an Israeli army patrol was targeted by a roadside bomb along the Golan Heights cease-fire line. Prime Minister Benjamin Netanyahu has warned Israel will act "forcefully" to defend itself, and an Israeli military air strike against the Syrian army took place earlier today.
"The Syrians and Hezbollah are dragging Israel into a war of attrition on the northern border at timing and rhythm they dictate, and the Israel security establishment is being dragged to this quarrel with open eyes. If the prime minister, the defence minister and the cabinet do not come to their senses and take the reins into their hands, the day will not be distant when we will find ourselves, against our wish, in turmoil on the two fronts - in Gaza and in the north... What is certain is that the policy of 'sit, do nothing, pray and twist in the hope that this will end alone' is an invitation to the next incident." - Alex Fishman in Israel's Yediot Aharonot.
"After four violent incidents on the border with Syria and Lebanon since the beginning of the month it seems that it is no longer an exaggeration to talk about revival of a front in the north... If the current escalation continues, it is possible that Israel would need a more forceful response. Yesterday it was content with firing artillery into Syrian territory in the area were the incident happened. However, the IDF still has a wider scope for action, alongside the traditional threats Jerusalem has passed to Damascus through various channels. It seems that from now on it will have to set a high price tag for terrorist attacks from the Syrian border." - Amos Harel in Israel's Ha'aretz.
"So far Israel has succeeded in remaining outside the Syrian civil war, but now it seems that it is being dragged into it with worrying slowness. Meanwhile, the military and verbal responses are directed at Bashar Assad because of Assad's given weakness, the assessments that he himself is directly or indirectly involved in the terrorist attacks, and also because Israel is not really interested in toppling him fearing his successors would be worse... It seems that we expect to see the scenario according to which the borders in the north will become terror borders sooner or later materialize." - Yoav Limor in Israeli's Yisrael Hayom.
Have you found an interesting opinion piece about global issues that we missed? Share it with us via email at echochambers (at) bbc.co.uk.