Deconstructing Putin's Crimea speech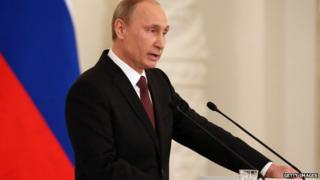 A review of the best commentary on and around the world...
Today's must-read
On Tuesday, Russian President Vladimir Putin delivered a fiery speech to a joint session of parliament at the Kremlin on his nation's attempt to annex Crimea.
His address is must-reading for those interested in how the Russian leader perceives the situation in Ukraine - both for what he says and what he doesn't say.
BBC diplomatic correspondent Bridget Kendall analyses a transcript of the speech.
"If Mr Putin was looking for a way to explain to his electorate why they still need him as president, this crisis works beautifully," she writes. "It appeals to patriotism, it invokes an 'enemy without' which requires a strong leader to hold the nation firm against foreign pressure."
The Washington Post's Charles Lane writes that Mr Putin's speech started with a lie - that the Crimean referendum was legitimate - and continued down that track for the next 40 minutes or so:
Putin presented a legal and historical argument so tendentious and so logically tangled - so unappealing to anyone but Russian nationalists such as those who packed the Kremlin to applaud him - that it seemed intended less to refute contrary arguments than to bury them under a rhetorical avalanche.
Rutgers-Newark University Prof Alexander J Motyl writes for CNN that Mr Putin has a "distorted view of Russian history.
"A bizarre kind of simultaneously aggrieved and aggressive hyper-nationalism is now Russia's official ideology," he says.
Of course, if you want a different take, you can always turn to Tamara Zamyatina of the Russian news agency ITAR/TASS.
"Vladimir Putin in a dignified manner rebuffed the cravings of our opponents from the US and Western countries to misrepresent the results of the Crimean referendum," retired Russian Colonel-General Valery Manilov tells her. "Particularly convincing was his criticism of the EU officials who recalled the existence of international law in connection with referendum, although they more than once encroached on its provisions in Serbia, Iraq and Libya."
Nigeria
Spending time with email scammers - During a recent trip to Africa, Mother Jones's Erika Eichelberger sat down with some of the people behind the ubiquitous Nigerian email scams, which they call Yahoo (pronounced "ya-OO") jobs. They say they target lonely women and Saudi Arabians with money to burn. "They justify what they do by claiming that the highest levels of the Nigerian government are ridden with scammers," she writes.
Thailand
On the edge of moral and political ruin - Pornpimol Kanchanalak writes in Thailand's the Nation that his country has lost its moral compass during the recent political crisis. "Our government believes that winning an election has given it the absolute mandate to act in any way it sees fit, utilising not only double, but multiple standards, when it comes to applying the rule of law to itself," he says.
China
Immigrants are overrunning Hong Kong - It's easier for mainland Chinese to move to Hong Kong than it is to Beijing, writes Leung Man-Tao for Caixin media (translated by WorldCrunch), leading to a surge in the city's population. "The mainlanders are buying into Hong Kong's relatively safe and transparent healthcare and its various education services," he writes. "But Hong Kong's system doesn't seem to be capable of coping with the overwhelming demand. What Hongkongese end up seeing are soaring prices, messy streets, and public resources stretched thinner every day."
Saudi Arabia
At the mercy of insurance companies - Up until now, the Saudi Arabia Ministry of Health provided free healthcare for the nation's citizens, writes Sabria S Jawhar in the Arab News. A new policy, however, requires Saudis working in the private sector to finance their medical care through insurance companies. "If insurance companies can dictate what services can be approved or denied, it will be a disaster for Saudis working in private companies." he writes.
BBC Monitoring's quotes of the day
With local elections imminent, the row in Turkey over corruption allegations surrounding Prime Minister Recep Tayyip Erdogan's government has heated up again. President Abdullah Gul has publicly contradicted Erdogan's oft-repeated assertions that the corruption scandal is part of a foreign-backed plot.
"Just 10 days before the long-awaited local elections in Turkey, political tensions have risen to previously unseen levels. The discourse used between rival political leaders is not new. The mass media is also exacerbating stresses in society. Still this is not unheard of in a country where the political debate is based on enmity rather than competition." - Tulu Gumustekin in Turkey's Daily Sabah
"The stench has pervaded the whole country. Everything is quite obvious. There is no situation that can be objected or attempted to deny. Prime Minister Erdogan himself is sinking while trying to protect his circle... Unless he rescues himself from the [corruption] claims before the judiciary, the blemish will continue and grow; the country will become totally unmanageable!" - Rahmi Turan in Turkey's Sozcu.
"The process that is being gone through in Turkey these days has only one meaning: McCarthyism. If Erdogan comes out of these elections with an increased share of the vote, that means hard days are waiting for every single person whose path has coincided with the [Gulen] Community... If these people do not want their, their children's, the country's and the democracy's future to be blocked... they should act according to this fact." - Emre Uslu in Turkey's Taraf.
Have you found an interesting opinion piece about global issues that we missed? Share it with us via email at echochambers (at) bbc.co.uk.