Sarkozy: French phone taps like Stasi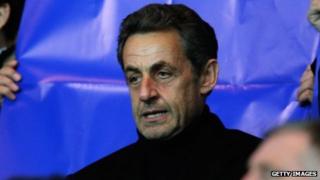 A review of the best commentary on and around the world...
Today's must-read
Former French President Nicolas Sarkozy compares his current status as a target of government investigation to that of an East German during communist rule.
"Even today, everyone who phones me must know they will be recorded," he writes in the French newspaper Le Figaro, as translated by France 24. "You've read correctly. This is not an excerpt from the marvellous film The Lives of Others about East Germany and the Stasi's activities. These are not the actions of some world dictator taken against his opponents. This is France."
In a letter published on Friday, he addresses for the first time the allegations of corruption that have followed him in the two years since he left office.
"The sacred principles of our Republic have been trampled with an as-yet-unknown violence and unprecedented lack of scruples," he writes.
He concludes by saying that he is not interested in returning to public life, although he frames it as a warning to his critics:
To those who fear my return [to politics], rest assured that the best way to avoid it would be by allowing me to live my life simply and quietly ... basically like a 'normal' citizen.
The response from the French government has been quick and forceful.
"Any comparison with dictatorships is intolerable," French President Francois Hollande said.
"Our country is democratic, proud of being recognised as based on human rights where justice - at least as long as I am president - can act independently."
China
Does Crimea foreshadow Taiwan response? - China is closely watching the world's reaction to Russia's attempts to annex Crimea, writes the Week's Damon Linker. The lack of a strong Western response to the Ukraine situation, he argues, could have "dangerous geopolitical consequences". Could China be tempted to make a move on Taiwan, which it considers a breakaway province? "The fact is we just don't know," he says. But scenarios like this are increasingly likely when the US doesn't enforce world order.
Turkey
What does freedom mean to a Turkish journalist? - After Turkish Prime Minister Recep Tayyip Erdogan's decision to restrict access to Twitter because of how social media has damaged the government's reputation, writer and journalist Kursad Kahramanoglu tells the BBC that freedom for him means being able to interact with his friends around the world and read the news.
"My only reliable source of information is through the internet. If the internet was restricted, my freedom allowing me to be informed no longer exists," he says.
Italy
Busting the myth of the mafia code - La Stampa's Francesco La Licata says that the idea that members of the mafia have a code that forbids them from harming women or children is a myth. The latest example is a two-year-old boy, killed in a revenge hit.
"It would be absolutely impossible to recount all the terrible stories that have taken place on the island of Sicily," he writes (translated by Worldcrunch). "One thing seems pretty conclusive, though: Scrolling through the list of victims, it's quite apparent that ours is an island for neither women nor children."
Venezuela
The people are not behind these protests - The world has Venezuela all wrong, writes Mark Weisbrot for the Guardian. Daily life in Venezuela chugs along regardless of the protests, which are backed by a minority of people who are wealthy enough to afford the protest. And the tide doesn't seem to be turning as the economy stabilises and halts inflation before the next election over a year away.
"The only place where the opposition seems to be garnering broad support is Washington," he says.
BBC Monitoring's quotes of the day
Chinese commentators are offering early reactions to US First Lady Michelle Obama's week-long visit to China with her two daughters.
"Given that first ladies are unique ambassadors for the United States, the trip stands out as a stroke of 'gentle diplomacy' on the part of Washington… Although it would be naive to expect Michelle's visit to iron out all differences between China and the United States, it is safe to say that a successful visit by Michelle will infuse fresh vigour into the development of bilateral relations." - Chinese news agency Xinhua.
"In practising 'first lady diplomacy', the United States appears to be expressing goodwill towards China in a light-hearted manner. But at the end of the day, it is intended to show America's soft power, to export their so-called universal values to China and to compete for hearts and minds with the Beijing authorities. The only difference is that it is done in a more concealed and flexible way. China should understand the hidden overtone and avoid being fooled by it." - Hong Kong's Oriental Daily.
"We need to develop such purely friendly exchanges, which play an irreplaceable role in reducing the mutual distrust and wariness between China and the United States." - Chinese edition of Global Times.
Have you found an interesting opinion piece about global issues that we missed? Share it with us via email at echochambers (at) bbc.co.uk.