Obama's 'mindless' NSA supporters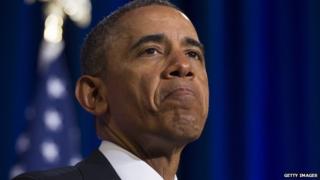 A review of the best commentary on and around the world...
Today's must-read
President Barack Obama's plan to call for legislation ending the National Security Agency's bulk collection of American's phone data is exposing the lockstep-marching hypocrisy of many Democratic politicians, writes Glenn Greenwald.
In an article on The Intercept, the former Guardian journalist's new media endeavour, Greenwald says he long ago realised that "many Democrats literally had no actual political beliefs other than 'we support Obama in everything that he does'".
He writes that Mr Obama's latest reversal puts Democrats who backed the NSA programme in an "extremely difficult position":
If they had even an iota of integrity or intellectual honesty, they would instantly and aggressively condemn Obama. After all, he's now claiming to want to end a program that they have been arguing for months is vital in Keeping Us Safe. Wouldn't every rational person, by definition, criticise a political leader who wants to abolish a program that they believe is necessary to stop terrorism and preserve national security?
They won't do that, he concludes, because their support for the NSA was really just a reflection of blind backing for the president.
He describes this attitude: "The Leader is right when he does X, and he's equally right when he does Not X. That's the defining attribute of the mindset of a partisan hack, an authoritarian, and the standard MSNBC host."
Greenwald concludes by observing that Mr Obama's action is "potent vindication" of Edward Snowden's release of secret NSA files.
"Whatever test exists for determining whether 'unauthorized' disclosures of classified information are justified, Snowden's revelations pass the test with ease," he writes.
China
A bridge between Russian and the West - China needs to move past its "non-intervention policy" and play a role as a mediator between Russia and Western nations as the Ukrainian crisis unfolds, write Zhang Hong and Wang Ling in Caixin media (translated by WorldCrunch).
"A great rising nation must possess moral appeal and affinity," they write. "A country that takes into account only its own interests without questioning what's right or wrong can never win international respect."
Somalia
The fight against al-Qaeda in Africa - BBC correspondent Mark Doyle follows a group of Ugandan troops as they fight against the Islamist militant group al-Shabab. "Somalia has been at war for decades," he says. "The human cost of that is incalculable." He says the tragedy of Somalia feels like an "ungovernable country" where "foreign troops dig in; foreign jihadists battle against them".
Turkey
Turkish leader's Twitter ban is delusional - Diana Moukalled of Lebanon-based Future Television says that Prime Minister Tayyip Erdogan may well have committed a "cardinal sin" and opened himself up to mockery when he ordered his nation to block access to the social media platform Twitter.
"For Erdogan to declare that he would fight Twitter - and then actually try to do it - is the pinnacle of the kind of self-aggrandizing delusion that believes it is possible to force public opinion into submission, not only in Turkey but also globally," she writes.
South Africa
What we know about the Pistorius trial - BBC's Andrew Harding, who has been covering the Oscar Pistorius murder trial, writes that the real fireworks are still to come - when Mr Pistorius takes the stand.
"My feeling is that the rival experts and the various neighbours and friends will largely cancel each other out," he says. "Inevitably this trial is going to hinge on Pistorius's own testimony. Not just what he says, but how convincingly he does so."
BBC Monitoring's quote of the day
The two-day Arab summit which wrapped up in Kuwait on Wednesday was never going to be a success, not with so many member states at odds with each other over various issues and eight heads of state did not even attend, but sent high-level representatives instead. The press was equally unimpressed, both with the meeting itself and with the participants.
"Seventy years of the boring classic discourse at every summit. And, after all this time, the Kuwaiti emir emerges to tell us that growing disagreements in the Arab nation were crushing our hopes and aspirations... The cause for disagreement is that the mastermind in Riyadh is fighting the [Muslim] Brothers in Egypt while backing them in Syria." - Editorial in Syrian government newspaper Al-Ba'th.
"With very few exceptions, most of those attending this summit, and all those absent either completely or by way of symbolic representation - which is worse than a boycott - all these brothers, warring brothers, each one of them had turned the tip of his dagger to the side of his brother while giving him a warm embrace in front of TV screens, and secretly wishing the sky to fall down on him and banish him further down into the folds of the ground beneath." - Salih al-Qallab in Jordan's Al-Ra'y.
"What is not surprising at this summit is that there are some who had come to practice mercurial formation in politics, to create intangible glory and to put forward a broken and familiar record. As they search for political limelight, they have urged Egypt - the government, the people, the entity and Egypt's standing - to reconcile with extremism, death and terrorism. However, Egypt's new leadership, aware of developments and conspiracies being hatched all around it, had refused to reconcile with terrorism since it cut its hand when it distanced it from politics and disabled it." - Editorial in Saudi Al-Watan.
"The USA no longer needs fleets, aircraft carriers or mighty armies ... because they have created for us a style called 'self-destruction '... so that we take it upon ourselves to destroy our countries and to give the keys to our capitals and to our independence and national sovereignty to foreigners." - Abdelhamed Riahi in Tunisian Al-Chorouk.
"The [Arab] leaders still believe that they are living in the era of emperors. Little do they know that this era ended more than 2,000 years ago. They still fail to realize that people who have breathed freedom will never accept any way of life without it." - Usamah Sa'd in Palestinian Filasteen.
Have you found an interesting opinion piece about global issues that we missed? Share it with us via email at echochambers (at) bbc.co.uk.