Obama leads a US retreat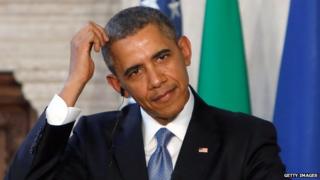 A review of the best commentary on and around the world...
Today's must-read
President Barack Obama has generally followed the public's will in his foreign policy decisions, writes the Brookings Institution's Robert Kagan. So why, he asks, are Mr Obama's foreign policy approval ratings so bad?
Here's his answer:
A majority of Americans may not want to intervene in Syria, do anything serious about Iran or care what happens in Afghanistan, Iraq, Egypt or Ukraine. They may prefer a minimalist foreign policy in which the United States no longer plays a leading role in the world and leaves others to deal with their own miserable problems.
They may want a more narrowly self-interested American policy. In short, they may want what Obama so far has been giving them. But they're not proud of it, and they're not grateful to him for giving them what they want.
Americans, he writes, have taken pride in being the "leader of the free world", the alpha dog in the global pack.
"Now, pundits and prognosticators are telling them that those days are over, that it is time for the United States to seek more modest goals commensurate with its declining power," he writes. "And they have a president committed to this task."
It may be what the people are calling for, but polls seem to indicate that leading a nation in retreat is a thankless task.
Spain
Is Catalonia the next Crimea? - With the recent events in Ukraine, pundits and prognosticators everywhere are straining to spot the next geopolitical flashpoint. It could be the Spanish province of Catalonia, writes Bloomberg View's Leonid Bershidsky.
"If you want to keep a territory from seceding, set its people free," he argues, urging Spain and other nations dealing with breakaway provinces to allow open and free votes on secession. "There is no case for forcibly keeping territories under a country's rule if the majority there does not want it," he concludes.
United Kingdom
Scottish secession would devastate Labour Party - Speaking of secession, it's not likely that Scotland secedes from the UK, writes Sean Thomas in the Telegraph. If it does, however, he says it could have serious repercussions for the balance of political power in Parliament.
The Conservative Party will "rumble on", he writes. "By contrast, the loss of Scotland to Labour will be utterly devastating: like a battlefield amputation. Without Scotland, Labour will be mutilated and traumatised for a generation. And might never recover."
Rwanda
The mysterious murder of a former intelligence chief - Why was Col Patrick Karegeya, former Rwanda chief of external intelligence, murdered at his hotel suite in South Africa? Gabriel Gatehouse of BBC's Newsnight says that it may have been because of his involvement in the Rwandan political opposition movement.
"Patrick Karegeya's death served as a stark warning to his fellow exiles in South Africa," he says. Oppose current Rwandan President Paul Kagame and you are likely to end up dead.
Egypt
Will reality tarnish Sisi's heroic narrative? - Although Field Marshal Abdul Fattah al-Sisi is a prohibitive favourite in the upcoming Egyptian presidential race, writes the Christian Science Monitor's Louisa Loveluck, his popularity could take a beating as he faces Egypt's significant problems. He will have to address a battered economy, diminished respect for the rule of law and a repressive security apparatus, she says.
"With such large challenges facing their poster-boy president," she writes, "Sisi has little time to live up to the hype."
BBC Monitoring's quotes of the day
Middle East media react to the decision of the Arab League during this week's summit in Kuwait not to allow a representative from the Syrian opposition to occupy that Syrian seat in the 22-member body.
"The sight of the [vacant] Syrian seat at the Arab summit reflects the reality of the Arab position and the inability to rally behind an Arab stance that is useful to the Syrian people." - Samih al-Ma'aytah in Jordan's Al-Ra'y.
"Syria was like an Arab orphan when its [Arab League] seat was snatched from the opposition coalition… The odd decision appeared to be revoking the legitimacy of the Syrian opposition by pulling the Arab rug from under its feet. And if the US and the rest of the world has been denying it weapons, the summit deprived it of a political weapon leaving it to face a frightening Somali fate" - Rajih al-Khuri in Lebanon's Al-Nahar.
"It is unacceptable for Syria's seat to remain vacant under the current circumstances because that would send [Syrian President] Al-Asad's regime a clear message to continue killing and annihilating its own people. It will also send a message to the international community that Arabs are divided over Syria." - Editorial in Qatar's Al-Rayah.
"Speaking at the Kuwait summit and building on habitual political hypocrisy, the Arab League secretary-general [Nabil al-Arabi] expressed great concern over Arab security. However, he said nothing about the grave violation of this security as a result of the continued terrorist aggression against Syria over the past three years." - Editorial in Syria's Al-Ba'th.
Have you found an interesting opinion piece about global issues that we missed? Share it with us via email at echochambers (at) bbc.co.uk.