The unmaking of the first lady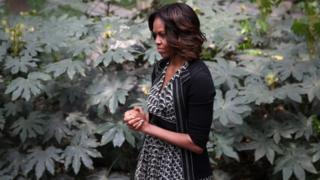 A review of the best commentary on and around the world...
Today's must-read
"The mob has turned its full fury on First Lady Michelle Obama," writes the Washington Post's Kathleen Parker.
She cites a Wall Street Journal blog post on the cost of Ms Obama's recent trip to China and an expose in the New Republic by a former White House staffer with gossipy quotes from several anonymous former aides.
"As described, she was a perfectionist - super-attentive to detail and laser-focused on advance planning," Parker writes. "And this is bad because?"
She also notes the rapt attention the media pay to Ms Obama's clothing and appearance, and the occasional candid photo that is made out to be some sort of controversial window into her soul:
Haters prefer to focus on a frame here and there in which Michelle Obama is either not wearing the happy-wife smile or dressed too casually for their taste. Those in the public eye for any period of time will fail to present their best face in every instance - or they'll have perfectionist minders micromanaging any potential downside.
She concludes that the negative turn in coverage is likely due to her husband's "low 40s" approval ratings. She asks: is it our "animal nature" to attack a "weakened leader"?
Or it could just be the case of disgruntled staffers getting a measure of revenge.
"Maybe some staffers weren't up to the job and, lacking the maturity or self-awareness (not to mention loyalty), to accept their own responsibility, they turned to the dubious consolation of dishing dirt," she writes.
Guinea
A simple solution to the Ebola threat - A new outbreak of the Ebola virus in Guinea has killed 70 people and continues to spread to those around the infected, including family and medical personnel. Technology and vaccines are of no use, writes Laurie Garrett for Foreign Policy magazine. Instead, soap and water, along with protective gear and quarantine of victims is all that is needed.
"African communities no longer need to live in horror and dread, fearful of the lurking virus," she says.
China
Beef, pork … and tiger? - The Chinese wealthy class is engaging in a new trend of eating tigers, but not before they watch them be slaughtered. The remains of the endangered animals are then sold on the black market. According to Jake Adelsten in the Daily Beast, this is a dangerous way for Chinese elite to assert superiority, as "feasts serve as both entertainment and an ostentatious display of wealth".
Brazil
Playing with words - Rio de Janeiro's wealthy class wants to develop traditional favela neighbourhoods to make room for the upcoming World Cup and Olympics, writes David Ziran for the Nation.
He says that officials, including the military, are using the terms "favelas" and "slums" interchangeably in efforts to depopulate the areas. The attempts to make favela residents appear as "pesky people" living in slums is comparable to gentrification in the US.
France
Gay marriage saved the Socialists in Paris - President Francois Hollande's reluctant decision to allow gay marriages in France has helped keep his Socialist Party in power in Paris, says Marc Naimark for Slate. The enactment of LGBT marriage rights is virtually the only thing preventing a takeover from right-winged parties.
"LGBTQ voters in Paris don't make majorities, but those sensitive to homophobia do," he writes.
BBC Monitoring's quote of the day
Prime Minister Tayyip Erdogan's Justice and Development Party (AKP) appears to have emerged victorious in local elections as corruption claims against him and his attempts to block YouTube and Twitter did not dented his popularity among the majority of voters.
Turkey's columnists and commentators react to the news:
"Let the election results not deceive us. Those who will put their stamp on Turkey's future will be the ones who get ready for the difficult days ahead and have a programme. Even if the AKP [ruling Justice and Development Party] receives 90 percent of the vote, that doesn't mean it is capable of ruling Turkey. Do AKP votes feed the people? Do they have a plan to unite Turkey?" - Editorial in Aydinlik.
"We have left behind a tense election period. No matter what the results are, this is the reality: Tayyip Erdogan cannot rule Turkey anymore. Because the country is out of joint… the political instability will continue and deepen." - Rahmi Turan in Sozcu.
"Turkey did not go through a local election. It went through an Erdogan referendum. It refreshed confidence in him. It did not bow to attacks and dirty tricks; it once again declared that it loves and values him. As long as he stood upright, the nation and the country also stood upright." - Ibrahim Karagul in Yeni Safak.
"They worked hard to cut Turkey's tongue and twist its arm. They tried hard to silence the voice of all the oppressed by silencing Turkey's voice. But there was a reality that they forgot. This reality was that those who believe will see victory… the rightful victory of belief, faith and an attitude which stands up to traitors, enemies and global obsessions." - Bulent Erandac in Takvim.
Have you found an interesting opinion piece about global issues that we missed? Share it with us via email at echochambers (at) bbc.co.uk.