Jonathan Pollard: Time to free an Israeli spy?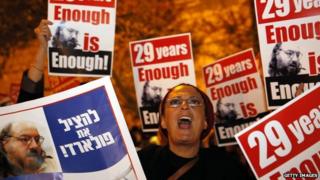 According to information provided by White House officials, the Obama administration is considering the release of Jonathan Pollard, a former US Navy intelligence analyst who was sentenced to life in prison after being convicted of spying for Israel.
Word is that the "Free Pollard" card could be played in exchange for concessions from Israel as part of ongoing Palestinian-Israeli peace negotiations.
The news set off another round of debate as to whether Pollard, now 59 years old, should remain in a US prison or be handed over to an Israeli government that has long sought his release.
"Let me just say it: No, no, no, no!" writes Talking Points Memo's Josh Marshall. "If the White House is seriously considering using Pollard as a bargaining chip at this stage of the negotiations they've totally lost their minds."
He says that it would be a "no-brainer" to release Pollard if it sealed a long-term peace agreement between Israel and the Palestinians, but that's not what's at stake at this point.
Right now, he says, Israeli President Benjamin Netanyahu's intransigence is leading to rash action on the part of the Americans.
"The impasse is largely based on the Netanyahu government's active efforts to scuttle the negotiations themselves," he writes. "So this amounts to offering a thing of great value in exchange for getting dust kicked in your face."
The New York Times editorialises that bring Pollard into the negotiations is a "desperation move" on the part of the US and "a bad idea and would do nothing to advance progress on the core issues of a peace deal".
Releasing Pollard would be "a major mistake that borders on betrayal", writes Zackary Keck in the Diplomat. "It would send the wrong message to [NSA leaker Edward] Snowden and other intelligence officers contemplating discussing classified information in the future."
Writing in the Israeli paper Haaretz, Anshel Pfeffer says that Israel's decision to recruit Pollard as a spy was a "criminally reckless decision", and he shouldn't be welcomed as a hero by Israelis if he's released.
"There was nothing heroic about the way in which Israelis abetted an act of betrayal by an American, a betrayal of a country that has done more than any other for the Jews and continues to do for the Jewish state," Pfeffer writes.
Former State Department official Dennis Ross disagrees. He says that for Israelis, Pollard "has taken on the aura of being a soldier who was left in the field, and the ethos in Israel is that soldiers are never left behind".
As for those who think Pollard's release means going easy on him, Ross replies:
Whether one accepts the argument that Pollard's sentence seems more severe than that handed out to other spies, it surely makes little sense to say that someone who has spent nearly 30 years in jail has not paid a severe price.
If releasing Pollard can give the negotiations a "necessary boost", Ross contends, then the Obama administration is justified in doing it.
Ruth Marcus of the Washington Post says that the debate shouldn't be about negotiating tactics, but about justice.
"There is something disconcerting - repulsive is only slightly too strong a word - about having justice used as a diplomatic bargaining chip," she writes. "From the US point of view, if justice would be served by freeing Pollard at this point, this should happen, regardless of whether his release is a useful lever in peace negotiations."
Considering that Pollard is up for parole in November 2015, she says, a slight chance at benefitting from his release is more valuable than a few extra months of guaranteed prison time. The US should go ahead and release him, she concludes.
Harvard Law Prof Alan Dershowitz and former Canadian Attorney General Irwin Cotler echo Marcus's justice theme, arguing that Pollard's continued incarceration violates the spirit of his plea bargain agreement in 1986.
"The time has come for the US government to keep its word and reaffirm what it agreed to tell the judge back in 1986," they write in the Jerusalem Post, "namely, that a sentence of 28-plus years, rather than a sentence of life imprisonment, is enough to satisfy the demands of justice for Jonathan Pollard."
Traitor or hero, have we reached the point where Pollard could walk free?