Is the tide turning for Democrats?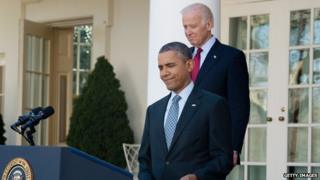 A review of the best commentary on and around the world...
Today's must-read
Democrats are still basking in the glow of the announced 7.1 million individuals who signed up for health insurance coverage through government-run exchanges by the March 31 not-really-a-deadline deadline.
After spending nearly six months being battered by Republican politicians and the media for glitches and shortcomings in the rollout of reforms, some liberals are starting to express hope that the Affordable Care Act won't be an albatross around their necks when the November elections roll around.
What's more, they think they can go on the offensive by criticising the recently released budget from Republican Representative and former vice presidential nominee Paul Ryan.
Jonathan Weisman in the New York Times breaks it down:
For the first time in a while, Democrats this week found themselves talking up a contrast between their agenda - protecting the newly insured, raising the minimum wage and renewing unemployment benefits - and a Republican plan that would cut healthcare and education spending deeply, and move Medicare toward private insurance…
And Republicans found themselves in a new position: on the defensive, justifying a budget that has already proven to be a political loser ("What's the Democrats' plan?" House Speaker John A. Boehner of Ohio asked Wednesday) and trying to explain what would happen to more than 10 million people who have signed up for insurance through the president's healthcare law via a private plan or Medicaid and would be left at sea with its repeal.
Republicans face a conundrum, writes Dylan Scott in Talking Points Memo. Their attempts at total repeal of the Affordable Care Act have proven futile, and most of the obvious changes to the law they could have enacted - such as adjusting the mandate that employers provide healthcare for their workers or face a fine - have already been made through unilateral White House action.
"From a policy perspective, it might be perplexing, but the politics seem clear: The White House knows the mandate is universally unpopular, and offering as many opportunities as possible to avoid it might take some of the edge off," Scott argues. "But by making the change administratively, Republicans are unable to take any credit for providing relief from the mandate."
Reason Magazine's Peter Suderman warns, however, that Democrats' celebrations may be short-lived.
Despite all the difficulties over the past six months, he says, launching health care may have been the easy part. Now Democrats are politically responsible for healthcare in this country, and keeping the system running is going to present an ongoing challenge:
When building Obamacare, liberal health wonks often referred to the law's design as a "three-legged stool" - regulations, subsidies and a mandate. With Obamacare's design phase over, and its upkeep and adjustment period just beginning, Democrats will have to try to find a way to balance between a different trio of concerns: cost, access and political viability. It's the three-legged stool of Obamacare maintenance - and it may be harder to support than Democrats expect.
Venezuela
Outrageous lies in Maduro's op-ed - Yesterday we covered Venezuelan President Nicolas Maduro's opinion piece in the New York Times, in which he denounced his opposition as enemies of democracy. Venezuelan journalist Francisco Toro in the New Republic says the president's column was full of lies, but one particular passage stood out:
Maduro claims that the Bolivarian revolution "created flagship universal health care and education programs, free to our citizens nationwide."
This is roughly equivalent to President Barack Obama claiming that he created Social Security. Venezuela first established free universal primary education (for both boys and girls) back in the nineteenth century.
"Maduro's op-ed is strewn with similar whoppers, like his commitment to labour organizing rights, US involvement in the 2002 coup, the vitality of Venezuelan democracy, and a call for "peace and dialogue," he says. "Big lies are used where small lies would have done the job just as well."
Afghanistan
High stakes for upcoming election - Afghanistan's political system is "deeply flawed", writes Matthieu Aikins, as it "has undermined democracy by encouraging elites to bargain for power at the expense of public accountability".
Aikins followed Afghanistan presidential hopeful Ashraf Ghani on the campaign trail and writes about his experience for the New York Times. Once you get away from the boisterous crowds of the city, the reality in the country is that "neither democracy nor development has found much success".
Uganda
Inside the black market for HIV certificates - In Uganda, a certificate proving a person does not have HIV is essential for getting a job, traveling abroad and avoiding the stigma associated with the disease. BBC Africa's Catherine Byaruhanga goes undercover to expose the health care clinics that are offering bogus certificates - for a price.
"Many people in Uganda still see it as a disease of the immoral, those who have led a promiscuous life," she writes.
Turkey
A Pyrrhic victory - Prime Minister Recep Tayyip Erdogan's party may have emerged victorious in the recent local elections, writes Center for Economics and Foreign Policy Studies chair Sinan Ulgen, but his polarising campaign has significantly diminished his prestige and the global standing of his country.
"How Erdogan behaves will not only determine the intensity of domestic political conflict; it will also greatly affect Turkey's potential to regain the regional clout that it once enjoyed," he writes.
BBC Monitoring's quotes of the day
Russian papers look at probable implications of Nato's decision to suspend cooperation with Moscow. Some believe that the alliance's decision is nothing more than a diplomatic move, while others say that the alliance will take the opportunity to strengthen its influence in the former Soviet Union.
"At first sight, this looks like a mere symbolic gesture. But this gesture has launched a negative process: secrecy will stimulate the sides' mutual suspicion and will strengthen old and generate new mutual prejudices... The North Atlantic Alliance has got a surprise present from Moscow - the image of a once forgotten 'threat from the East', thanks to which the bloc may justify its further existence." - Editorial in Vedomosti.
"At first sight, something global has happened: the most powerful military bloc in the world has taken offence at Moscow for its actions in Crimea, a new 'cold war' is beginning and global security is under threat... However, at closer inspection, it becomes clear that so far this is more of a diplomatic move than actions that can have a real impact... The 'freezing' of partnership will give a free hand to US strategists." - Ignat Kalinin in Moskovskiy Komsomolets.
"Recent decisions to completely stop military and practical civilian cooperation with Moscow clearly show the policy that the alliance is planning to stick to in future... Brussels will not hesitate if there is an opportunity to deploy its bases in Ukraine. The bloc's leaders are interested in building up an army in Ukraine that is equipped with NATO arms and acts according to NATO standards and which will treat Russia as its enemy." - Yevgeniy Shestakov in Rossiyskaya Gazeta.
Have you found an interesting opinion piece about global issues that we missed? Share it with us via email at echochambers (at) bbc.co.uk.