David Letterman retirement marks the end of an era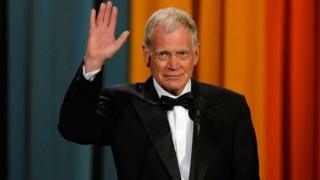 Late-night television icon David Letterman is calling it quits after 34 years.
The 66-year-old comedian made the announcement during taping for his Thursday night show, and word leaked out after guest Mike Mills of the band R.E.M. posted the information on Twitter.
Here's how Letterman is reported to have broken the news to his studio audience:
The man who (runs) this network, Leslie Moonves, he and I have had a relationship for years and years and years, and we have had this conversation in the past, and we agreed that we would work together on this circumstance and the timing of this circumstance.And I phoned him just before the program, and I said "Leslie, it's been great, you've been great, and the network has been great, but I'm retiring."
I just want to reiterate my thanks for the support from the network, all of the people who have worked here, all of the people in the theatre, all the people on the staff, everybody at home, thank you very much. What this means now, is that Paul and I can be married. We don't have the timetable for this precisely down - I think it will be at least a year or so, but sometime in the not too distant future, 2015 for the love of God, in fact, Paul and I will be wrapping things up.
Mr Moonves replied with his own statement, which read in part:
Dave has given television audiences thousands of hours of comedic entertainment, the sharpest interviews in late night, and brilliant moments of candor and perspective around national events. He's also managed to keep many celebrities, politicians and executives on their toes - including me. There is only one David Letterman. His greatness will always be remembered here, and he will certainly sit among the pantheon of this business.
The announcement has led to an outpouring of support for the host.
"David Letterman is the best there is and ever was," tweeted ABC's late-night host Jimmy Kimmel.
"Rank everybody on television during the length of his career - all fields, all styles. David Letterman ranks First," tweeted sports and politics show veteran Keith Olbermann.
And now cue speculation on who will fill Mr Letterman's prize late-night spot on CBS.
According to a 2012 New York Times article, Craig Ferguson, who hosts the show immediately following Mr Letterman's, has long had a right of first refusal if the 11:30 slot on CBS were to open up.
The Times notes that "those clauses have never been ironclad, however, because a network can choose to pay off the deal rather than complete the succession."
Other names that have surfaced are Conan O'Brien, who currently hosts a show on TBS and once occupied Mr Letterman's old 12:30 spot on NBC, and Comedy Central's Jon Stewart and Stephen Colbert.
Lena Dunham, star of the HBO show Girls, tweeted that she hopes CBS casts a wider net: "I love Letterman but I am really excited about what this could mean for the diversification of late night. Trying not to be a pessimist..."
"No matter who replaces Letterman, a new generation will truly have established itself, with the younger and more cheerful [Jimmy] Fallon at NBC and the insurgent bro-esque Jimmy Kimmel on ABC," writes Salon's Daniel D'Addario. "This will be fun to watch - as will the march towards retirement from a fellow whose congenital crankiness seemed as though it'd always be on our sets."
The news comes on the heels of the forced retirement of his fellow late-night host (and long-time nemesis) Jay Leno. Mr Leno and Mr Letterman were dual aspirants to replace the much beloved Johnny Carson on NBC's The Tonight Show in 1992, with Mr Leno nabbing the job.
Over the course of his career, Mr Letterman has helmed more than 6,000 instalments of his show, which has been won eight Emmy Awards and a Peabody.