Athlete blasted for paternity leave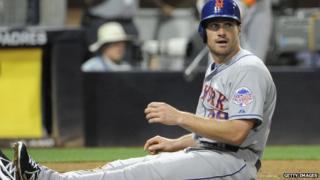 A lot of professional baseball players miss games - because of injuries, illnesses or simply being given the day off on the whim of their managers.
Daniel Murphy, starting second baseman for the New York Mets, was absent for the first two games of the 2014 Major League Baseball because he was about to become a dad.
As a Major League ballplayer, Murphy's contract allows him to take up to three days off for the birth of a child - an option many players have exercised. Perhaps because it was opening day - a hallowed occasion in the baseball world - however, Murphy was assailed for his decision in New York's often vicious, hyper-competitive sports media.
"You're a Major League Baseball player," Mike Francesa said on his Wednesday radio talk show. "You can hire a nurse. What are you going to do, sit there and look at your wife in the hospital bed for two days?"
Craig Carton, another New York area radio host, agreed:
You get your ass back to your team, and you play baseball. That's my take on it. There's nothing you can do anyway. You're not breastfeeding the kid. What are you doing? I've got four of these little rug rats. There's nothing to do.
Carton's co-host, former National Football League quarterback Boomer Esiason, said that Murphy's wife should have scheduled a C-section delivery prior to the start of the season.
"This is what makes our money," he said. "This is how we're going to live our life. This is going to give my child every opportunity to be a success in life. I'll be able to afford to send my child to any college I want to because I'm a baseball player."
Meanwhile, some journalists scoured Twitter to find proof that there are Mets fans out there who also objected to Murphy's decision (which they did).
After the initial round of criticism, Murphy said he believes his travelling to Florida to be with his wife for the delivery was justified.
"Having me there helped a lot, and vice versa, to take some of the load off," Murphy told a New York sports radio show. "It felt, for us, like the right decision to make."
ESPN's Melissa Isaacson writes that these criticisms try to make the point that "Murphy has a great, high-paying job with four months' vacation … so he and his wife should schedule all of life's biggest moments during those four months."
She says: "The criticism feels like the equivalent of pushing [Murphy] into the lockers for playing with the girls at recess."
The message from the broadcasters is that bonding with babies is for "wimps", Happy Nice Time People's Lisa Needham writes: "Real men just ignore the kid until he's old enough to play catch or drive to the store and buy his old man cigarettes."
Studies show it can be "priceless" for a new mother to have partner around during the first few days of parenthood, according to Jezebel's Dodai Stewart. "Her ENTIRE WORLD has changed, and she's suddenly responsible for a helpless squirming infant. The two of you have created a family. Why wouldn't you take all the time you can?"
ThinkProgress's Travis Waldron notes that a baseball player's negotiated right to take paternity leave puts him in the minority among US workers:
"The United States, in fact, is one of just three nations out of 178 surveyed that doesn't guarantee paid maternity leave, putting us behind countries from Canada (50 weeks) to the United Kingdom (20) to Mexico and Pakistan (12).
Although some states have passed mandatory leave laws, he concludes that the lack of a nationwide policy is "a much bigger missed opportunity for our country than missing a productive baseball player for a few days will be for the Mets".
Esiason has since apologised for his comments, but Francesca and Carton have not.
On Thursday Carton said: "Everyone's got some crazy notion on it, and if you're one of the dopey organised groups with nothing better to do, focus your attention on something else, would you?"
A baseball season is 162 games over seven months. Parenthood is a lifetime obligation. Although the controversy will eventually fade, these kinds of dustups tell us a lot about where some people's - and the nation's - priorities are.