Putin knows history, Kerry does not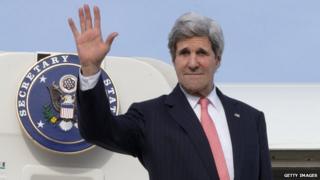 A review of the best commentary on and around the world...
Today's must-read
Someone needs to sit President Obama and US Secretary of State John Kerry down for a history lesson, according to Salon's Patrick Smith.
US foreign relations come across as "clownish" because they're never informed by history and are therefore riddled with mistakes. To really understand what is happening in Moscow, Smith argues, the US needs to have a basic understanding of spheres of influence and try to outgrow them. In the meantime, US leaders need to realise that no country is free from them.
Instead, he says, what the US has done is to paint Russian President Vladimir Putin as old-fashioned for acting within his sphere of influence according to his own country's ambitions.
"It is fine to pretend there is no such thing as history within the walls of the neoliberal hothouse Washington has made of itself," Smith writes. "But it is never going to travel successfully in our century."
Cuba
"Cuban Twitter" is not a big deal - Rather than a tipping point for a revolution, the US-funded "Cuban Twitter" will prove to be just another stumble in US-Cuba relations, writes the Miami Herald's Fabiola Santiago.
"A dedicated Cuban communications zone - even one cleverly dubbed 'ZunZuneo', after what Cubans call the sound of a hummingbird - in a country where people earn an average of $20 a month and own little if any technology is not exactly a prescription for 'smart mobs', flash crowds and a Cuban Spring," she says.
Nigeria
A sleeping giant stirs - Nigeria will "rebase", or reset, its national statistics on Sunday, allowing for a clearer picture of the country's economy. BBC's Matthew Davies says that this process, which most countries do every three years or so, could boost Nigeria's economy by as much as 65% on paper. If that happens, Nigeria could edge out South Africa as the continent's largest economy.
"Rebasing is necessary simply because economies change over time," Davies says. "Different goods are produced and new technology is introduced, so rebasing means that the statistics give the most up-to-date picture of an economy as possible."
Italy
Immigrant anger - "Men and women who immigrate to Italy and Germany face at best stringent rules and at worst outright persecution," writes Tonia Mastrobuoni for the Italian paper La Stampa (translated by WorldCrunch).
She interviews African immigrants camped in Berlin's Oranienplantz who are caught in a legal limbo. "Abstruse European rules", she writes, has allowed countries like Germany to "wash their hands" of immigrants who come to Europe through Italy.
"Only last week a preliminary agreement was reached between local politicians and representatives of Oranienplatz, after months of exhausting negotiations: Berlin promises to take care of each one of them, in exchange of the evacuation of the square," she writes. Most on the ground, she adds, are unconvinced that they will see any real changes.
Australia
A brutal game unfolding in Asia - Prime Minister Tony Abbott travels to Japan, South Korea and China next week. He does so amid the opening salvos of what may become an oncoming diplomatic skirmish that could affect the entire Asia-Pacific region, writes Peter Hartcher for the Sydney Morning Herald.
He contends that Abbott's trip is a good way to show China that Australia is willing to continue close economic ties - but only if it can maintain its independence. "Diversifying is always a wise way to manage risk," he says.
BBC Monitoring's quote of the day
US Secretary of State John Kerry traveled to Algeria on Thursday, meeting with President Abdelaziz Bouteflika. One columnist wonders what impact the visit will have on the nation's presidential election later in April.
"Yes, the timing of Kerry's visit to Algeria does not suit Algeria. However, it is the perfect time for America to get strategic agreements signed with Algeria, agreements the USA would not have secured had Algeria been in a different situation... These strategic issues are to do with America's wish to free the European Union from the dominance of Russian gas. And in this context, Algeria and Qatar will bear the cost of what the USA seeks to accomplish for Europe. This is why Kerry brought together Bouteflika and the Qatari emir in Algeria, just like when two sisters are brought together.'' - Saad Bouakba in Algeria's El-Khabar.
Have you found an interesting opinion piece about global issues that we missed? Share it with us via email at echochambers (at) bbc.co.uk.