Americans: Ukraine is in ... Greenland?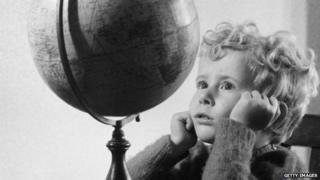 A review of the best commentary on and around the world...
Today's must-read
A recent survey conducted by three US college professors found that only one in six Americans could find Ukraine on a map of the world. The results are plotted in one shame-inducing graphic.
What's more disturbing is that the farther away from the actual location of Ukraine the survey participants guessed, the more likely they were to support US military intervention.
A few of the 2,066 respondents seem to think Ukraine is somewhere in the central US, which certainly would make an armed response easier. Alaska - Alaska! - is the target of nearly a dozen guesses.
Greenland and northern Canada are peppered with dots. Brazil. South Africa. A spot in the ocean south of New Zealand.
Is it too much to hope that some of the people surveyed were just messing with the pollsters?
Political independents performed best, with 29% picking correctly. Republicans (15%) and Democrats (14%) were equally dismal. At least there's hope for the future. Twenty-seven per cent of Americans between 18 and 24 correctly located Ukraine.
Dartmouth Prof Kyle Dropp, Harvard Prof Joshua D Kertzer and Princeton Prof Thomas Zeitzoff write in the Washington Post that their survey reveals a disturbing truth:
Even controlling for a series of demographic characteristics and participants' general foreign policy attitudes, we found that the less accurate our participants were, the more they wanted the US to use force, the greater the threat they saw Russia as posing to US interests, and the more they thought that using force would advance US national security interests; all of these effects are statistically significant at a 95% confidence level.
It's worth noting, however, that no matter how woefully misinformed Americans are about Ukraine's actual location, only 13% of the total survey wanted to intervene militarily.
Canada
Time for a US-Canadian merger - Russia and China have their sights set on Canada's "rich and poorly defended open spaces", writes syndicated columnist Froma Harrop. If the US wants to protect its northern neighbour, she says, there's an obvious solution: a merger.
Harrop talks with the National Post's Diane Francis, who calls for a US-Canadian union in her new book, Merger of the Century.
"A merged Canada and US would occupy more land than Russia or all of South America," Harrop writes. "It would become an energy and economic powerhouse less subject to foreign intrigue. And few countries would mess with either of us."
Kenya
Terrorism and human rights - Kenya needs to have a "serious debate" about how to respond to the violence that has plagued the nation for three decades, writes Ken Nyaundi in the Standard.
While steps need to be taken to maintain security, he says, there is a price to be paid in liberty and the possibility that some steps taken could be counterproductive: "When we descend into a frenzied over-reaction, we drive terrorists further underground, generate sympathy for them and make them heroes".
Russia
Is a Ukraine invasion coming? - BBC's Jonathan Marcus analyses the latest information on Russian troop movements along the Ukrainian border and comes to the conclusion that the Russian military has learned from mistakes made in the 2008 invasion of Georgia.
Marcus talks with several experts who predict that Russia is capable of extended combat operations in Ukraine if it chooses to undertake them.
Ireland
British reconciliation - As Irish President Michael D Higgins makes the first-ever state visit to the UK on Tuesday, former President Mary Robinson remembers how differently she was treated on a non-official visit during her term in 1991.
"Because of Northern Ireland, the British would not agree to call me 'president of Ireland'!" she writes.
Her trip, she says, was a "carefully orchestrated meeting at head-of-state level between two countries with a troubled past seeking, in a symbolic way, to begin reconciling".
BBC Monitoring quote of the day
Iran and the powers have started the third round of nuclear talks. Representatives from Russia, the US, Britain, France, China and Germany - headed by EU foreign policy chief Catherine Ashton - are meeting Iranian Foreign Minister Mohammad Javad Zarif in Vienna.
One Iranian daily feels Tehran deserves praise for initiating the new rounds of talks:
"It seems that despite problems and suspicions created by domestic and American hard-liners, Iran's initiative to resume diplomatic negotiations was not considered as a sign of defeat and surrender, and Iran put an end to the propaganda created by Israel and some regional countries and secured its peaceful rights in the best way possible. As a result, Iran's nuclear industry remained intact and the country can perform its regional and international role with full respect." - Seyyed Ali Khorram in Iran's E'temad.
Have you found an interesting opinion piece about global issues that we missed? Share it with us via email at echochambers (at) bbc.co.uk.