Twitter abuzz after Colbert announcement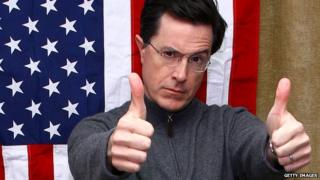 News that CBS has named Stephen Colbert as David Letterman's successor as host of The Late Show swept across Twitter on Thursday, as commentators and media personalities raced to share their thoughts.
"Guys! A big thing happened! Everyone to your positions!" tweets the Wire entertainment writer David Sims. "You, get to snark! You, get to apathy! You, ask if we even need late night anymore!"
Liberals rejoiced at the news, and some took glee in the fact that a Twitter movement to #CancelColbert that was started by left-wing social media activist Suey Park and embraced by conservative commentators had clearly failed:
Oliver Willis of Media Matters for America: Colbert gets promotion (basically) the same week Bill O'Reilly declares him the leader of the progressive scourge. There clearly is a God.
Jamelle Bouie of Slate: Looks like Colbert was cancelled! Sort of.
Josh Greenman of the New York Daily News: 'Stephen Colbert' is dead. Long live Stephen Colbert.
Others mourned the loss of Comedy Central's The Colbert Report and Mr Colbert's announcement that he was retiring his right-wing persona:
Brian Ries of Mashable: This is a good day for Colbert, but a sad day for intelligent television. We're losing the greatest satirical characters of our time.
Author/blogger Paul Myers: Not sure if I'm more happy for Stephen taking over the Letterman slot than I am incredibly sad over the imminent loss of The Colbert Report.
Dave Lozo of Bleacher Report: Colbert has this perfect show now. Now he's going to be another guy who asks celebs about their projects. This news is nothing except sad.
The news also prompted words from Mr Colbert's critics.
On the left:
Teju Cole of the Black Atlantic: In spite of being white, male, straight, popular, competent, and rich, Stephen Colbert has overcome the odds and succeeded.
And on the right:
Ben Shapiro of TruthRevolt: Colbert? Really? Why not just wait until President Obama is out of office and hire him to replace Letterman directly?
Sonny Bunch of the Washington Free Beacon: I'm extremely excited to go from not watching Stephen Colbert on Comedy Central to not watching him on CBS.
Charles CW Cooke: Damnit. And I was hoping for Suey Park.
Mr Colbert does have conservatives fans, however:
Jesse Walker of Reason magazine: Colbert was good as a straight TV host when he'd sub for Stewart. And this is a chance to break free of a character that was getting stale.
Charlie Spiering of Breitbart News: Stephen Colbert is a delightful entertainer - I've always enjoyed his stuff even though it is mostly targeted at conservatives.
Then there was speculation about what the move means for the late-night television wars:
Matt Kalman a Boston-based sports writer: So it'll be Jimmy Fallon vs. Stephen Colbert in the battle to get senior citizens to fall asleep with the TV on. May best man win.
Dylan Byers of Politico: Your parents had Leno vs. Letterman; you get Fallon vs. Colbert.
Alex Parker of Bloomberg BNA: Rise of Daily Show & Colbert parallels fracturing of media, lifestyle, everything. Traditional late-night model no longer relevant.
And finally, at least one tweeter tried to put it all in context.
Screenwriter Julius Sharpe: Wow, Colbert replacing Letterman. Who's replacing Fallon? And Kimmel? And who will replace them? Oh my God, we're all gonna die someday!