Canada passes US in middle-class wealth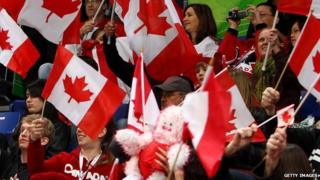 A review of the best commentary on and around the world...
Today's must-read
Last week we noted that a pair of academic researchers said the US was starting to look less like a democracy and more like an oligarchy, where a wealthy elite determines public policy. Here's another bit of cheer in that regard.
According to a New York Times report, the rich in the US are getting richer, but the poor and middle classes are falling behind some of their Western peers.
"Middle-class incomes in Canada - substantially behind in 2000 - now appear to be higher than in the United States," David Leonhardt and Kevin Quealy write. "The poor in much of Europe earn more than poor Americans."
The UK median income is still behind that of the US, but it's catching up fast - a 19.7% increase since 2000. This is the same increase as Canada's, whereas the US number was up by only 0.3%. (It's worth noting that Germany's middle class is also stagnating - at 1.4%.)
The Times reporters based their conclusions on a survey of household incomes in about 20 countries over the course of 35 years, taking into account inflation, differences in taxes, government benefits and cost of living in different locations.
"With a big share of recent income gains in this country flowing to a relatively small slice of high-earning households, most Americans are not keeping pace with their counterparts around the world," they write.
The reporters point to three reasons why all but the wealthiest American may be falling behind:
First, educational attainment in the United States has risen far more slowly than in much of the industrialized world over the last three decades, making it harder for the American economy to maintain its share of highly skilled, well-paying jobs…
A second factor is that companies in the United States distribute a smaller share of the bounty to the middle class and poor than similar countries elsewhere…
Finally, governments in Canada and Western Europe take more aggressive steps to raise the take-home pay of low- and middle-income households by redistributing income.
The struggle for middle- and lower-class Americans is reflected in public opinion polls, the reporters write, which generally show greater dissatisfaction with their government than in other Western nations.
If the US middle class has it bad, the poor have it worse.
"The American poor now clearly trail the poor in several other rich countries," Leonhardt and Quealy write. "At the 20th percentile - where someone is making less than four-fifths of the population - income in both the Netherlands and Canada was 15 percent higher than income in the United States in 2010."
Costa Rica
Hope for a "moderate leftist" president - The Miami Herald's Andres Oppenheimer thinks the election of centre-left President Luis Guillermo Solis "is likely to bring a breath of fresh air to Costa Rican politics".
"I only hope that Solis will honour his word and maintain his country's tradition of leadership in the defence of democracy and human rights in the region," he writes.
Mr Solis cannot only criticise the transgressions of conservative Latin American governments, he argues, while "looking the other way" in places like Uruguay and Brazil.
India
Hidden wife reveals Indian sexism - The Indian media have reported that presidential front-runner Narendra Modi's abandoned and unacknowledged wife fasts and prays every day for her husband's success. Reaction to this story demonstrates the "lazy" efforts of Indian feminists, writes Amrit Dhillon in the Sydney Morning Herald.
"Below the surface, much of Indian society, particularly in the countryside, thinks that Mr Modi's wife is the epitome of the ideal woman: ascetic, self-abnegating, unseen and unheard," she says.
She ties this view of women to the Delhi gang rape, which generated global headlines last year.
"This belief explains why any woman who is the antithesis of this image - attractive, wears sexy clothes, goes out at night, socialises with men - gets no sympathy if she is sexually assaulted or raped," she writes.
Philippines
Child exploitation is pervasive in cybersex capital - The island of Cebu has gained notoriety for being a production site for cybersex, writes Der Spiegel's Katrin Kuntz. This includes parents streaming video of their children being sexually abusing.
"The problem is a product of the unusual confluence of poverty and an excellent digital infrastructure that is especially pronounced in Southeast Asia," she writes.
"It's difficult to understand how parents can reach a point where they would abuse their own children, especially in the Philippines, where the role of family is so important," she says.
Many parents, however, don't see anything objectionable.
"They argue that no real abuse takes place, that there is no rape and that the chats and live images of naked children are still better than conventional prostitution," she writes.
Nigeria
The high price of everyday corruption - When foreign companies try to do business in Nigeria, writes Nigerian journalist Adaobi Tricia Nwaubani for the BBC, they have to face the reality that practices that may seem corrupt and unethical in their home countries are considered part of the everyday routine.
"Again and again, I have listened to foreigners and returnees express horror over some practices regarded as completely natural here," she writes.
Foreigners need to understand the "local context", she concludes, but Nigeria must more clearly define what constitutes corruption.
BBC Monitoring's quotes of the day
The government-controlled press in Syria has welcomed the authorities' plan to hold a presidential election on 3 June. There has been strong condemnation of the decision in Arabic-language newspapers outside Syria.
"The presidential election will be held against the will of ill-wishers. The presidential election and the collective popular will to hold the election on time will inflict a resounding defeat on the enemies and be an emphatic victory for the Syrian people." - Editorial in Syria's government-owned newspaper Al-Thawrah.
"The regime that uses barrel bombs against its people needs ballot boxes to ask the people for a democratic mandate to govern them for another seven years." - Editorial in pan-Arab newspaper Al-Quds Al-Arabi.
"Any condemnation or denunciation will be useless because what is needed here is a clear confrontation, a red line to be drawn by the international community to prevent the regime from implementing its plans to hold an election in which the only candidate will be the regime's head, Bashar al-Assad." - Editorial in Qatar's Al-Rayah.
Have you found an interesting opinion piece about global issues that we missed? Share it with us via email at echochambers (at) bbc.co.uk.