New poll offers Southern Democrats hope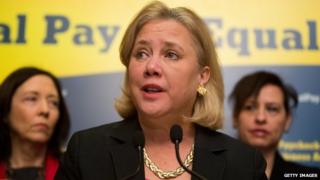 The outlook for Southern Senate Democrats seeking re-election this year may not be so gloomy after all.
New polls out by The New York Times and the Kaiser Family Foundation show a narrow lead for Democratic Senator Kay Hagan in North Carolina. Democratic Senator Mark Pryor of Arkansas is up 46% to 36% against his opponent, Republican Congressman Tom Cotton.
In Louisiana, Mary Landrieu has 42% in a multiple-candidate field, with her next closest opponent at 18% (if no candidate garners 50% on Election Day, the top two compete in a runoff vote). Democratic challenger Alison Lundergan Grimes trails incumbent Republican Mitch McConnell in Kentucky by only one point.
The results of the survey conducted 8-15 April set off a he-said, he-said back-and-forth between the Weekly Standard's William Kristol and Nate Cohn of the New York Times.
Kristol writes that results from question 12 of the poll - which asks voters if they voted in the 2012 presidential election and, if so, for whom - is the reason why the whole survey should be thrown out. Instead of giving the pollsters a reality test, he argued, the question showed that the poll doesn't represent an accurate snapshot of voters.
"A reputable news organisation would have looked at question 12 and thrown the poll out. But then again, it was the New York Times," Kristol contends.
The New York Times' Nate Cohn fired back, saying that there is always a bias toward whoever won the election in any post-election survey. People don't like to come out on the losing side.
"Is it possible that nearly all of the voters who 'don't remember' or voted for 'someone else' supported Mr Romney? Yes, and there's evidence to support it," Cohn writes. "The voters who didn't report whom they supported are overwhelmingly white, while over 90% of black voters reported supporting Mr Obama."
Cohn encouraged restraint when interpreting the polls, however. While it's encouraging news for Democrats, their candidates are only ahead by a few points if at all, and the party still faces an uphill battle in November.
"In every contest, at least 10% of Democratic supporters oppose the Affordable Care Act and say they wouldn't vote for a candidate who disagrees with their stance. All four Democratic Senate candidates in these states support the law. In the six and a half months between now and Election Day, you can be confident that Republicans and their allies will remind voters of this fact," he writes.
(By Kierran Petersen)