Star Wars: Be like Battlestar Galactica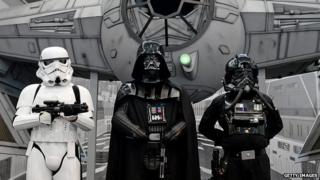 A review of the best commentary on and around the world...
Today's must-read
When Disney announced some of the stars of the upcoming Star Wars film, media reaction ranged from unrestrained joy to concern. One of the most intense areas of complaint was that only one of the seven new characters is female.
After the first wave of outrage hit, sources close to the film told the Hollywood Reporter that casting had not yet been completed and another "substantial role" would be filled by a woman.
That's not good enough, writes Slate's Amanda Marcotte.
"Instead of one woman out of seven new characters, we'll get to see two women out of eight," she says. "That's doing better than The Avengers, but it still leaves much to be desired."
Marcotte compares the Star Wars casting process with the decisionmaking behind the rebooting of another 1970s-era science-fiction franchise, Battlestar Galactica.
The show's producer Ronald Moore "made the decision to reinvent the world to be a more gender-equal one, a decision that required turning some of the classic characters on the original series from men to women".
Although hardcore fans were initially wary, she says, the changes proved popular.
"The fear that male fans will turn away in droves if asked to follow female heroes, even ones that defy gender stereotypes, proved to be completely overblown," she says.
The irony, of course, is that the original Battlestar Galactica was a made-for-TV endeavour trying to capitalise on the Star Wars mania of the late 1970s. In 1978 20th Century Fox went so far as to sue Galactica's Universal Studios for copyright infringement - a case that Fox eventually lost.
Could Star Wars follow the lead of the new Galactica? At last the circle would be complete.
Israel
When does criticism of Israel become anti-Semitic? - Accusing the Obama administration of anti-Semitism because it shows "disdain for Israel's government" cheapens the charge, writes David Harsanyi in the Federalist.
There are instances in the media, he says, where anti-Semitism is present, however. "Denying the legitimacy of a Jewish homeland is, I'd argue, a mild form of anti-Semitism," he asserts.
He identifies blogger Andrew Sullivan as a prime example of someone who "doesn't seem like the type of person who walks around with any genuine antipathy for Jewish people, but his public animosity towards Israel, his exaggerated accusations about Jewish influence in America and his constant distortion of Jewish goals sure does make him sound like it sometimes".
Ireland
Gerry Adams arrest could have silver lining - As long as Gerry Adams isn't formally charged in the 1972 murder of Jean McConville, writes Gary Gibbon of Ireland's Channel 4, it could "give a useful jolt to the negotiations between the Northern Ireland parties to move to an agreed process for dealing with the past".
So far, he says, Mr Adams has been co-operating with Northern Ireland police - an indication that he could be embracing more openness about the past.
On the other hand, he says, "if the leader of Sinn Fein were charged with anything in connection with a murder, the convulsion to Northern Ireland politics would be immense."
Catholic Church
'Irrational' Sainthood - During last weekend's canonisation of John Paul II and John XXIII, most commentators chose not to look too closely at the questionable evidence behind the "miracles" cited as justification for sainthood, writes Eamonn McCann of the Irish Times.
"To declare somebody a saint is not to assert that he or she lived a virtuous life but that they are now living in heaven and have the ear of God to pass on pleas for favours beyond the ability of mortal beings to deliver."
He concludes: "It would have been well within the limits of relevance to make consideration of the miracles central to rapportage. But this hardly happened. The dreamy coverage of Pope Francis's papacy may have had something to do with this."
Japan
Improving on US culture - Bourbon, jazz, fashion and food - the Japanese aren't just imitating US culture, writes the Smithsonian's Tom Downey, they're improving on it.
"There's a special way that the Japanese sensibility has focused on what is great, distinctive and worthy of protection in American culture, even when Americans have not realised the same thing," he writes.
The Japanese are sometimes even better than Americans at knowing what bits of Americana can withstand the test of time, he says.
BBC Monitoring's quotes of the day
Russian commentators respond to another round of sanctionsfrom Western nations over Russian involvement in Eastern Ukraine.
"Despite Barack Obama's calls to his allies to act as a single front, the EU is becoming a weak link in the anti-Russian coalition and has preferred symbolic gestures to real pressure on Moscow." - Sergey Strokan in Kommersant.
"The speed with which new economic sanctions on Russia are introduced and the threat of their expansion on entire industries are beginning to exert psychological pressure on those in Europe who seemed to be steady advocates of economic co-operation with Russia... One should not entertain the illusion that business is one thing and politics is another." - Editorial in Nezavisimaya Gazeta.
"Europeans value alliance with the US more than ties with Russia with its alien values… They are definitely pragmatists and strive to gain profits and that is what Moscow pins its hopes on." - Aleksandr Mineyev in Novaya Gazeta.
"We cannot put on a happy face and declare that sanctions are nothing to us. Are things great in countries that are under sanctions: Iran, Cuba, North Korea? And who will then be held accountable for a Russia that hopelessly lags behind a fast-developing world?" - Maksim Ganapolskiy in Moskovskiy Komsomolets.
Have you found an interesting opinion piece about global issues that we missed? Share it with us via email at echochambers (at) bbc.co.uk.