Stephen Hawking: Beware smart machines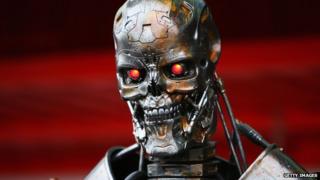 A review of the best commentary on and around the world...
Today's must-read
Dismissing the implications of highly intelligent machines could be humankind's "worst mistake in history", write astrophysicist Stephen Hawking, computer scientist Stuart Russell, and physicists Max Tegmark and Frank Wilczek in the Independent.
"Self-aware" machines have received the Hollywood treatment in the Johnny Depp film Transcendence, but the subject should receive serious consideration, they say.
Successfully creating artificial intelligence would be "the biggest event in human history", they write, and the possible benefits for everyday human life are enormous. There could come a time, however, when machines outpace human achievement. If and when that day arrives, they wonder, will the best interest of humans still factor into their calculations?
"One can imagine such technology outsmarting financial markets, out-inventing human researchers, out-manipulating human leaders, and developing weapons we cannot even understand," they write. "Whereas the short-term impact of AI depends on who controls it, the long-term impact depends on whether it can be controlled at all."
And what are we humans doing to address these concerns, they ask. Nothing.
"All of us should ask ourselves what we can do now to improve the chances of reaping the benefits and avoiding the risks," they conclude.
A while back, we wondered about the implications of machine journalists. But maybe we should just be thankful that at least something will be around to write long-form essays on the last days of humankind.
China
The "China Century" is still a long way off - Reports that the Chinese economy has become larger than that of the US are all hype and little substance, writes writes the Atlantic's James Fallows.
Adjustments in the "purchasing power parity" figures for the Chinese yuan have increased estimates for the size of the Chinese economy and led to some hyperbolic headlines, he says, but "nothing economic has changed in either China or the United States".
"With these new figures, we may have a closer approximation of how circumstances for China's recently urbanised hundreds-of-millions compare with others around the globe," he writes. "But the differences not captured by such figures - freedom to or restrictions on travel within a country, who can and cannot go to school, the still-unfolding enormous effects of mass urbanisation, the nature and availability of healthcare systems, above all the country's environmental catastrophe - are also part of any serious attempt to understand how 'rich' or 'poor' China is."
Cuba
Supporting the new entrepreneurs - Private businesses are starting to take root in Cuba, writes Susan Segal, president of Americas Society/Council of the Americas, and the US government needs to take measures to support them.
President Barack Obama should allow Cubans in the US to send more remittances and bring more goods back to their families on the island, she says.
"The US has been operating under the same policy toward Cuba since 1960 and has fallen short when it comes to helping the Cuban people," she concludes. "True humanitarian aid must promote economic development."
Egypt
Time to cut US military aid to Egypt - The crackdown on Islamists by Egypt's "military dictatorship" is "creating a new generation of terrorists", writes Robert Kagan of the Brookings Institution.
By continuing military aid to Egypt, he argues, the US has been "complicit" in "squandering" the opportunity to "tame Islamism and make it safe for the modern world".
"Our current policy is only drawing us closer to the day when a new revolution will rock Egypt," he writes. "The next revolution will almost certainly be both more radical and more virulently anti-American than the last."
Europe
Cutting back on Russian natural gas - How can Europe protect itself from economic damage if Russian President Vladimir Putin decides to stop the flow of natural gas to the West? The rush is on to find new sources of energy, including liquefied natural gas delivered via ship, writes BBC science editor David Shukman.
"A longer-term option," he says, "is for Europe to develop more gas supplies of its own." This could mean exploiting shale formations through fracking, as the US is doing, but environmental concerns must be addressed first.
BBC Monitoring's quotes of the day
On Thursday Turkish riot police used tear gas and water cannons against demonstrators attempting to reach Istanbul's central Taksim Square in order to hold a May Day protest rally. Here are a selection of headlines from Turkish papers covering the story:
"Workers on squares, vandals on the streets." - Centre-right, pro-government Aksam.
"Terror in masks." - Moderate, pro-Islamic and pro-government Yeni Safak.
"Today's a holiday, run from the gas, kids." - Centre-right Hurriyet.
"Government had a field day." - Leftist Taraf.
"Squares empty, streets gas-filled." - Centre-left Radikal.
Have you found an interesting opinion piece about global issues that we missed? Share it with us via email at echochambers (at) bbc.co.uk.