Thom Tillis victory: Republican establishment strikes back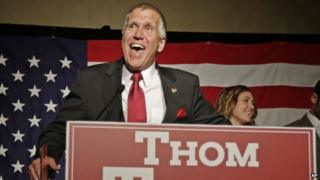 In North Carolina, the tea party fought the establishment, and the establishment won.
In the showdown for the Republican nomination to run against incumbent Democrat Kay Hagen for a seat in the US Senate in November, the candidate backed by Republican Party elders and business interests, Thom Tillis, prevailed.
His opponents were supported by several major tea party groups, such as FreedomWorks, the Madison Project and Tea Party Patriots, that had succeeded in toppling what they perceived as less ideologically pure Republicans in the past.
One of those past high-profile successes, Kentucky Senator Rand Paul, travelled to North Carolina on Monday to make a last-minute pitch for candidate Greg Brannon.
Mainstream Republican groups, like former George W Bush strategist Karl Rove's American Crossroads, spent early and often in backing Mr Tillis. The goal, writes Slate's David Weigel, was to scare off other viable candidates and establish Mr Tillis's name recognition.
National Journal's Josh Kraushaar says Mr Tillis' victory "ratifies the aggressive strategy adopted by establishment-oriented outside groups, led by American Crossroads, to spend millions on behalf of favoured candidates and attack their rivals when necessary."
"It's a sign the establishment's no-holds-barred strategy is paying off," he concludes.
The victory will "embolden" the Republican establishment to commit more resources in backing their preferred candidates, writes Politico's James Hohmann.
"The North Carolina results are a strong indication that the GOP rank and file is undergoing a shift from prioritising purity to prizing victory," he writes.
The tea party's influence is fading, says Princeton Prof Julian Zelizer, as the establishment continues its efforts to "quash" the movement's power.
Mr Tillis's victory, he writes, "offers more fodder for those who have argued that tea party organisations such as the Tea Party Patriots and the Madison Project have been ineffective, squandering resources by spending more on fundraising and direct mail than on their candidates."
The National Review's Eliana Johnson disagrees, writing that North Carolina's results should not be held up as a test case for the tea party's current strength.
If Mr Tillis hadn't won, it "would have been a greater reflection of the establishment's failure than of the tea party's might", she writes. The grass-roots challengers were flawed, they divided the vote, and tea party groups talked a big game but didn't commit the resources to compete.
In addition, she says, Mr Tillis had advocated conservative priorities as speaker of the North Carolina statehouse.
"Though backed by establishment forces and, as a former management consultant, easily portrayed as a process-oriented tool of the party's business interests, Tillis has some conservative bona fides," Johnson writes.
Although the tea party-supported candidates lost this battle, writes the Atlantic's Molly Ball, the results prove that their movement has won the war for the heart and soul of the Republican Party.
"If this race is any indication, the 'Republican civil war' storyline so beloved of pundits in recent years may have to be retired," she writes. "The tea party has got what it wanted, in large part - a party that, out of fear or respect, meets its desire for conservative standard-bearers - and it has run out of easy targets like the ones it toppled in 2010 and 2012."
But will grass-roots conservatives rally around Mr Tillis after opposing his primary campaign? Erick Erickson, editor of the conservative Red State blog and one of the more outspoken advocates for tea party candidates in the past, urges conservatives to close ranks despite any misgivings.
"For conservatives, Thom Tillis was the worst possible outcome in North Carolina," he writes. "Tillis will not back free markets and small government to the extent either of his other major competitors would."
Still, he says, Republicans should support their nominee, because he "is massively better than Kay Hagan".
"Politics is always about choosing between the lesser of two evils," he writes.
It's the kind of pragmatic advice that true believers on both sides of the political divide don't always heed. Over the past few election cycles, some Republicans certainly haven't.
Repeated electoral defeats, however, make the logic seem much more convincing.