Lebanon: Ronald Reagan's Benghazi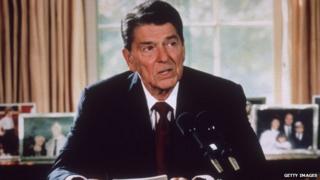 A review of the best commentary on and around the world...
Today's must-read
Republicans in the US House of Representatives on Friday announced plans to create a special committee to investigate the death of four Americans, including Ambassador Chris Stevens, in an attack on the US consulate in Benghazi, Libya.
All of this has the New Yorker's Jane Meyer recalling a similar tragic attack on US personnel 30 years ago. On October 23, 1983, a suicide bomber detonated an explosive-filled truck at the Marine barracks in Beirut, Lebanon, killing 241 Americans.
Meyer arrived at the scene to report on the attack for the Wall Street Journal and remembers hearing "piteous American voices" crying for help from beneath the ruins.
There was a key difference between the Lebanon bombing and the Benghazi attack, she says: the response from opposition politicians in the US.
"There were more than enough opportunities to lay blame for the horrific losses at high US officials' feet," she writes. "But unlike today's Congress, congressmen did not talk of impeaching Ronald Reagan, who was then president, nor were any subpoenas sent to cabinet members."
Instead, she says, Congress undertook a "useful investigation" into the matter and produced a report on what went wrong, with "helpful recommendations" on how to prevent future attacks.
She concludes:
If you compare the costs of the Reagan Administration's serial security lapses in Beirut to the costs of Benghazi, it's clear what has really deteriorated in the intervening three decades. It's not the security of American government personnel working abroad. It's the behaviour of American congressmen at home.
Nigeria
Kidnapped girls an avoidable national tragedy - Nigerian President Goodluck Jonathan and the rest of his government should not rest until the more than 200 kidnapped girls of the Chibok school are rescued, write the editors of the Guardian in Nigeria.
Because the girls involved are not the "children of the elite", they contend, Mr Jonathan's administration has been slow to respond.
"The citizens are fast losing faith in government, particularly over this incident," they write.
"In saner climates, the country will be virtually at a standstill now," they say. "But except for some belated moves at the National Assembly a few days ago, it is business as usual in Abuja."
Panama
A new president is a happy surprise - Juan Carlos Varela's win in Sunday's presidential election, writes Bloomberg View's James Gibney, presents Panama with a "sorely needed chance to clean up its act".
Although Panama's economic policies likely will remain the same, Mr Varela's calls "to promote transparency and fight corruption" are reason to be encouraged, given that bribery and corruption have accompanied the nation's growth.
He writes that the Panama's economic success - and hopes of reform - show that "even the messiest and most dubious U.S. military interventions can sometimes have semi-happy endings".
Yemen
A nation in dire need of help - Yemen is facing the seemingly impossible task of trying to build a nation torn apart by an "Arab Spring-like revolution", writes Michael Shank of the Friends Committee on National Legislation in US News and World Report.
In order to keep Yemen from descending into chaos (as in Syria) or military dictatorship (Egypt), the international community must act fast, he warns.
The West must help Yemen's government "ensure transparency, inclusiveness and delivery of basic services", he says. It must also downsize its military and transition to "more appropriate policing and law enforcement capacities". Finally, he says, it must create jobs through infrastructure investment.
South Africa
A mature democracy needs politicians of integrity - South Africans voting for president on Wednesday "want delivery, not slogans and rhetoric", writes the Mail and Guardian's Jay Naidoo.
"The critical challenge is deepening democracy by building an active civil society that is robust, organised and militantly demanding accountability from leaders across the political, business and nongovernmental organisation sectors," he says.
He writes that South Africa faces a future filled with "financial, economic, fuel and food and climate crises".
"The historic duty of the next generation is to take the political freedom we have won and that is enshrined in our Constitution and fight for the country that implements those rights," he concludes.
BBC Monitoring's quotes of the day
Two regional newspapers offer advice to former Egyptian army chief Abdel-Fattah al-Sisi if he were to be elected president.
"With all due respect and appreciation for the next president, he has to be well aware of the changes that have taken place among the Egyptian people, who have surprised the world with two great revolutions within three years. The next president should know that a vote for him to steer the nation is not a blank cheque ... and Egyptians will not agree to being cheated again." - Editorial in Egypt's Al-Jumhuriyah.
"The next president has to be aware how important it is that the principles of equality before the law and, therefore, equal opportunities are reconsidered. He should at the same time proceed with the liberalisation of civil society... This will enable him to reverse the deteriorating situation and steer the country forward." - Wahid Abdul Meguid in the United Arab Emirates's Al-Ittihad.
Have you found an interesting opinion piece about global issues that we missed? Share it with us via email at echochambers (at) bbc.co.uk.