Hillary Clinton's 'unfinished business'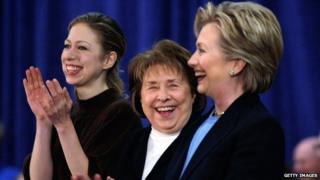 A review of the best commentary on and around the world...
Today's must-read
Does Hillary Clinton have some "unfinished business"?
On Sunday, Mother's Day in the US, Vogue magazine published a 1,300-word excerpt from Hard Choices - the upcoming memoir by the former first lady, senator and secretary of state.
In the article, Ms Clinton remembers the life of her mother, Dorothy Howell Rodham, who died in 2011. She concludes the piece with the following reflection:
"Mom measured her own life by how much she was able to help us and serve others. I knew if she was still with us, she would be urging us to do the same. Never rest on your laurels. Never quit. Never stop working to make the world a better place. That's our unfinished business."
It's a cryptic ending from a political figure who is known for keeping tight control over her image and messaging. The choice of words has some in the Washington media speculating about what it portends.
The line "could perhaps offer a window into Clinton's thinking as she weighs a second presidential bid in 2016", writes the Hill's Russell Berman.
Her mother's lesson is one that she might use "as she considers a run for president", says ABC's Liz Kreutz.
In the rest of the article, Ms Clinton recalls her mother's childhood, which she says was "marked by trauma and abandonment". She also writes about balancing her responsibilities in Washington with her responsibility to looking after her mother as her health declined.
"Like so many Americans of my generation, I felt both blessed to have these extra years with an aging parent and very responsible for making sure she was comfortable and well cared for," she writes.
She says that her mother was a "source of great comfort" after her unsuccessful run for the Democratic presidential nomination in 2008.
"I'd come home from a long day at the Senate or the State Department, slide in next to her at the small table in our breakfast nook, and let everything just pour out," she says.
"No one had a bigger influence on my life or did more to shape the person I became," she writes.
Although the Vogue excerpt is relatively short, that hasn't stopped some commentators from wondering about what it says about Ms Clinton's electoral strategy. It has become a common practice for modern politicians to use a book, and the accompanying publicity tour, to lay the groundwork for a presidential bid.
Ms Clinton, writes Politico's Maggie Haberman, "was criticised as difficult to connect to during the 2008 presidential race". Now, she says, her plan "is clearly to reveal a more personal side".
Although the excerpt focuses on Ms Clinton's mother, reports are that much of the memoir will cover Ms Clinton's experiences as secretary of state from 2008 to 2012.
"Critics have charged that her time as America's top diplomat was marked by a lack of a crowning achievement," writes CNN's Dan Merica, "while Clinton confidants have looked to frame those years as a success and see the book as the most potent way to do that".
"Hard Choices" … "unfinished business" …
It seems as though Ms Clinton is not exactly throwing cold water on the rampant speculation about her plans for the 2016 presidential election.
Russia
Putin unites European political extremes - Russian President Vladimir Putin's Ukrainian campaign has made allies of Europe's far-right and far-left political movements, writes Die Welt's Richard Herzinger (translated by WorldCrunch).
"Mr Putin's combination of ambition, ethnic nationalism and a Soviet cult revival shows how the old dream of the left and right joining forces against the West is becoming reality," he says.
By embracing both "nationalist" and "Bolshevik" rhetoric, he writes, Mr Putin has been able to attract both fascists and anti-fascists. The Russian president cloaks his "authoritarian policies" in "noble motives", he concludes, allowing him to advance his expansionist agenda.
Nigeria
Bloody allies in the hunt for Boko Haram - The Nigerian army had advanced notice about the plans to kidnap hundreds of Nigerian schoolgirls and did nothing, according to Amnesty International. It's a reflection of the army's corruption and lack of adequate funding and training, writes the Atlantic's Matt Ford.
He says the Nigerian forces have been guilty of their own human rights violations, including the killing of innocent civilians, which has complicated international efforts to rescue the missing Nigerian schoolgirls.
"Nigerian security forces' misdeeds don't negate Boko Haram's own crimes, of course," he concludes. "But omitting either side's actions in Nigeria's ongoing violence won't secure a lasting peace - and could actually fuel it."
North Korea
An "embarrassing" change of rhetoric - The editors of the Korea Times write that North Korea's recent state-sanctioned rhetoric, which included racist slurs directed toward US President Barack Obama and criticism of South Korean President Park Geun-hye following the sinking of the ferry Sewol, has "surpassed the tolerable level".
"While it's true the two Koreas are still technically at war and hostile to each other, it defies our understanding that Pyongyang is taking advantage of the tragic incident in the South," they write, "to incite an anti-government struggle".
The "vulgar propaganda", they conclude, will accelerate the North's isolation from the global community. "What Pyongyang needs now is to get rid of emotions and regain its composure."
Uruguay
The value of a US-Uruguay alliance - Uruguayan President Jose Mujica's visit to the White House on Monday gives President Barack Obama a valuable opportunity to improve relations with a leftist government in Latin America, writes the Woodrow Wilson Center's Cynthia J Arnson.
While US relations with other left-wing governments - such as Venezuela, Ecuador, Bolivia and Brazil - have "crashed and burned", she writes, Uruguay appears willing to embrace close relations with the US while maintaining an independent foreign policy.
Countries like Uruguay and Chile have a "strong commitment to representative democracy", she says, and could be important partners in finding a political solution to the unrest in Venezuela.
BBC Monitoring's quotes of the day
Ukrainian commentators react to Sunday's independence referendum in eastern Ukraine.
"Despite all the negative assessments of this 'referendum', it is a display of a new political reality, which should be taken into account. There is no need to recognise it, but since parallel bodies of power will be formed, Kiev will need to negotiate with the self-proclaimed leaders of Donbass." - Vadym Karasyov in Segodnya.
"The Ukraine that we used to know is gone. It ceased to exist as a self-reliant international player as early as during the tenure of [second President Leonid] Kuchma, when it gave up nuclear weapons. As an oligarchic republic, it was on the brink of civil war. However, there is still a chance that it may become like Belgium, a union of two republics - east and west." - Oles Buzyna in Segodnya.
Have you found an interesting opinion piece about global issues that we missed? Share it with us via email at echochambers (at) bbc.co.uk.