'Pushy' Abramson and the Times 'pay gap'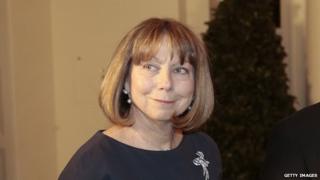 Did a gender pay gap contribute to the abrupt dismissal of New York Times executive editor Jill Abramson?
Ken Auletta of the New Yorker writes that there were a number of contributing factors that led Times publisher Arthur Sulzberger Jr to grow frustrated with, and eventually dismiss, the woman he chose for the newspaper's top job in 2011.
One was a conflict Ms Abramson had with her managing editor, Dean Baquet, over the creation of an editorial position overseeing the paper's digital ventures that may or may not have been subordinate to Baquet. Another was continued disagreements with Times president Mark Thompson over business involvement in the paper's editorial operations, such as the use of "native advertising" - that is, adverts crafted to look like editorial content.
But one episode in particular cited by Auletta has generated a firestorm of attention.
Auletta writes:
Several weeks ago, I'm told, Abramson discovered that her pay and her pension benefits as both executive editor and, before that, as managing editor were considerably less than the pay and pension benefits of Bill Keller, the male editor whom she replaced in both jobs.
Not only that, Auletta writes, she also learned that when she was managing editor, one of her male deputies made more than she did.
Ms Abramson confronted her superiors about the disparity. The pay gap was "closed", but Auletta quotes one close associate as saying that the confrontation "may have fed into the management's narrative that she was 'pushy', a characterisation that, for many, has an inescapably gendered aspect".
On Thursday afternoon Mr Sulzeberger sent a memo to the Times staff refuting Auletta's allegations:
It is simply not true that Jill's compensation was significantly less than her predecessors. Her pay is comparable to that of earlier executive editors... Compensation played no part whatsoever in my decision that Jill could not remain as executive editor. Nor did any discussion about compensation. The reason - the only reason - for that decision was concerns I had about some aspects of Jill's management of our newsroom, which I had previously made clear to her, both face-to-face and in my annual assessment.
If Auletta's account is true (and a second reporter has independently confirmed the story), it would have "ghoulishly retro implications", writes the New Republic's Rebecca Traister.
She calls Ms Abramson's dismissal, in which she did not attend the announcement of her departure and had her name quickly removed from the paper's online masthead, "among the most harsh and humiliating I've ever seen play out in the media's recent history".
Traister compares Abramson's sacking with the 2003 dismissal of former executive editor Howell Raines, who also was known to be a difficult boss and presided over the Jayson Blair story-fabrication scandal. Mr Raines, she notes, was feted as he left and praised by Mr Sulzberger.
She writes:
Observing the sharp contrast between this kinder, gentler transition and the cold glee with which Abramson was tossed on her ass today made me hope that eventually we will learn that she was stealing from the company cash register. Because that's pretty much the only crime I can think of that would merit as swift and brutal an exit for a woman who - good or bad at her job, or, more likely, like most bosses in the world, some combination of the two - represented an undeniably historic first in journalism and at the New York Times.
Politico's John Harris and Hadas Gold agree that Ms Abramson's firing was "uncommonly bloody".
"Abramson had drawn criticism for her sometimes harsh personality, but certainly it was no harsher than the treatment handed her by former patrons," they write.
They say that the manner of her departure, as well as her position as the first female top editor of the Times, are among the reasons the firing will "ricochet longer and more intensely than just another job shuffle atop a newspaper struggling to reinvent itself in a new era of media".
Salon's Mary Elizabeth Williams writes that "it's entirely possible Abramson was just a bad boss. Women can be bad bosses too".
The language used to describe Ms Abramson, however - particularly words like "pushy" - "still matter tremendously", she writes.
"'Pushy', like 'bossy', carries with it the loaded judgement of unladylike behaviour," she argues. "'Pushy', unlike, say, 'incompetent' or even 'difficult', says 'unfeminine'. It's a word frequently applied to behaviour in women that might better be described as 'persistent' when done by a man."
Ms Abramson may have been fired for legitimate differences of opinion, Williams writes. But the way Abramson was described "strikes a depressingly familiar chord to far too many of us who've ever advocated for ourselves and been dismissively branded as loudmouthed troublemakers".
On the right, the troubles at the Times - considered a bastion of the liberal media - have been met with unrestrained schadenfreude.
"The very same people who brought us the war on women are now tearing themselves apart like the 'Moabites and Ammonites, and with them some of the Meunites' in the Valley of Beracah," writes RedState's Erick Erickson. "There is a rich irony in this."
With her dismissal, Ms Abramson joins a growing list of female executives forced out of top jobs - a fate they are more likely to suffer than their male counterparts, writes ThinkProgress's Bryce Covert:
Part of the problem seems to be that women tend to be brought in from the outside (Abramson spent most of her previous career at the Wall Street Journal) and they may only be brought in to clean up when things are getting messy. This phenomenon is called the glass cliff: Multiple studies have found that women are more likely to be brought into leadership roles when the outlook is bad.
Since writing his New Yorker piece, Auletta has made several public statements emphasising that the pay dispute was only a contributing factor to a larger clash between Ms Abramson and her publisher. But it shouldn't be surprising that it has become the dominant topic of conversation.
The truth, writes New York magazine's Ann Friedman, is that we may never know the real reason why Ms Abramson was fired - and that's a reality women have to deal with in "almost any workplace".
"Women never know whether they're being met with a hostile reaction because of their performance - something that they can address and change - or because of both male and female colleagues' internalised notions of how women should behave," she writes.
Although "most successful people in the world profess not to care what others think of them," she writes, that's not a choice for women in leadership positions. "Colleagues' gut-level opinions matter greatly when it comes to evaluating a woman's job performance," she says.
As Traister concludes in her New Republic article:
The departure of Jill Abramson is a bigger and far grimmer story about a uniquely powerful woman, whose rise and whose firing will now become another depressingly representative chapter in the story of women's terribly slow march toward social, professional and economic parity.