Michael Sam's reality show felt 'icky'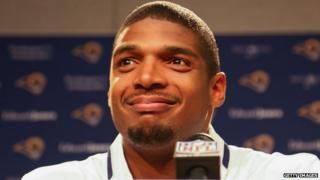 A review of the best commentary on and around the world...
Update
The OWN network has decided to postpone the Michael Sam reality show, the Associated Press reports.
"After careful consideration and discussion with the St Louis Rams, 'The Untitled Michael Sam Project' has been postponed, allowing Michael the best opportunity to achieve his dream of making the team," OWN president Erik Logan said in a statement.
"It's clear that we, along with the world, recognise the important opportunity that Michael now has in this moment. We will continue to support him in his journey to earn a spot playing for the Rams."
This is probably a good thing for the young football player, who as a seventh-round draft pick will have to work incredibly hard merely to make the team.
Today's must-read
Deadspin's Drew Magary is upset by National Football League draftee Michael Sam's decision to take part in a reality television programme to be broadcast on Oprah Winfrey's OWN network.
As the first openly gay professional football player, he writes, Sam should not be involved in such a "transparent and pathetic exercise in self-branding".
"Now that Sam has a reality show, can anyone believe with 100% confidence that the kiss he shared with his boyfriend on camera last Saturday was a real and true moment?" he asks. "They probably had a dress rehearsal. Sam was probably standing on a taped X to make sure he hit his mark."
Sam "asked fans to let their guards down and invest in him in a very different way" than they do in other sports stars, Magary writes.
The whole thing feels "a little icky", he says.
"Our first openly gay player in the NFL is a total abstraction, a commercial for himself, an actor named Michael Sam playing the role of 'Michael Sam' on The Michael Sam Show," he concludes. "Those quotation marks he's trapped inside of are looking more and more like another kind of closet."
Uppercutting's Mike Gallego disagrees, saying that while Magary views Sam's actions as "potentially undermining" his status as role model, the player should be given the benefit of the doubt.
"I have every reason to believe that Sam will continue to display the same authenticity he has since he made his courageous announcement months ago," he writes.
Gallego will watch the show, he says, because "I want to see how he responds to the next batch of challenges life throws at him, on and off the field."
By increasing his visibility, Gallego writes, Sam might do even more to help overcome harmful gay stereotypes.
Russia
The West will not accept "illegal occupation" of Ukraine - Russia is following the same "playbook" in eastern Ukraine as it did in Crimea, senior US diplomat Victoria Nuland tells BBC's Hardtalk.
"You instigate an independence movement, you have a fake vote on two weeks' notice, then you declare massive participation, and you come in with your peacekeepers," she says.
If Russia continues its illegal intervention in Ukraine, the cost will be "increasing isolation and increasing economic sanctions", she says.
Does this mean Russia has "got away with annexing Crimea"?, BBC's Zeinab Badawi asks. Ms Nuland counters that sanctions take time, but they are having an effect.
Nigeria
A Boko Haram deal should be rejected - Although it's tempting to accept the recent proposal from Boko Haram to exchange the more than 200 kidnapped schoolgirls for imprisoned members of the militant group, writes Edozie Okeiyi in the Vanguard, the Nigerian government should say no.
"As history teaches, terrorists always present fresh requests once you grant the original one," he writes. "If the federal government agrees to this, then all the terrorists require is to abduct another set of Nigerians and present another demand."
There is no "quick fix" to this crisis, he says. Giving in to Boko Haram's demands would "flood the streets" with hardened criminals and threaten the safety of the Nigerian public.
He adds that Nigerians should stand by President Goodluck Jonathan, as "the country is in a state of war with terrorists, and we cannot change the commander-in-chief in the middle of the war".
India
End the US "blacklisting" of Modi - The US continues to impose a visa ban on newly elected Indian Prime Minister Narendra Modi for his questionable response to the 2002 riots in Gujarat, writes Fareed Zakaria in the Washington Post.
"It is a dark episode in India's history, and Modi comes out of it tainted," he says. "But his actual role in it remains unclear."
The US ban on Mr Modi seems arbitrary, he continues, and it should be ended in order to improve US-Indian relations.
"If the United States and India, the world's oldest and largest democracies, could create a genuine partnership," he writes, "it would be good for Asian stability, for global prosperity and, most especially, for the cause of democracy and human rights around the world."
Haiti
UN to blame for cholera outbreak - Although the cholera outbreak in Haiti is in its fourth year, write the editors of Bloomberg View, "nothing about the response to it so far suggests the end is near".
The UN is not doing enough to combat the disease, they argue, despite clear evidence that the infection was spread by UN peacekeepers from Nepal. More funds must be dedicated to the problem before it becomes a regional disaster.
"The epidemic has already spread beyond Haiti," they write, "showing how the UN's failure there echoes elsewhere."
BBC Monitoring's quotes of the day
The Soma mine disaster continues to dominate the news in Turkey, with some commentators ratcheting up criticism of Turkish Prime Minister Recep Tayyip Erdogan.
"Prime Minister Erdogan is taken by surprise like a boxer dazed by the punches he received in the ring. If he wasn't so surprised, he would not be giving examples from the 19th Century. He would not be saying that 'in 1862, there was a [mine] collapse in Britain and 204 people died; in 1866, 361 people died'... Mr PM, are you not aware that we are living not in the 19th Century, but in the 21st Century?" - Rahmi Turan in Sozcu.
"Is it possible to compare current mine standards with conditions in Britain 150 years ago or with Europe and the US 50 years ago?" - Sami Kohen in Milliyet.
"The heartlessness, violence and arrogance shown in Soma made even the strongest supporters of the PM uneasy." - Amberin Zaman in Taraf.
Have you found an interesting opinion piece about global issues that we missed? Share it with us via email at echochambers (at) bbc.co.uk.