Study: 'Feminine' faces win elections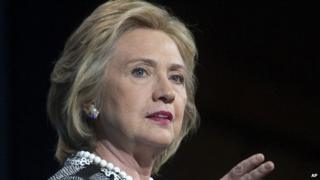 A review of the best commentary on and around the world...
Today's must-read
Dartmouth University researchers have found that female political candidates with more "feminine" facial features are more likely to win races for political office than women with more masculine characteristics.
"Forget the firm handshake or the barnstorming speech," writes US News & World Report's Jamie Stiehm. "What matters upfront is how a candidate looks, new social psychology research suggests, from the neck up."
During the study, nearly 300 participants from around the US were shown the faces of candidates for gubernatorial and Senate general election races from 1998 to 2010. They were then asked to use a mouse to select whether the faces were male or female. (A video of the survey process can be viewed here.)
Using mouse-tracking software, the researchers were able to determine how decisively the survey subjects pointed toward one response or the other.
According to a press release accompanying the study, which appears in the journal of Social Psychological and Personality Science:
The results showed that the more participants were drawn to select the male response when categorising the gender of a female politician's face, the less likely she was to win her election…
In other words, female politicians with more feminine features tend to win elections, while those with more masculine features tend to lose. The mouse-tracking technique further revealed that whether a female politician was going to win or lose an election could be predicted within just 380 milliseconds after participants were exposed to her face.
Not only that, but the more conservative the state, the greater the advantage the feminine candidate had over the less-feminine one
"Rock-ribbed conservative areas tend to place a heavier emphasis on traditional femininity in electing women, if they elect women at all," writes Stiehm.
Dartmouth Prof Jon Freeman, the study's senior author and developer of the mouse-tracking software, explains why the study is useful:
Individuals are highly sensitive to gendered facial cues, and these cues are processed within only milliseconds after seeing another's face. It's important to examine how facial cues could inadvertently affect female politicians' electoral success, especially given the possibility of a female US president in the near future and the rising number of women in Congress.
Thailand
Military coup is the end of democracy - The intransigence of the two rival political parties in Thailand has led to a "classic tragedy", writes Deutsche Welle's Rodion Ebbighausen.
In a series of ever-escalating crises, Thai democracy has slowly eroded, he says, ending with Tuesday's move by the nation's military to declare martial law.
"Thailand, which is still dominated by feudal structures, lacks a democratic culture," he writes. "Influential segments of the political elite fail to accept elections as a means of expressing public opinion."
The country's current ruling elites show no signs of being able to solve the nation's problems, he concludes. "Thailand's best chances lie with the next generation of politicians provided they haven't completely lost all hope in democracy," he says.
Venezuela
A national nightmare - Democrat Robert Menendez, chair of the Senate Foreign Relations Committee, says that Venezuelan President Nicolas Maduro is willing to go to "dangerous extremes to silence political dissent".
"Venezuela's alleged socialist paradise has morphed into a verifiable real-life nightmare," he writes for CNN.com.
He says that the US can't "play the role of bystander", which is why he is proposing legislation to provide $15m (£9m) to "defend human rights, support democratic civil society, and strengthen the rule of law" and impose sanctions on "individuals responsible for violating the rights of peaceful demonstrators".
"The moment of action is upon us," he writes.
China
Hacking violations should be brought before WTO - The recent US Justice Department decision to indict five Chinese People's Liberation Army (PLA) officers for cybercrimes sends a message to China but "has no teeth", write national security experts James P Farwell and Darby Arakelian for the National Interest.
Instead, they argue, the US should file a grievance with the World Trade Organisation accusing China of theft of intellectual property.
"China may dislike the idea of criminal convictions against PLA members in a US court," they write. "That's nothing compared to being branded a pirate in a forum of internationally sanctioned justice for theft of intellectual property."
A WTO decision against China, they say, would allow the US to impose economic sanctions and "it would hurt". It would be a way to make the costs of Chinese hacking exceed the benefits, they conclude.
India
Narendra Modi as Thatcher - Newly elected Indian Prime Minister Narendra Modi has an economic record similar to that of former British Prime Minister Margaret Thatcher, writes syndicated columnist Mona Charen.
"Like Thatcher, Modi is the child of a small businessman, a tea seller in Modi's case," she says. "Like her, he is not from the aristocracy."
"Modi has sought to reduce red tape, worked to ensure a functioning infrastructure, including a reliable power supply, and welcomed foreign investment," she adds.
If Mr Modi succeeds in embracing market reforms, she concludes, "he may provide a much-needed object lesson for the rest of the (kind of) free world".
BBC Monitoring's quotes of the day
Russian and Chinese commentators react to Russian President Vladimir Putin's two-day visit to China this week.
"In the foreseeable future - in the next 10, 15 or 20 years - China will inevitably turn into the number one economic power. This means that Russia has a reliable strategic alternative to the West." - Aleksandr Protsenko in Trud.
"One should hardly hope that China will rush to help Russia in its stand against the West. Beijing would rather take advantage of Moscow's weaker negotiating position, as it is Moscow that is badly in need of closer economic relations... It is an illusion to think that a union with China could be an alternative to the West and the US." - Editorial in Vedomosti
"There is no need for us to worry that China and Russia getting closer will spark 'discussion' or 'dissatisfaction' in the West… What is important is that they will not alienate us because of it, and in contrast they will pay even more attention to our attitude." - Editorial in Beijing's Global Times.
"It can be said that this visit to China by Putin … proves that China and Russia have embarked on even closer comprehensive cooperation in aspects such as the economy, trade, politics, diplomacy and military under the common target of a 'multi-polar international order'." - Editorial in Hong Kong's Economic Journal.
Have you found an interesting opinion piece about global issues that we missed? Share it with us via email at echochambers (at) bbc.co.uk.