The US is losing a cyberwar with China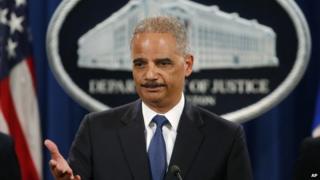 A review of the best commentary on and around the world...
Today's must-read
"It's about time Washington got tough with Beijing," writes Brett M Decker in USA Today. He says the Chinese government has made stealing secrets from US companies "a central component" of its economic development for decades.
The six US companies that the Justice Department identified as being targeted - including Alcoa, US Steel and Westinghouse - are just the "tip of the iceberg", he writes. Google, General Electric, Microsoft, DuPont, Nasdaq, Johnson & Johnson, AT&T and Northrop Grumman have also been in China's sights for years.
China views economic competition as "merely one more battlefront in a global war for supremacy", he argues, which is why all the individuals named in the Justice Department indictment are Chinese military officers.
In addition, he says, China employs its hackers as weapons to damage companies that it dislikes, such as the New York Times.
Is this the start of a new Cold War? "Only time will tell," he writes. "In the meantime, the war over cybersecurity is rapidly heating up."
(For a look at China's response to these accusations, see BBC Monitoring's quotes of the day, below.)
Italy
Berlusconi unchained - BBC Newsnight's Jeremy Paxman had a wide-ranging discussion with former Italian Prime Minister Silvio Berlusconi on Tuesday. Among the topics they covered were the European Union, Berlusconi's relationship with German Chancellor Angela Merkel, his conviction on fraud charges and the future of Italian politics.
"I have never had any problems with Angela Merkel," he said. "In 20 years of politics, I have never insulted anyone."
"I was not an easy person to deal with," he added, "and I was quite tough."
When asked what he thinks is wrong with Italian politics, he replied: "Everything." He said he wants to be remembered by history as the father of his country "and leave as my legacy a conservative centre-right government to prevent Italy from a potential dictator".
Ukraine
A Finland solution - It looks increasingly likely that Ukraine will be able to hold "free and fair" elections on 25 May, writes the Washington Post's David Ignatius, and the result will be a government that maintains its independence from both Russian and western influence.
Such a scenario has a Cold War precedent, he says, known as "Finlandisation". Finland, he notes, avoided siding with either the US or the Soviet Union and was able to serve as an honest go-between for the two superpowers.
"Ukraine's problems are internal; it needs ideological coherence more than territorial defence," Ignatius writes. "It needs the breathing space that nonalignment can provide."
If neutrality is the eventual outcome, he concludes, President Obama will have successfully defused what could have been a dangerous global crisis.
Cyprus
Biden visit an important milestone - On Wednesday US Vice-President Joe Biden became the highest-ranking US official to visit Cyprus since 1962. This has boosted hopes that increased US involvement will help reunification talks, writes Serkan Demirtas in the Hurriyet Daily News.
The US has been quietly working on a blueprint for ongoing negotiations, he says. Now it appears to be raising the visibility of its efforts.
"In a situation where Turkey does not trust the European Union very much as an honest broker, Washington could fill the vacuum," he writes.
Scotland
The birth of a nation - Scotland has the "rare opportunity" to democratically determine its future, argues Kevin Pringle, strategic communications director of the Scottish National Party.
Ever since the referendum of 1997, which created a Scottish Parliament and gave it limited tax powers, he writes in the Scotsman, Scotland has demonstrated that it is capable of standing on its own.
"Scotland is by any standards an extremely wealthy country, located in a privileged part of the planet," he writes. "We are no less capable than any other country of deciding policy on the economy, welfare, pensions, defence and Europe, in addition to our existing devolved responsibilities."
If Scotland can't pull off independence, he writes, then very few countries can. Independence will give Scotland the opportunity to take its place in Europe and on the world stage, he concludes.
BBC Monitoring's quotes of the day
The press in China has reacted angrily to Washington's decision to charge five Chinese military officers with economic cyber-espionage.
"This provocation by the US is extremely vile. China must not tolerate it or just voice several protests from the Foreign Ministry or the Defence Ministry. The Foreign Ministry should suspend the China-US cybersecurity working group, but we should also take further action." - Editorial in Huanqiu Shibao (Global Times).
"When the US was engaging Russia in a game of strategy over Crimea, the US selectively targeted [Russian President Vladimir] Putin's relatives and friends and imposed sanctions on them. Russia reacted quickly and announced a list of sanctions on US politicians… [Chinese President] Xi Jinping has said he is very similar to Mr Putin, but why has he cast aside Mr Putin's ways and methods?" - Editorial in Hong Kong's Oriental Daily.
"Washington's pressing of the groundless cyberspying charges is also a typical case of a thief crying thief… The sole superpower in the world is easily the biggest eavesdropper on the planet, with Washington sitting at the core of a global network of organised website-hacking and telephone tapping... In the face of Washington's hypocritical indictment of late, China needs to respond. Suspending the operations of a bilateral group on cyber-affairs is a reasonable start, but more countermeasures should be prepared in case Washington obstinately sticks to the wrong track." - Zhu Dongyang in Xinhua news agency.
Have you found an interesting opinion piece about global issues that we missed? Share it with us via email at echochambers (at) bbc.co.uk.