The 'Republican strategist' behind the Bergdahl story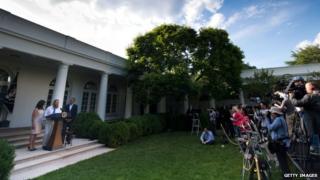 On Tuesday the New York Times published an article about the anger felt by several members of Sgt Bowe Bergdahl's Army unit over the circumstances of his disappearance and capture by Taliban forces.
As reported in this blog on Monday, these soldiers and some other veterans felt that Mr Bergdahl had actually deserted his post, and the resulting search-and-rescue operation had put their lives in danger - and possibly resulted in the deaths of fellow troops.
The Times story, while generally similar to pieces in other media outlets, contained a line that attracted particular interest:
"Yes, I'm angry," Joshua Cornelison, a former medic in Sgt Bergdahl's platoon, said in an interview on Monday arranged by Republican strategists.
The Times would go on to quote another soldier brought to them from the same source.
So who were these "Republican strategists"? And was the fact that interviews with individuals critical of Mr Bergdahl's actions might have been offered to media outlets by partisan operatives - a "GOP-run dog-and-pony show", in the words of Gawker's Adam Weinstein - a relevant fact?
"What exactly is going on here?" writes MSNBC's Steve Benson. "The release of an American POW from his Taliban captors in Afghanistan has become a political operation in which Republican strategists direct reporters to specific sources?"
It didn't take long for the media manhunt to find their quarry - former George W Bush administration official and Fox News commentator Richard Grenell.
Buzzfeed's Rosie Gray and Kate Nocera discovered that one of the soldiers quoted by the Times and others, Cody Full, had taken to Twitter to thank Mr Grenell yesterday for "helping get our platoon's story out" in a tweet.
They called Mr Grenell's public relations agency, Capitol Media Partners, where his partner, Brad Chase, confirmed his involvement:
"Obviously Ric is a well-known Republican and these guys found him on Twitter and reached out asking for help in getting their story out," Chase said. "Ric obviously saw that this is something that needed to be told and came to me and others in our firm, and I and some of the others determined that this was a story that we wanted to work on."
Mr Chase said they offered their services free of charge and the New York Times characterisation of them as "Republican strategists" was "100% factually inaccurate", as Mr Chase was not a Republican.
Mr Grenell - who also briefly served as the foreign policy spokesman for Mitt Romney's 2012 presidential campaign - bristled at the Times's choice of words, tweeting that "this isn't political" and that Mr Chase set up the Times interviews.
"Today is one of those days when you're reminded that reporters just repeat other reporter's stories," he wrote.
The Buzzfeed journalists spoke to the producer of a radio show that featured one of the soldiers, who said Mr Grenell was their point of contact for the bookings. Media Matters's Oliver Willis contacted two other reporters who also identified Mr Grenell as their source.
Mr Grenell's critics on the left continue to question the propriety of the former Republican official's involvement in the story.
"Certainly Bergdahl's release on Saturday raises legitimate questions about the circumstances surrounding his capture, the legality of the exchange and whether it merited the release of five Guantanamo Bay detainees," the Huffington Post's Igor Bobic writes. "But the fact that Republican operatives are shopping around interviews behind the scenes meant to stir opposition to the Obama administration threatens to turn the debate over a prisoner of war into another partisan slugfest ahead of the November midterm elections."
Daily Kos's Laura Clawson writes that "Mr Grenell can be relied on to take the view that anything that might hurt President Barack Obama is good enough for him," while the soldiers he's promoting "seem to be taking the view that Bergdahl deserved to spend the rest of his life, however long or short, as a prisoner".
The conservative Hot Air blog's Allahpundit counters that the whole thing is a "lame story" that implies there's some sort of partisan "dirty trick" being played without explaining what exactly that trick is.
"The 'argument,' such as it is, is that there are Republican fingerprints here and therefore you don't have to pay close attention going forward to these years-old, wholly independent accusations against Bergdahl from fellow veterans," he writes.
The Grenell story may touch a nerve on the left because it harkens back to the 2004 "Swift Boat" attacks on Democratic presidential candidate John Kerry, in which several of the senator's fellow Vietnam veterans questioned the his war record in a conservative-backed media campaign.
If there were going to be a rational debate on this story, its boundaries should have been fairly clear. Given what we know about the circumstances of Mr Bergdahl's disappearance and subsequent capture, should the US have agreed to the prisoner exchange to obtain his release? If not, should the US have left him in Taliban hands indefinitely? Could his release have been achieved any other way?
Instead, we are treated to allegations and counter-allegations about the political motivations of all parties involved. Debates about "optics" and rumours of nefarious conspiracies, which spin farther and farther from the substance of the story.